Educating for Happiness: The SGI-Panama Educators Division
Heidy Saucedo, SGI-Panama Educators Division Head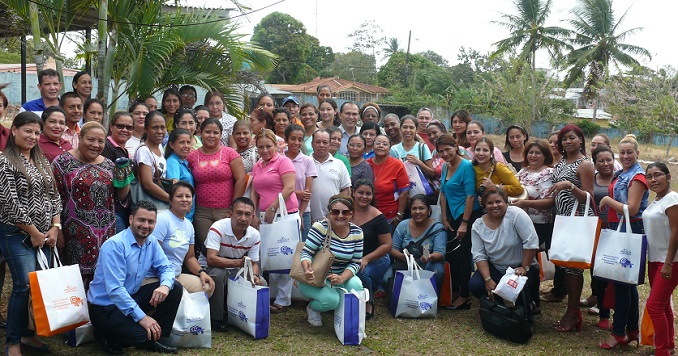 Members of the SGI-Panama educators division with local teachers during a teacher training seminar on value-creating education in 2019 [© SGI-Panama]
The founding president of the Soka Gakkai, Tsunesaburo Makiguchi, was an educator and educational theorist who, while working as a school principal, developed a unique approach to education rooted in the concept of value creation ("soka"). Third president, Daisaku Ikeda has described value creation as "the capacity to find meaning, to enhance one's own existence and contribute to the well-being of others, under any circumstance" (see here). For Makiguchi, this capacity is synonymous with happiness, which he saw as the fundamental purpose of education.

Makiguchi's philosophy of Soka education has been given concrete expression through the Soka school system which Ikeda founded. At a more local level, many educators around the world, particularly Soka Gakkai members, have been inspired to apply Soka education principles in the contexts within which they work. Here, Heidy Saucedo, head of the educators division of SGI-Panama, describes how the division is exploring the application of Makiguchi's ideas.

The basic aim of the educators division of SGI-Panama is to promote Soka education, which emphasizes that the fundamental purpose of education is the happiness of the human being.
All the topics discussed will be of great help in our work, as they allow the entire educational community involved in the learning process to focus on the purpose of life and of education—which comes down to happiness.

— G.I. Ortega
This perspective has the potential to generate positive change on a global scale. The division's activities include study meetings for teachers, educational forums, teacher training seminars, workshops and exhibitions in schools. We work hand in hand with the Ministry of Education and are always seeking to work with those whose goal it is to improve the quality of education.

Our core objectives are to encourage the study of Tsunesaburo Makiguchi's ideas and the promotion of humanism and a culture of peace. The division currently consists of around 100 teachers.
The global pandemic has forced changes in teaching modalities. As a response to these challenges, we decided to host a virtual teacher training seminar over five days in February 2021, which we entitled "Education in the New Era."
A different, dynamic and, above all, motivating seminar. We learned about the mind-body connection and how to take care of our emotional selves, the importance of getting involved with the student and always having a smile on our face."

— Z. Fernández
Our determination was to reach the heart of each teacher and inspire the conviction that, once we have decided to be involved in this endeavor of developing human beings, we must give our best, regardless of the circumstances.

More specifically, our vision was to create an impact in the educational community by empowering each teacher with a humanistic vision of value creation, aiming to effect an inner transformation in each individual and ignite a sense of purpose, which would benefit the entire community. Key focuses in this are promoting the idea that the happiness of students is the central point of education, as well as fostering children's ability to maintain a harmonious relationship with their environment and contribute to their respective communities.

The seminar was endorsed by the Ministry of Education as part of the curricular plan to prepare educators before the start of the school year.
Each presentation was excellent. The methodology used made the topics very easy to comprehend. I especially appreciated the explanation of how we can control our emotions.

— D. Bonilla
Forty-three teachers from different schools participated, and there were 10 presenters from the educators division as well as a technological and logistical support group made up of members of SGI-Panama.

Seminars covered a wide range of topics, from communication to educational technology and virtual play activities.

Closing the seminar, SGI-Panama General Director Carlos Maires reiterated the wish of SGI-Panama to contribute positively to society, particularly in such an important field as education.
This was a very different kind of seminar with extremely interesting and varied topics relevant to our personal and professional growth.

— R.A. de Morales
He quoted Makiguchi's conviction that "the aim of education is not to transfer knowledge; it is to guide the learning process, to equip the learner with the methods of research." He went on to say that, for Makiguchi, education is about children's happiness. It is a means to allow children to open their minds and interact creatively with their environment. These are sentiments that speak to the heart of our vision of empowering each individual to live happy, creative lives.
May 2021