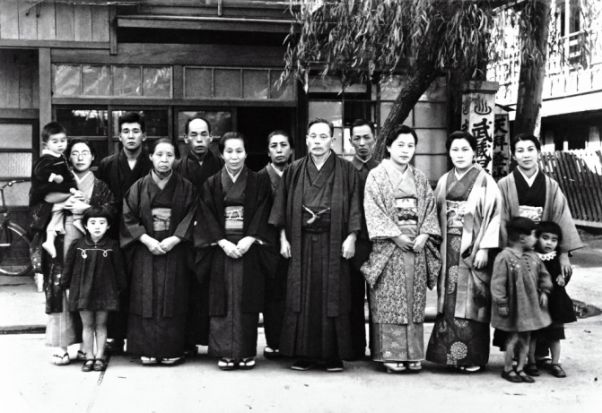 Tsunesaburo Makiguchi (front row, center) with members in Japan, 1941
[© Seikyo Shimbun]
With Makiguchi as its first president, the organization began as a group of teachers focused on educational reform but later developed into a movement dedicated to the betterment of society through individual inner transformation based on Nichiren Buddhism.

In 1943, Makiguchi and Toda were imprisoned as "thought criminals" for refusing to adhere to the State Shinto religion used by the militarist government to exert ideological control over the population. Makiguchi died in prison, and Toda emerged in 1945 to rebuild the Soka Gakkai, later becoming the second president.

In 1947, amid the chaos of postwar Japan, Daisaku Ikeda encountered Josei Toda, who became his mentor, and joined the Soka Gakkai. In 1960, Ikeda became the third president, marking the beginning of the organization's growth internationally.

In 1975, the Soka Gakkai International (SGI) was formed as a global association to link independent Soka Gakkai organizations around the world, and Ikeda became its president.

In 1983, the SGI was accredited as a nongovernmental organization with the United Nations Economic and Social Council (ECOSOC). The SGI Charter was adopted in 1995, expressing the association's commitment to strive for a peaceful world, contributing to peace, culture and education based on respect for the dignity of life.

In 2017, marking the beginning of a new phase in its development, the Soka Gakkai adopted its new Constitution, clarifying the role of the founding presidents, basic aspects of its global administration, its essential doctrinal stance and objectives of promoting Nichiren Buddhism for the sake of peace and human happiness.

In 2021, the SGI Charter was updated and adopted as the Soka Gakkai Charter, further articulating the principles guiding the organization's social engagement grounded in an unwavering commitment to nonviolence and the culture of peace.