Interfaith Harmonies in Luxembourg
Every year, members of the Soka Gakkai Luxembourg (SGI-LUX) choir warm up their vocal chords and prepare to perform in the Action Groupe Inter-Religions (AGIR) annual interreligious concert, sharing and experiencing religious and secular music, songs and chants with other faiths and the community.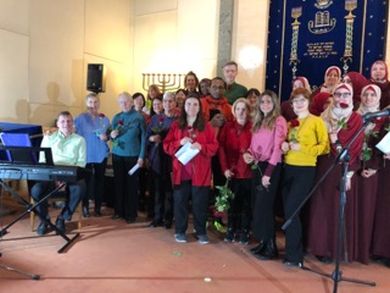 The performers together at the end of the 2019 concert
In 2008, SGI-LUX had a stand and exhibition at the "Festival of Migration, Cultures and Citizenship," which celebrates Luxembourg's cultural diversity. It was here that SGI-LUX was invited to join the interfaith dialogue group AGIR as a representative of the Buddhist community.

Shortly after this, the idea of holding a concert to promote interfaith understanding and raise awareness of AGIR's activities came up at an AGIR meeting.
The first AGIR interreligious concert was held in 2009. SGI-LUX took part and has never missed a concert since. And from 2014, SGI-LUX was joined by members of SGI-Belgium (SGIBel), who have participated every year.

Hosted by the Jewish community at the Grande Synagogue de Luxembourg on March 31, the 2019 concert drew an audience of 300 people and marked the tenth year since the concert series began.

SGI-LUX and SGIBel members who participated in this and previous concerts offer their reflections:

These interfaith activities are very important, enabling us to learn more about the practice, values and beliefs of other religions. Getting to know all these wonderful people from different religious traditions through the concert has helped me be more accepting of other religions.
—Claudine Ries

I have performed at the concert for five years now. I think the challenge is to understand that the singing voices coming from different horizons, different religions, represent a single heart for peace.
—Anne-Francoise de Villenfagne

For me, the event is a moment of sharing, openness and respect for other religious communities. In the end, we are all human beings on this planet who aspire to live together in peace.
—Dorina Vontor

This activity has given me the courage to talk to people I don't know more often than before.
—Anne-Marie Teller
[August 2019]