From the Ground Up: SGI-Argentina's Villa Centennial District
SGI-Argentina's Villa Centennial District is in focus in this three-part series that profiles local Soka Gakkai organizations around the world, looking at how they are responding to the new global conditions.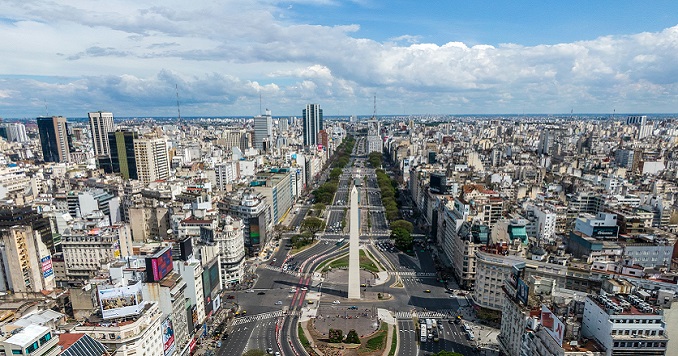 The Plaza de la República on the busy 9 de Julio Avenue in Buenos Aires; Lomas de Zamora is located within the metropolitan area of Greater Buenos Aires
[Photo by Nestor Barbitta on Unsplash]
SGI-Argentina (SGIAR)'s Villa Centennial District is in Lomas de Zamora, Buenos Aires Province. Men's leader Francisco Rios describes what the town looked like before the COVID-19 pandemic. "There was a street market on the main street of the neighborhood lined with vendors selling fresh food, clothing, miscellaneous goods, etc. It was always crowded with shoppers. That's a picture of the daily life of this town—a place full of humanity and vibrancy."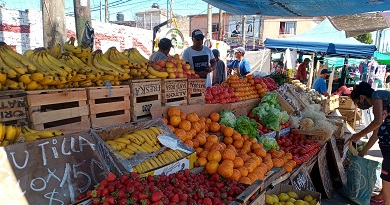 The busy street market in pre-lockdown times
[© Seikyo Shimbun]
In March 2020, however, daily life changed dramatically. After a government-imposed lockdown to curb the spread of the coronavirus, the streets became still and empty. The vendors disappeared, and commerce ground to a halt. The measures seem to have had only a limited effect in stopping the spread of the virus. A country with a population of less than a hundred million saw more than a million people infected. The lockdown lasted more than six months. With public educational institutions closed for around eight months, children and youth were especially impacted.
Silvana Rodríguez, the women's leader in Villa Centennial District, recounts how the district leaders were united in their resolve not to let the circumstances defeat them. "We were all determined to make efforts to ensure the young people would be encouraged and remain energized." Once the lockdown began, we began holding monthly online meetings for youth, and members put all their efforts into making the meetings enjoyable.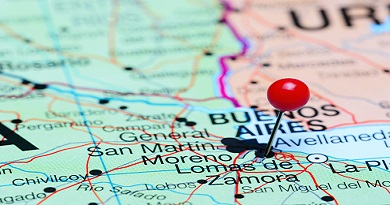 The week leading up to the monthly meeting became a focus for the men and women in the district to reach out to parents. The youth concentrated on planning the meeting. On the day, three virtual gatherings were held by age group. "Actually," laughs Silvana Rodríguez, "we also had a fourth gathering for those who overslept in the morning!"
Consideration was given to families without easy access to the Internet, such as connecting by phone and allowing people to participate in the meetings using only audio connection.
If you are determined to change for the better and make efforts to that end, it becomes possible to overcome any situation
The number of participants steadily grew and eventually family members and friends who were not part of SGIAR also began to participate. For the youth, the meetings became something to look forward to. "The meetings were for the sake of the youth," says Silvana, "but seeing them participating so energetically gave new hope to everyone else too."
Besides youth meetings, the district also held online discussion meetings at the end of each month. "The content is geared to the participation of friends, and there is a lot of time for dialogue and questions," says Marcelo Molina. "Things like being sure to avoid using Buddhist jargon make it easier for anyone to participate and feel involved." Small considerations like that can make a big difference.
Though the lockdown was eventually eased, the pandemic severely impacted the country's economy. Conditions have not been easy, but the members of the district are forging through. "If you are determined to change for the better and make efforts to that end, it becomes possible to overcome any situation," says Marcelo, describing the principle of human revolution that underlies the Soka Gakkai's Buddhist practice.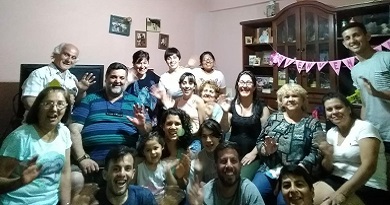 Villa Centennial District members in 2019
[© Seikyo Shimbun]
Guadalupe Rama, who worked for a human resource consulting firm, was one of many who lost their jobs at that time. She was determined to see this setback as an opportunity and chanted Nam-myoho-renge-kyo with that resolve. She decided to launch an online dance class, which had been a dream of hers for some time, and the number of students is now gradually increasing.
Molina, who sells and repairs electrical products, also had a sharp decline in work as a result of the pandemic. He is no stranger to challenges, having overcome a lot in his life, including a battle with serious illness. He remembers a pivotal moment in his Buddhist practice, when, in 1993, he was part of the team that was responsible for overseeing President Daisaku Ikeda's visit to Argentina. "At that time, I engraved in my heart the determination that I will never be defeated by difficulties. So, I am not afraid of anything."

Undaunted by the current setbacks, he forged through with his Buddhist practice and eventually began to see his workflow increase. "I'm who I am today because of my Buddhist practice," he says. "I want to do my best to help raise and support the youth. We will make Argentina the happiest country in the world!"

Adapted from an article in the December 8, 2020, issue of the Seikyo Shimbun, Soka Gakkai, Japan.