A Beacon in the Dark: Being a Buddhist in Healthcare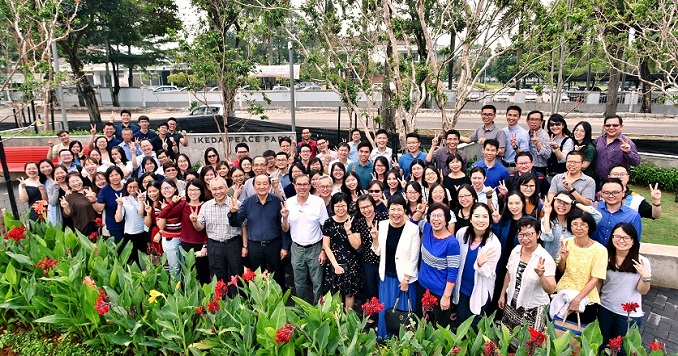 Members of the Beacon Group
[Photo courtesy of SGM]
The Beacon Group of Soka Gakkai Malaysia (SGM) is a group of healthcare professionals who practice Nichiren Buddhism. They include medical doctors, dentists, pharmacists, nurses, traditional medicine practitioners and many other healthcare professionals as well as students of these professions.

The group was established in the year 2000 and adopted the following three guidelines offered by President Daisaku Ikeda to doctors within the Soka Gakkai: (1) face all obstacles courageously; (2) become the standard-bearers of a health revolution to protect life, which is so infinitely precious; (3) and become a beacon of trust in society. The group provides a network of encouragement and support for its members and conducts seminars.

Dr. Chuah Teng Hong, an emergency room physician, and Dr. Ling Shiao Ling, a psychiatrist, talk about the significance of the group.

How does being an SGM Beacon Group member influence your approach to your work?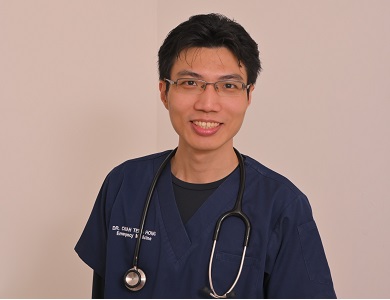 Dr. Chuah Teng Hong
[Photo courtesy of SGM]
Dr. Chuah Teng Hong: In my 14 years of being in the Beacon Group, the most important value I have learned is that it is not just about being a better doctor but being a better person—someone who deeply respects every patient. This requires listening carefully to patients, especially at critical moments. I chant Nam-myoho-renge-kyo daily to manifest my courage, wisdom, life force and compassion so that I am able to achieve a win-win situation for patients, myself and my colleagues.

Working in the emergency department requires teamwork. My goal is to exert a positive influence at work and for there to be mutual understanding, appreciation and support among us for the sake of all our patients.
Dr. Ling Shiao Ling: Illness can prevent us from living happy lives and lead us to sink into despair or even give up on life. As a Beacon Group member, I always try to encourage my patients to courageously battle their illnesses. Holding onto the Buddhist philosophy of "changing poison into medicine," I believe that even during the darkest period, there will be seeds of hope and the possibility for things to get better.

There are times when my patients are in distress to a point of wanting to end their life. With treatment and support, many of them have been able to improve and find meaning in life. I chant earnestly to elevate my life state and manifest wisdom in order to diagnose and prescribe the right medicine and advice for each patient. I also pray for each of my patients to have the courage to win their battles and overcome their illnesses.

How have you been involved in the fight against the COVID-19 pandemic?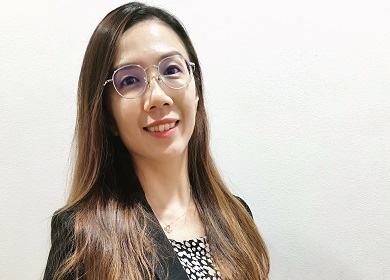 Dr. Ling Shiao Ling
[Photo courtesy of Dr Ling Shiao Ling]
Dr. Ling: I was privileged to be part of the Mental Health Psychosocial Support (MHPSS) Team in my hospital. The MHPSS aimed to support our fellow medical staff who were burnt out and troubled by mental health issues during the peak of the pandemic. We developed programs and services catered to our fellow front liners to boost their morale.

My Buddhist practice has helped me learn to be adaptable in this crisis. We all have our challenges and worries about how to keep our families safe while serving our patients. My Buddhist practice has enabled me to turn these challenges into opportunities to grow further in wisdom and to expand my state of life. At my workplace, colleagues became more connected and supportive of each other.

Dr. Chuah: As an emergency doctor on the front lines, I was required to work with an increasing number of patients each day during the worst wave of the pandemic, which overwhelmed our facility. This period of greatest challenge required us to be very resilient and courageous and to maintain hope despite the intense situation.

Dr. Ling: Besides my work on the MHPSS Team, I managed COVID-19 patients who presented with psychiatric symptoms and also patients with underlying psychiatric disorders who got infected with the COVID-19 virus. During this period, I had to educate my patients about COVID-19 and the importance of taking precautionary measures to prevent the spread of the infection.
Dr. Chuah: As I see COVID-19 patients daily, I am acutely aware of the need for educational efforts to equip people in society with correct knowledge and awareness about the pandemic, as this pandemic can only be overcome if people work together to combat it. Despite my exhaustion, I was determined to give my all to share this knowledge in a series of nationwide webinars organized by the Beacon Group. The webinars also conveyed the real-life experience of our members who had contracted the disease, as well as the experiences of front liners.

What have been the most important lessons you have learned from the pandemic?

Dr. Ling: The pandemic created a lot of uncertainty and fear, and this led me to reflect on the value we place on life and to develop a new perspective on life. Despite all the negative news around COVID-19 and the many problems, I also saw hope, as in the compassionate spirit of many kind people volunteering to help and contribute to the community. I believe we must never stop seeking hope no matter what.
I also saw hope, as in the compassionate spirit of many kind people volunteering to help . . . I believe we must never stop seeking hope
Dr. Chuah: I realized that now, this pandemic, is the time to apply all the experience and knowledge I have gained so far. This enabled me to summon up my courage to face the worst situations at work with resilience and the absolute conviction that we could overcome them.

In guidance President Ikeda addressed to doctors in the Soka Gakkai, he quoted from Hippocrates: "Delay is foreign to all science, especially to medicine in which postponement is danger to life. The soul of therapy is in opportunity, and our job is to be on guard for opportunities." By embracing this guidance, I was able to take a decisive and vigilant approach when treating patients with severe respiratory distress in order to make the best, timely decisions regarding intubation and ventilation and other invasive procedures to save lives.

I faced setbacks in my personal life during this time. But what the whole experience taught me is that failure and success are not permanent and that what is key is the spirit of challenge to win over difficulties.

What is your personal vision as an SGM Beacon Group member?

Dr. Ling: Being involved in the mental health field, I wish to strive earnestly with the compassionate spirit of the bodhisattva to give hope and courage to each patient I encounter in my daily practice.

Dr. Chuah: My personal vision is to master medicine as a humanistic doctor to provide even better service to the community in Malaysia. I would like to help guide the younger generation of medical practitioners and to inspire younger Soka Gakkai members.

How do medical students benefit from belonging to the Beacon group?

Dr. Ling: I have been privileged to be involved in Beacon Group activities since I was a medical student. I got to listen to many experiences shared by senior members about the challenges they faced and how they applied Buddhist principles to succeed in their daily lives.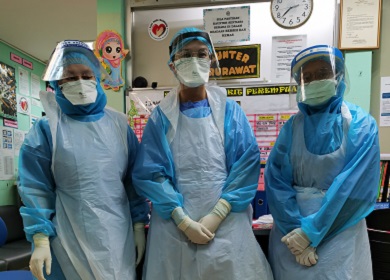 Dr. Ling (center) with colleagues
In fact, I was initially ambivalent about which field to specialize in. With guidance from senior Beacon Group members, I chanted for the wisdom to choose the best direction and career pathway for my life.

The activities in the SGM Beacon Group have been a source of encouragement for me to persevere in my Buddhist faith and in my journey in the medical field. This group has guided me in many ways in fulfilling my responsibility as a doctor.
Dr. Chuah: Before I left for my undergraduate studies in Russia, I met with Beacon Group chief, Dr. Boey. He shared with me President Ikeda's three guidelines for doctors in the Soka Gakkai as well as some other advice. I determined that during my six years of study I would study for the sake of the patients I would meet in the future, not for the sake of exams. Those years of study in Moscow are my most cherished experience.

Being a member of the Beacon Group has shaped my character, helping me to be less egoistic and eradicate my arrogance. I have learned so much from the many seniors in faith in the Beacon Group. I am very grateful to them for their unselfish sharing of their experiences and encouragement.
April 2022