South Korea: A Conversation for Peace
UNIPEACE is a nationwide university peace union launched by the Korea SGI (KSGI) Student Division that is raising public awareness around peace and helping students embrace the values of global citizenship.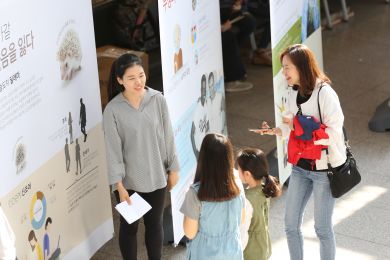 A student guide volunteers at Ewha Womans University during UNIPEACE 2017
[© HwaKwangShinMun]
In 1998, Daisaku Ikeda, visited Kyung Hee University in Seoul to receive an honorary doctorate. To mark the occasion, Korea SGI (KSGI) Student Division members at Kyung Hee University and 10 other universities around the country undertook a range of peace promotion activities on their campuses, including a human rights photo exhibition, film showings and workshops.

Following this initial activity, the Student Division members continued to hold such awareness-raising activities, and their counterparts at other universities followed suit. By 2012, the initiative had grown to include members of the general student body, and in that year, it was launched afresh as UNIPEACE. Today, it is established in more than 200 universities.
The central activity of UNIPEACE is an annual peace exhibition. Exhibitions are seen as an effective medium because they present issues in an accessible manner and attract a variety of people in a short period of time. These peace exhibitions are usually held outdoors in public spaces where they can grab people's attention and spark discussion.

UNIPEACE members play a vital role as exhibition guides. As Choi Ji-ye, a former KSGI Student Division group leader, comments: "An exhibition may not have the impact of television or the internet, but while such one-sided media are effective in reaching a vast audience, the message may be forgotten just as easily. The exhibition experience is a story sparked by the meeting of a viewer and an exhibition guide. It unfolds through the conversation between the two. Such face-to-face encounters can strike a chord and trigger change; it is the cumulative effect of such change in individuals that creates real change in the world."
All logistics, from deciding the theme to creating the exhibition panels, are undertaken by students. Each year, a single theme is selected from an annual peace proposal published by Ikeda. These proposals examine pressing issues facing global society and suggest steps to address them. Members of UNIPEACE study the proposal, extract a theme for the exhibition and discuss how best to present it to the public.

In his 2017 proposal, "The Global Solidarity of Youth: Ushering In a New Era of Hope," for example, a central idea put forward by Ikeda was that solidarity among youth is integral to opening new paths to peace and that such solidarity is created most simply through the expansion of friendship. Thus, under the theme "Youth and the Blossoming of Friendship," the 2017 UNIPEACE exhibition explored the relationship between youthful friendship, solidarity and peace.

The previous year, the exhibition looked at the link between human dignity and the individual's sense that they are able to effect positive change. A quote from the opening panel, which recalls the historical example of individuals such as Martin Luther King Jr. and Mahatma Gandhi, reads: "A single person contains infinite possibilities. When one becomes aware of this and begins to reach out to others, a movement toward peace begins."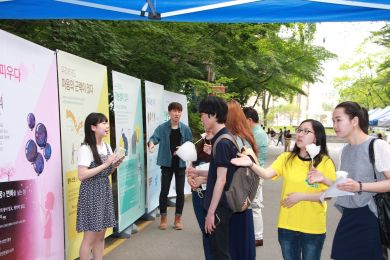 Passing on the message of peace at Kyung Hee University during UNIPEACE 2016
[© HwaKwangShinMun]
The exhibitions aim to make peacebuilding something everyone can relate to and act upon in their daily lives. This is a key reason for the remarkable expansion of UNIPEACE year by year, which includes coverage in news media. There is growing appeal both to members of the public who view the exhibitions and students to get involved. In 2017, almost 110,000 people engaged with the exhibition, including 3,600 exhibition guides.

Kim Jin-young, a student who became involved as an exhibition guide, comments: "I was very impressed with the message of UNIPEACE—that peace is not something far away, that it starts with me, from a change in my awareness. A friend invited me to join, and I worked as a guide for the peace exhibition. I learned a lot from Mr. Ikeda's peace proposal and tried my best to convey his deep philosophy and how inspired I was." Students awakening to these new values naturally begin to share and debate them with their peers.
In hosting the exhibitions, students of neighboring universities work together, support and learn from each other. In these ways, UNIPEACE has also been a great opportunity for students' personal development, as Park Yun-jin, a UNIPEACE coordinator, describes: "After the exhibition, I had a job interview with an international NGO I hoped to work for. I was nervous, but when the interviewer asked me what skills I would be able to offer, I was able to confidently talk about my experience with UNIPEACE. I passed the final interview and got the job."

KSGI's Choi Ji-ye sees the ultimate value of UNIPEACE as empowering students to become engaged citizens: "The UNIPEACE exhibition serves as firm ground, offering youth—who are often occupied by the stresses of securing future employment and other personal concerns—opportunities to think about the world in which they live as well as encouragement to grow as global citizens and take responsibility for the future."
[November 2017]