Cherishing Life: Social Welfare Activities in South Korea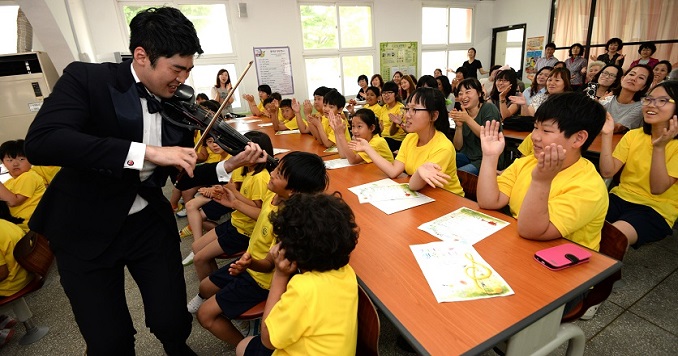 A volunteer performing the violin for students
[© Korea-SGI]
Korea-SGI affiliate Mugunghwa Welfare World carries out extensive social welfare activities within South Korea with the aim of helping to build a society in which the basic human rights of all people are respected. It is committed to valuing and protecting the most vulnerable members of society, especially children.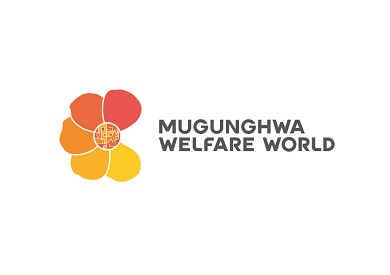 In 2015, Korea-SGI (KSGI) established Mugunghwa Welfare World, an independent social welfare NPO based on the philosophical principles of Nichiren Buddhism and its core tenet of respect for the dignity of life.

"Mugunghwa," also known as the Rose of Sharon, is the national flower of South Korea. The five-petal logo of Mugunghwa Welfare World is fashioned after this flower, the petals representing key elements of the organization's work—protection, service, sharing, opportunity and environment. The logo's missing petal symbolizes the "seat" of sponsors, volunteers and organizations that work in partnership with Mugunghwa. At the center of the logo are the words "hope," "coexistence" and "light" in Korean, which represent the core values of the organization.

A core aim of Mugunghwa is raising social awareness and carrying out public education on social issues through seminars and campaigns. Activities have ranged from book donations to exhibitions, concerts and festivals, environmental cleanups and the "Love Briquettes Delivery"—a volunteer activity delivering briquettes to families living in old Korean buildings that require briquettes to heat their homes. Particular areas of concern are the prevention of violence against children, care of elderly people who live alone and the rights of disabled people.
Mugunghwa volunteers cleaning up leaves in Daegu City

[© Korea-SGI]

Mugunghwa volunteers and the "love briquettes"

[© Korea-SGI]
Since its establishment, Mugunghwa has also made financial contributions and donated equipment to various organizations, such as to welfare facilities that were struggling to operate due to the pandemic, including an orphanage and a facility for the hearing-impaired.

In 2019, Mugunghwa received an award from South Korea's Ministry of Health and Welfare for its social contributions.
One of Mugunghwa's ongoing initiatives is the biannual academic seminar on child abuse prevention.

The 12th child abuse prevention seminar took place in December 2021, cohosted with the Korean Association for the Prevention of Child Abuse and Neglect and South Korea's Child Protection Services. Topics included the impact of childhood abuse on children's health and the improvement of both police and community responses to child abuse. Speakers presented on how the trauma and stress experienced early in life negatively affect an individual's ability to form relationships, emphasizing that the first three years are decisive in establishing the basic structure of the brain.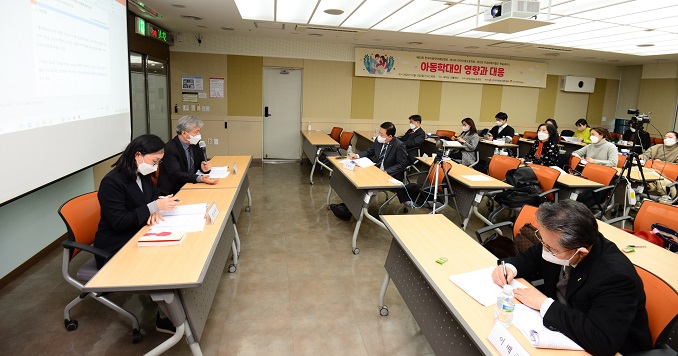 At the 12th child abuse prevention seminar
[© Korea-SGI]
The 11th seminar took place six months prior. Here, participants explored ways to improve the current system aimed at preventing child abuse. This included calls for strengthening the expertise of officers and professional personnel in local government who are assigned to deal with child abuse cases.

Mugunghwa Welfare World has also made financial contributions toward the prevention of child abuse, including supporting mental health care and treatment for children who have been victims of abuse.

The organization is committed to providing a safety net for those who are most vulnerable in society and further welfare projects to ensure basic human rights. At the base of all its activities is the determination to cherish the life of each person.
October 2022