In Pursuit of a Sustainable Future: Bharat Soka Gakkai's SDG Campaign
Vishesh Gupta, Bharat Soka Gakkai Chairperson
Bharat Soka Gakkai (BSG), the Soka Gakkai organization of India, is passionate about creating a sustainable future. In this interview, Vishesh Gupta, BSG Chairperson, talks about the organization's "BSG for SDG" campaign advocating the Sustainable Development Goals and some of the actions being taken by individual BSG members in pursuit of a more sustainable world.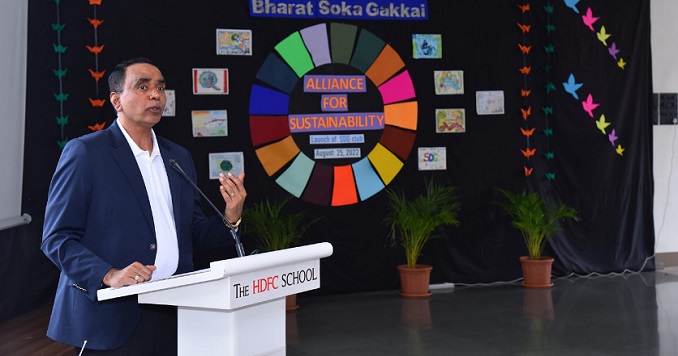 Vishesh Gupta at the SDG Club launch at HDFC school
[© Bharat Soka Gakkai]
How did the BSG for SDG campaign come about?

In July 2021, Bharat Soka Gakkai (BSG) introduced this campaign to advocate for and achieve the Sustainable Development Goals (SDGs) under the banner "Towards 2030: Achieving SDGs through Sustainable Human Behavior."

Regarding the period leading up to 2030, President Daisaku Ikeda writes: "We must be even more determined . . . to transform all great evil into great good and to effect a powerful change in the destiny of all humankind."

In 2019, the UN also called for the period leading up to 2030 to be a Decade of Action to deliver the SDGs and urged nations to generate an unstoppable movement pushing for the required transformations. The next eight to ten years will determine the quality of life for the next hundred to two hundred years. As such, members of BSG feel a sense of responsibility to actualize the vision set forth by President Ikeda and support the UN and realize the SDGs, in order to erase misery from the face of the earth.

Can you give us a brief overview of the initiatives that are part of this campaign?

BSG's campaign highlights the influence of our behavior in effecting a lasting change toward building a sustainable world. BSG has initiated the following innovative ways of promoting their campaign:

1. Empowering Youth

Since the beginning of 2021, a virtual exhibition titled "Seeds of Hope & Action: Making the SDGs a Reality" has been touring various schools and colleges in India every month. The aim is to spread awareness about sustainability to youth throughout the country, encouraging them to overcome feelings of powerlessness and highlight the fact that a single individual can initiate positive change. To date, the "Seeds of Hope & Action" exhibition has been shown in more than 30 schools and colleges.

BSG's campaign highlights the influence of our behavior in affecting a lasting change toward building a sustainable world.
Since the start of 2022, efforts toward formally launching SDG Clubs in various educational institutes have also been made and, to date, six have been established. The purpose of these clubs is to raise SDG leaders among the younger generation. The students who are a part of the club are encouraged to meet once a month to discuss various aspects of sustainability and share innovative actions that they can take in their daily lives to build a sustainable world. BSG works closely with the students to provide them with a variety of materials on the SDGs to help them take these discussions forward. This material is being curated by BSG for all its members and the public alike in order to spread awareness.
2. Promoting Discussion

In various forums, BSG members share stories and ideas on how to promote the SDGs during what is referred to as "SDG Time." These conversations provide opportunities for members to share various initiatives taken at the grassroots level and inspire everyone to take one step forward.

SDG Ambassadors play a crucial role in coordinating the efforts made by members in achieving the SDGs on the frontlines of the organization. This passionate group of around 300 individuals helps spread awareness about the SDGs, encourages members to share their stories of promoting the SDGs and is a nodal point of contact for any questions regarding the SDGs.

BSG also hosts monthly SDG meetings at a national level where members share their experiences of promoting the SDGs in their communities and places of work. Panel discussions on how to apply the SDGs in daily life are also held, where experts in the field are invited to participate and share their perspectives.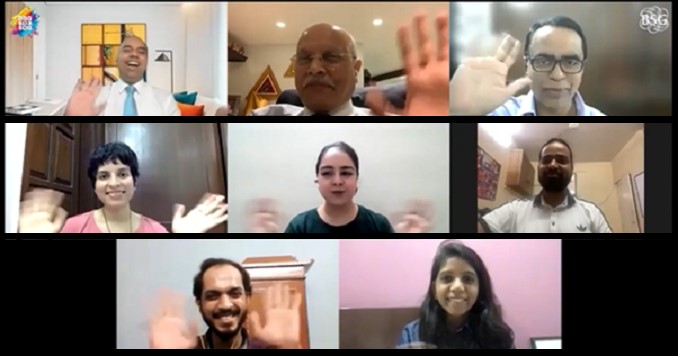 BSG members attend a virtual SDG meeting
[© Bharat Soka Gakkai]
3. Publications and Social Media

BSG's bimonthly newsletter examines a specific theme, such as youth and sustainability, women's empowerment and sustainability, and climate change, with each publication. The newsletter focuses on spreading awareness of the SDGs under the "learn, reflect, empower" formula outlined in President Ikeda's proposals on education for sustainable development.

The "learn" section of the newsletter focuses on learning about the various aspects of the SDGs in an easy-to-grasp manner. The "reflect" section focuses on study of President Ikeda's peace proposals and reflecting on how each of us can undergo our human revolution—an inner transformation—in order to contribute to actualizing the SDGs. Lastly, the "empower" section focuses on empowering others by sharing the actions and stories of how BSG members have been contributing to the SDGs in their personal lives. Articles on the 17 SDGs are also featured in BSG's monthly organ publication, which is read by close to 50,000 people.

BSG has also created digital tools such as short educational videos on the SDGs that are available on BSG's YouTube and social media pages. Most recently, in August 2022, BSG launched the BSG for SDG mobile app and website that serves as a platform for people across the world to enhance their understanding of the SDGs and upload media showing their actions for the SDGs.

Can you share stories of how members have taken action or implemented changes in their respective environments?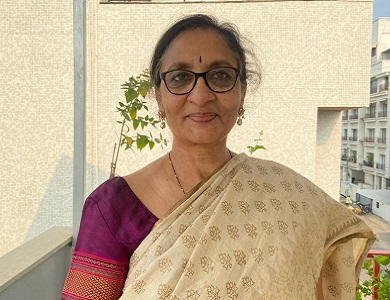 Smita Andhare
[© Bharat Soka Gakkai]
There are many BSG members who are taking action toward achieving the SDGs. One such member is Smita Andhare who has been volunteering with the Vadaavaran Collective, a group of college students and professionals in the city of Vadodara working together to tackle the problem of climate change. These volunteers started a waste-to-value cycle model during the pandemic, where raw organic food waste from households and the community is collected and composted. The compost is then given back to the households to support their own green environs.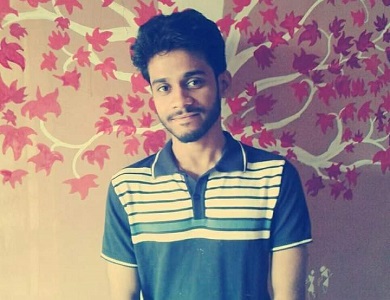 Bodhisatwa Chaudhuri
[© Bharat Soka Gakkai]
BSG member Bodhisatwa Chaudhuri is passionate about preserving the biodiversity of the township of Patuli where he lives. In addition to documenting biodiversity such as birds and trees in the area, he actively dialogues with locals about the importance of biodiversity and is organizing birdwatching sessions and discussions on how locals can take steps to ensure the natural heritage of the area is protected.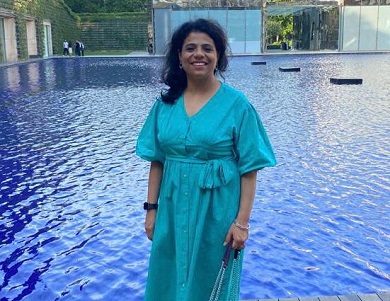 Jagriti Jagat
[© Bharat Soka Gakkai]
Jagriti Jagat, another BSG member, has practiced waste segregation at her house for over a decade and turned it into a campaign involving residents in her community to ensure all waste is recycled and does not end up at a landfill.
What is BSG's goal towards 2030?

One of the main aims of BSG is to create a world where "no one is left behind," which embodies the spirit of the SDGs. To achieve this, BSG is determined to build a solidarity of youth and also effect bottom-up reforms through promoting sustainable human behavior.

In his 2020 peace proposal, President Ikeda says that "the path to resolving the problem of climate change and achieving the SDGs will not be smooth or easy. However, I am deeply confident that as long as there is solidarity among youth, there is no impasse we cannot surmount." In his 2002 proposal written at the time of the 2002 World Summit on Sustainable Development, he states, "In addition to 'top-down' reforms, such as the legal and institutional measures . . . any lasting solution will require commensurate 'bottom-up' reforms that build and strengthen solidarity at the people's level."

Sustainability demands changes in human behavior and requires a transformation in the way that we think, cultivating mindfulness of and consideration for others and the environment and how one's actions impact them.

Sustainable human behavior can include being considerate of one's neighbors, being mindful of one's water and energy consumption, overcoming prejudices and biases and calls for a conscious focus on respecting the dignity of all life.

Inspired by President Ikeda's vision, BSG members are determined to create an era of sustainable human behavior and, through their actions, drive bottom-up reforms. This is at the heart of BSG's campaign to realize the SDGs.
November 2022