Working for a Nuclear-Weapon-Free World in Iceland 
by Eyrún Ósk Jónsdóttir, Iceland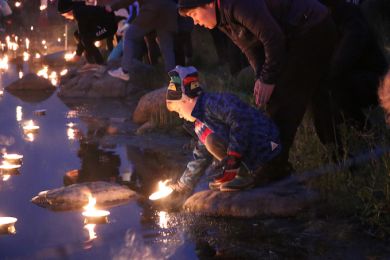 Floating candles on Reykjavík Pond to commemorate the victims of the atomic bomb
Iceland, a small island in the North Atlantic Ocean, is home to a population of about 334,000 people. It has no army and has consistently been ranked as one of the happiest nations in the world.

In 1986, during the Cold War, this small country played an important role in curtailing the nuclear arms race between the United States and the Soviet Union when it hosted a historic meeting between US President Ronald Reagan and the leader of the Soviet Union, Mikhail Gorbachev, in its capital, Reykjavík. The Reykjavík Summit paved the way for the Intermediate-Range Nuclear Forces (INF) arms control treaty between the two superpowers and is considered a significant turning point in the Cold War.
Each year, on August 6 or 9, thousands of people gather at Reykjavík Pond to float flaming candles in memory of the victims of the atomic bombings of Hiroshima and Nagasaki and to demand the abolition of nuclear weapons. For 34 years, SGI-Iceland has taken part in organizing this peace event in collaboration with other Icelandic organizations working for peace, such as Samtök hernaðarandstæðingar (an anti-war organization), Friðarhreyfing íslenskra kvenna (a women's organization) and Félag leikskólakennara (an association of preschool teachers).

Another example of such collaboration is the organizing of a peace parade down Reykjavík's main shopping street on December 23 each year that up to five thousand people attend. Institutions in Hiroshima have recognized the long-standing efforts of the peace movement in Iceland, presenting relics of the atomic bombing to the capital city as tokens of gratitude.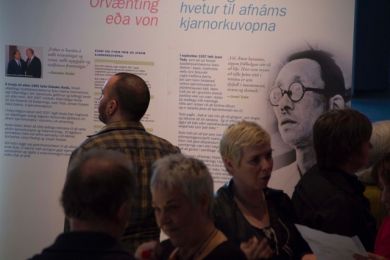 Viewing the exhibition panels at Reykjavík City Hall
On September 8, 1957, second Soka Gakkai president Josei Toda made a public appeal for the complete abolition of nuclear weapons, calling on the youth of the Soka Gakkai to work toward this goal. This anti-nuclear declaration became the starting point of the Soka Gakkai's peace activities.

"It is not enough just to dream about peace, we need to take action to create peace. By participating in events such as these, we are taking a stand for peace and the dignity of life, and we are creating awareness among the people and within our government that we are all responsible for this world," says Eygló Jónsdóttir, the chairperson of SGI-Iceland.
In recent years, SGI-Iceland and the Icelandic peace movements have been focused on educating Icelanders about the Treaty on the Prohibition of Nuclear Weapons (TPNW), the first legally binding international agreement to comprehensively prohibit nuclear weapons, and appealing to the government to sign it. In 2013, the SGI showed its exhibition "From a Culture of Violence to a Culture of Peace: Toward a World Free of Nuclear Weapons" at Reykjavík City Hall. Prime Minister Katrín Jakobsdóttir, who at the time was the minister of education, opened the exhibition.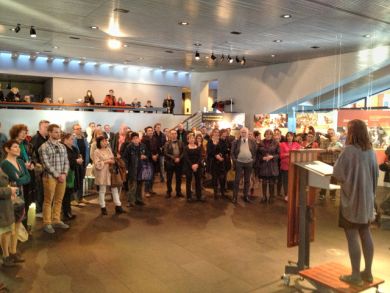 Opening the "From a Culture of Violence to a Culture of Peace" exhibition at Reykjavík City Hall
Following on from this, in 2015, SGI-Iceland held a peace week in an old cinema in the town of Hafnarfjörður, which included another showing of this exhibition and a screening of the documentary Another Way of Seeing Things, that explores how prejudice and stereotyping help fuel wars and conflict, to some 520 students.

The following year, SGI-Iceland was invited to put on the exhibition at the Reykjavík Art Museum and host one of a series of "peace talks" organized by the museum in connection with the artist Yoko Ono's peace exhibition that had opened there that month.

When the TPNW finally came into being in 2017, SGI-Iceland took part in a conference on the treaty with the other Icelandic peace movements and together urged the government to sign it.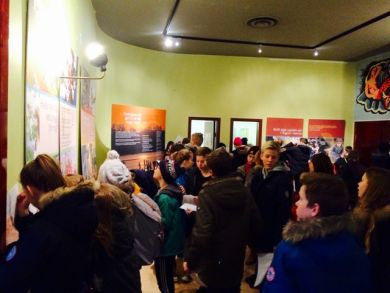 Students at the Hafnarfjörður exhibition and peace week
The month of October has become a month dedicated to peace issues in Reykjavík, so in 2018, the SGI's anti-nuclear weapons exhibition was again shown in one of the most popular shopping centers in the city to raise awareness of the issue.

"I can see that it makes people happy when we hold these peace activities. When people realize that someone believes in and takes action for peace, they also begin to believe it is possible to create peace. When I see this happen, for me it's actual proof of how each person can have a huge effect on others and change society," says Anna Björg Hjartardóttir, a member of SGI-Iceland, about taking part in these events. Another SGI-Iceland member, Haukur Guðmundsson, notes, "Our peace activities give me a clear philosophy to work by and ideals that are grounded in everyday reality."
SGI-Iceland members are determined to continue their efforts for peace, including promoting the TPNW among Icelanders and encouraging the Icelandic government to become a signatory.
[January 2019]