Seeds of Hope: The Power of One
by Barbara Jenkins, USA
Barbara Jenkins introduces the exhibition "Seeds of Hope: Visions of sustainability, steps toward change" and its key message—the power of the individual to effect change and create a sustainable world. The exhibition was jointly created by the SGI (Soka Gakkai International) and Earth Charter International in 2010 and has since been seen by some 1.5 million people in 34 countries. Ms. Jenkins delivered this text at the opening of a panel event titled "Building a Sustainable Present: What can one person do?" at the University of Toledo, Ohio, on November 10, 2015. The exhibition was on display at the university from mid-July to November 2015.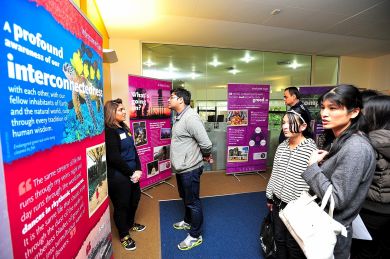 Viewing the "Seeds of Hope" exhibition in New Zealand, one of the 34 countries including Argentina, Brazil, India, South Korea and Malaysia in which the exhibition has been shown
[© Seikyo Shimbun]
Throughout history, we have seen examples of how one person's actions have changed the world: Mahatma Gandhi inspired and mobilized masses of people to end colonial rule in India; Martin Luther King Jr. galvanized people around the US to advance civil rights; and the scientist, scholar and author Rachel Carson—whose love and study of nature led her to write Silent Spring, the handbook for living on Planet Earth—became the mother of the modern-day environmental movement.

Each of these individuals had a vision that was too great for them to ignore. That vision led them to follow their hearts and fueled their innermost determination. Each started with one small step, followed by another and then another. We may look at their examples and rather than be inspired, say to ourselves: "I could never accomplish anything as great as they did." Especially in the face of the painful realities of today's complex world, it is often easy to feel that we are too small to make a difference.
In an essay published in the book Hold Hope, Wage Peace, Daisaku Ikeda offers an alternative to those feelings:

"I do not believe that people are powerless . . . The same power which moves the universe exists within our lives. Each individual has immense potential—and a great change in the inner dimension of one individual's life has the power to touch the lives of others and transform society. Everything begins with us."

We are all interconnected. Every action we take creates a shift in the world around us. John Muir, often called the "Father of our National Parks," stated, "When we try to pick out anything by itself we find that it is bound fast by a thousand invisible cords that cannot be broken, to everything in the universe."

Change occurs when people of vision, undaunted by the world in flames around them, continue to emerge and persevere. They are able to remain undaunted because they choose to nurture the flame of hope burning in their hearts. As Dr. King said during the height of the civil rights movement, "Everything that is done in the world is done by hope." It is a similar sentiment that inspired the joint creation of the "Seeds of Hope: Visions of sustainability, steps toward change" exhibition by the SGI and Earth Charter International.

The exhibition showcases individuals from around the world who have taken up the challenge of creating change. For example, one of the panels focuses on Wangari Maathai. Dr. Maathai was born in a rural area of Kenya but was able to become the first woman in East and Central Africa to earn a doctorate degree. She inspired and helped women and children learn how to plant trees in order to stop the soil erosion that was depriving their communities of their livelihoods. Through the establishment of the Green Belt Movement, Dr. Maathai's actions resulted in more than 51 million trees being planted throughout Kenya and launched a global movement that has since inspired the planting of more than 12 billion trees. Her work, which began in 1977, was recognized with a Nobel Peace Prize nearly 30 years later.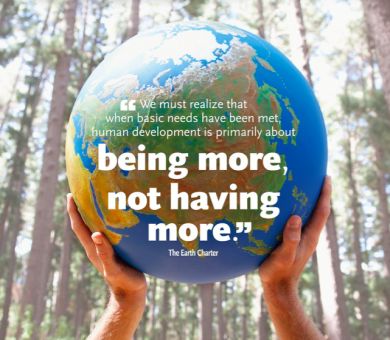 Another panel depicts Joanne Wilkes, an SGI-UK member, who bought a home in Manchester's Moss Side, an area known for crime and gang activity. She created a neighborhood street party that brought people together and resulted in opportunities for neighborhood redevelopment.

When each of these individuals took their first steps of local action, they were not thinking of big outcomes; however, our actions, no matter how small, have a ripple effect and can indeed change the world.
The first principle of the Earth Charter includes the statement: "Recognize that all beings are interdependent and every form of life has value regardless of its worth to human beings."

To further illustrate this important principle, "Seeds of Hope" is based on the following formula:
Learn and deepen awareness of environmental issues and realities

Reflect on our modes of living, renewing these toward sustainability
Empower people to take concrete action to resolve the issues we face
Ultimately, the goal of the exhibition is to plant the seeds of hope in the hearts of all who have the opportunity to view it, so that they can recognize the potential they each possess to take concrete action to make a change in their respective communities and discover the difference they can indeed make, one step at a time.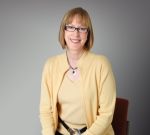 Barbara Jenkins is an SGI-USA Women's Division vice national leader and has been practicing Nichiren Buddhism for 41 years. Barbara holds a master's in Communication Research and Methodology and is an independent market research consultant. In her spare time, Barbara enjoys walking her dog Lucky.
[April 2016]