Empowering Young Women to Lead
Ivy Koek, SGI Office for UN Affairs
Ivy Koek of the SGI Office for UN Affairs talks about the "Young Women's Stories—Fostering Leadership" project that was launched in 2018 and the essential role young women play in shaping the world.

Gender equality is for everyone, it is not limited to women alone. Ultimately, efforts to advance the human rights of women and girls contribute to the welfare of all people.
The SGI (Soka Gakkai International)'s activities to foster women's leadership is rooted in the belief that women have the power to guide humanity to peace. SGI President Daisaku Ikeda outlines the role of women for peace in his 2000 peace proposal: "With women leading the way, when each and every person is aware and committed, we will be able to prevent society from relapsing into the culture of war, and foster and nurture energy toward the creation of a century of peace."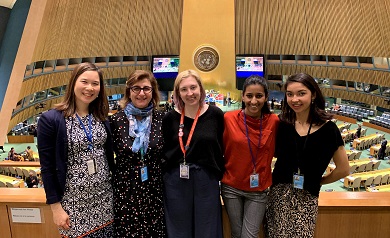 Ivy Koek (left) during the 64th session of the Commission on the Status of Women held in New York in 2020
Women's participation and leadership have been recognized in various United Nations processes over the years. These include the Sustainable Development Goals, the UN Security Council Resolution 1325 (October 2000) and the Beijing Platform for Action (BPfA) that was adopted in 1995 and specifically identifies the role of young women. Young women are an untapped resource with enormous potential to be change agents and leaders.
Sharing Young Women's Stories
Storytelling, in the form of faith experiences, is a Soka Gakkai tradition, as is fostering leaders—particularly youth leaders. As part of the "Young Women's Stories—Fostering Leadership" project, we wanted to share the stories of young women who, through a process of overcoming challenging circumstances, have contributed to society and exhibited leadership.
Young women are an untapped resource with enormous potential to be change agents and leaders.
The SGI Office for UN Affairs collected 15 stories from around the world—from Soka Gakkai members, partner organizations, the World YWCA and the Global Network of Women Peacebuilders (GNWP), a coalition of over 100 women's rights organizations worldwide in countries experiencing humanitarian crises. Through this endeavor, we hoped to understand how personal development and transformation can help young women gain confidence, empower themselves and others and make a positive difference where they live and work.
The women in our stories all showed how they remained undefeated by their circumstances and stayed focused. They all expressed that they were motivated to keep persevering on behalf of others:

"I truly feel that my success is the result of challenging myself for the sake of others. I found ways to face my fears and lack of self-worth, and this, in turn, enabled me to follow my own dreams and reap such wonderful benefits."

Another motivator for many was a spiritual or religious practice:

"At this low point in my life, my Buddhist practice helped give me the confidence to start sowing hope-filled seeds. I felt a strong inner voice encouraging me to pursue a Master's in music composition."

One participant shares how she was led to her calling:

"When I think back to the day when that devastating [2011] earthquake and tsunami hit my town, I could never have known what an impact it would have on me. But now I realize that watching the people here in Tohoku overcome their hardships and survive the disaster inspired me and helped me find my calling helping others as a caretaker. No matter where my future takes me, I know I will use my experiences to continue to grow as a leader, putting others first with empathy and kindness."
A New Approach: 21st Century Leadership
An independent researcher compiled a qualitative analysis report on the stories. The findings from the report were grouped under three themes: qualities of leadership; motivation, challenges, breakthroughs and accomplishments; and self-confidence. Qualities of leadership displayed by the young women were identified as:
courage,

a sense of service,

mission driven,

compassion,

self-awareness, and

grit.
The report noted that these qualities characterize what is called "21st century leadership," which is seen as essential to the ways in which we conceptualize leadership in the 21st century. Such qualities resonate with the Buddhist values that Soka Gakkai members strive each day to embody. This, however, is not the skill set most people associate with leadership and not one that is often displayed.

The report also found that in the leadership journey, accomplishments and breakthroughs are directly connected to self-confidence (one impacts the other). What fuels this is a sense of service and purpose.
Inner Transformation and Leadership
In his 2012 environment proposal, President Ikeda captures the process of inner transformation which reflects this leadership journey: "Buddhism teaches that the means to fundamentally overcome our suffering do not exist outside ourselves. Through the process of awakening to and fully manifesting our unlimited inner potential, we are transformed in a way that enables us to lead others to happiness and security. This great inner transformation enables us to make our own suffering the impetus to improve society."
Young women are already leading in their workplaces and . . . have the potential to change the world.
Each woman's story speaks to the personal inner process of the individual to transform themselves and their situations in order to contribute to the welfare of others.

The stories are intended to be a source of inspiration and hope for other young women who read them. Additionally, we hope to widely share these stories among our UN community, as they demonstrate young women with agency overcoming sexism and social norms and taking action as change agents. In this way, we hope to show how young women are already leading in their workplaces and how, collectively, they have the potential to change the world.
December 2021