From the Ground Up: Soka Gakkai Singapore's Yio Chu Kang Chapter
This series profiles local Soka Gakkai organizations around the world, looking at how they are responding to the new global conditions.

Yio Chu Kang Chapter, in the northeast part of Singapore, consists of four districts and is home to around 180 people. In a country facing a declining birthrate, many of the district's members are seniors. At a recent general meeting, though, it was the youth who were at the forefront. As chapter men's leader Foong Chee Leong says, "In our chapter, we always make sure to give the youth a lot of opportunities to grow."

During the meeting, a district young men's leader, shared his faith experience. He is someone who was supported with great care by the men and women leaders in the district. "As leaders we often discussed how best we could support him and encourage his faith," remembers Foong Chee Leong. They would decide who was the best person to encourage him at a particular time and tried to involve him in planning meetings. Eventually, in 2019, he was appointed as the district young men's leader.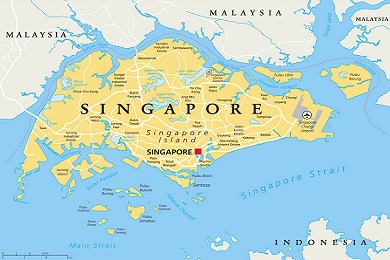 [PeterHermesFurian/iStock]
Soon after, however, he was diagnosed with a brain tumor. He underwent surgery to remove the tumor and began radiation therapy. At the same time, his work contract came to an end. Local members did their best to encourage him and chanted a lot for his well-being. In the midst of his battle with illness, he began to study digital marketing and began his job search during the pandemic.
After applying to more than 200 companies, he found a job in the highly competitive film production field. "The women in the chapter supported me like their son," he says, "while the men taught me the philosophy of transforming karma into a sense of mission. My victory is their victory!"
COVID-19 began spreading in Singapore around March 2020, and a partial lockdown, referred to as the "circuit breaker," began in April. With everyone following the government-led measures, things were quickly brought under control, but the country's economy was hit hard by a lack of foreign visitors.

"People are facing wage reductions and job losses as businesses close," says Lau Wei Lun, the chapter's young men's leader, who is an IT engineer. Despite the economic turmoil, he has been offered higher-paying positions by three companies during this period. It is an outcome he attributes to his Buddhist practice.

The young men have been holding weekly online Buddhist study sessions, which are an opportunity for participants to share their challenges and victories and encourage one another. "The future is determined by our present actions," says Lau Wei Lun. "I think we should make this crisis an opportunity for the world to unite and create a new era." The men's group members are committed to supporting the faith of the young men. "We are in the midst of turbulent times," says Foong Chee Leong, "but President Daisaku Ikeda's focus is always on fostering the next generation."
Another characteristic of the district is the unity between the women and young women. "We are always contacting each other and exchanging messages. We're like sisters," says Lee Wei Wei, the chapter women's leader.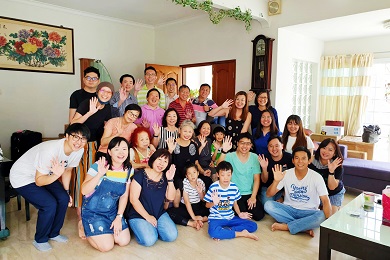 Yio Chu Kang Chapter members and their families
[© Seikyo Shimbun]
A working mom, she says support for the youth members is a priority, no matter how busy she is. Lee Wei Wei remembers her own struggles as a young woman. A turning point in her life was when a senior member told her, "If you try achieving what you think is impossible, you'll see the power of faith." She began putting extra effort into her studies and unexpectedly won a scholarship which enabled her to attend university and then go on to study in the UK. Now she wants each of the youth members to be able to unlock the conviction to win over their own challenges.
In 2019, she was diagnosed with stage 3 breast cancer. It was the same illness that her deceased mother had battled with, and she felt that she was confronting her family karma. Drawing courage from her Buddhist faith, she determined that she would defeat cancer in order to give others hope. "During my five-month long chemotherapy, I chanted a lot, and I studied Buddhism a lot. I decided that I wanted to live my life for the sake of the Soka Gakkai's ideal of world peace, that I could do more, and I didn't want to waste my life being sick." After surgery in December 2019, her cancer is now in remission.

Throughout her illness and as the pandemic as raged on, she has continued to encourage the young women in the chapter, holding chanting sessions with members who have recently graduated from college and are having challenges finding employment. "Encouragement from the women members is important," says Tien Yoke May, the chapter young women's leader. "The seniors have experience as well as conviction from having practiced for so long. That's the best gift for the younger generation."

Yio Chu Kang Chapter is a shining example of the Soka Gakkai's principle that the strength of an organization lies in the spirit to cherish each person.

Adapted from an article in the December 1, 2020, issue of Seikyo Shimbun, Soka Gakkai, Japan.