As the effects of global warming intensify, extreme weather events are becoming more frequent. When torrential rainfall caused devastating floods throughout Malaysia in 2021, Soka Gakkai Malaysia members were among the first to respond. Here, they recount their experiences and what they learned helping victims of local flooding following the landfall of a tropical cyclone on December 16, 2021.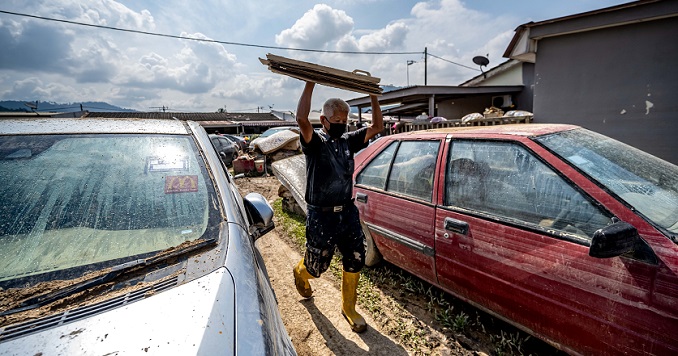 In Hulu Langat
[Courtesy of SGM]
"When we arrived at the disaster area, we couldn't believe what we saw. The floods had destroyed most of the residential area, and there was mud everywhere. The roads were full of damaged cars and debris. There was helplessness on the faces of the residents. Their conversations, however, were all about how grateful they were to just be alive." (Wong Chee Kien, Men's Division member, helping with relief efforts in the Hulu Langat District)
Coordinating Efforts in Selangor State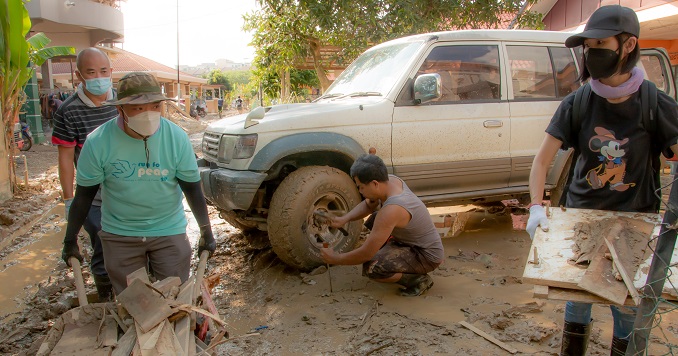 Soka Gakkai Malaysia (SGM) donated hundreds of sets of mattresses, blankets and pillows, as well as towels and T-shirts to temporary flood relief centers in the Hulu Langat District.

SGM members from Kuala Lumpur, the capital, went to assist rural communities in Hulu Langat. Adrian Chan describes how he helped coordinate the volunteer efforts:

"When I first heard about the flood, the first thing that came to my mind was that the residents in that area are mostly elderly couples whose children work elsewhere. The next thing I thought was that we need to plan for evacuation and cleaning. I coordinated efforts with the local council to provide boats for evacuation.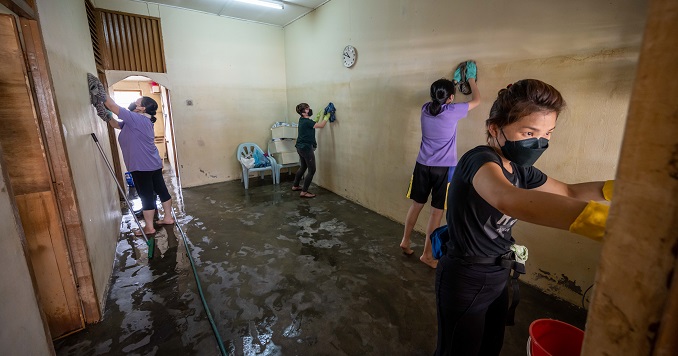 "When the floodwaters finally receded, we went into the disaster area to assess the situation. Action plans were then laid, and vehicles and equipment were prepared. Over 80 volunteers assisted over two days. Many people had lost everything. During the two days, we listened to each family's story."

Leong Yan Ee is a Young Woman's Division member from Kuala Lumpur who joined the volunteer effort: "Mud covered everything, and the villagers were exhausted. But when they saw us volunteers arrive, they all greeted us with smiles. We got to work clearing the debris. The most memorable part was the cooperative spirit of the volunteers. We were like a family working together. Everyone exerted themselves despite the dirt and the hot sun. We simply wanted to help the villagers."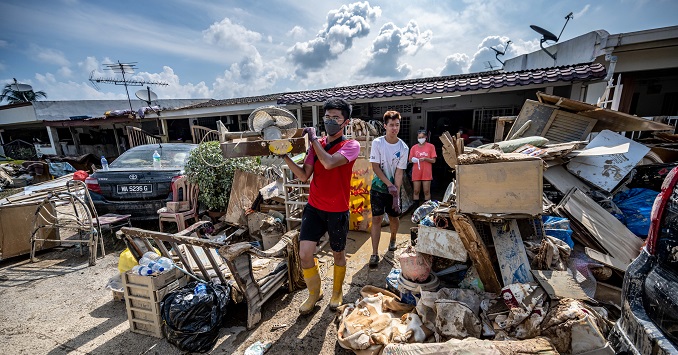 Yap Yuan Tian is a member of SGM's Young Men's Division. "It was a disaster! I have never seen such a severe flood before. Everywhere was covered with mud and piles of destroyed stuff. Everything in the houses had been destroyed. It was tiring but everyone worked together. I felt that when people are united, no matter how difficult the situation is, problems can be overcome together."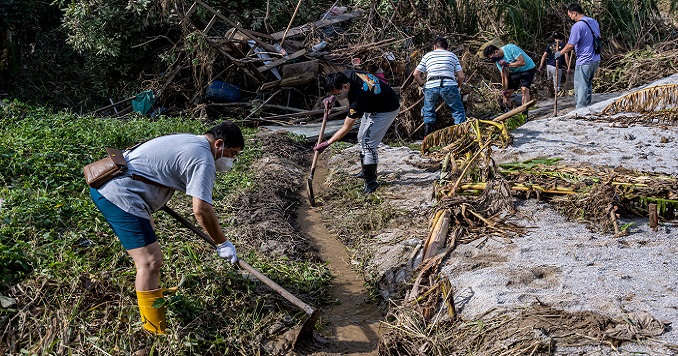 The volunteers also dug channels and cleared drainage trenches to allow the water to flow out.
Klang City and Taman Sri Muda
The SGM organization in the state of Selangor donated 200 mattresses and pillows to relief centers, while members prepared and sent food and other goods. Volunteers from the region assisting relief efforts in the badly affected city of Klang and the township of Taman Sri Muda share their impressions.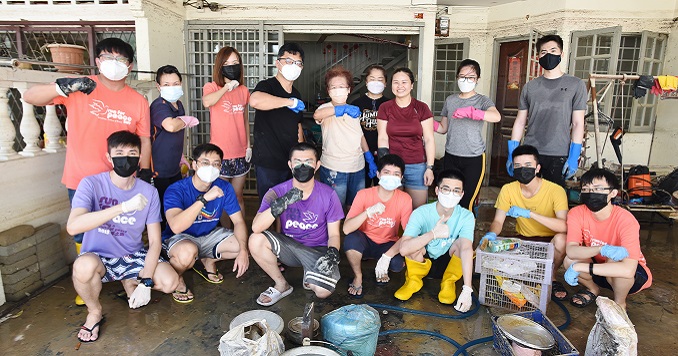 Jael Yee Zhi Jun, from the Young Women's Division: "Talking to the victims of the disaster was an unforgettable experience. Many of their possessions, which they had worked and saved for, were destroyed in one night. My heart ached for them. One elderly lady, though, who lost almost all her furniture and even her car said that it doesn't matter if money is gone. Lost furniture can be bought again. The most important thing is life. I was deeply moved by her words."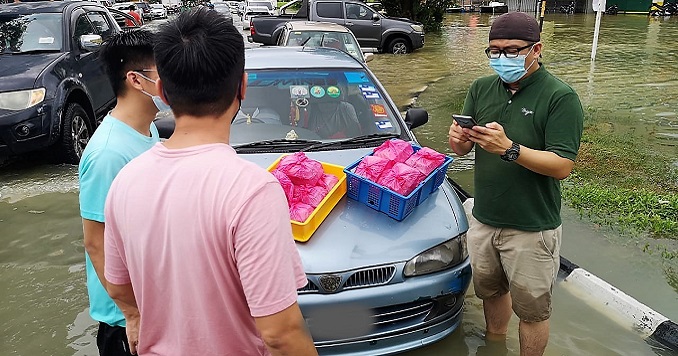 SGM members deliver food to those affected by the floods
[Courtesy of SGM]
Koo Yee Heng of the Young Men's Division agreed. "It was heartwarming to see everyone contributing to the relief efforts regardless of their own needs. Seeing people's faces change from sad to smiling after we had helped clean up their homes made us feel that all our hard work was worth it!"
A Spirit of Unity in Pahang State
Several towns in the state of Pahang were also badly affected. Some 50 members went to different areas to assist affected families in cleaning up, and later, SGM made cash donations to local schools to help them rebuild their facilities.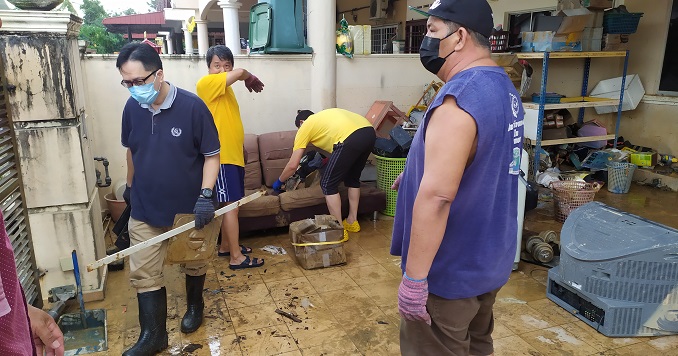 As the flood waters rose, Mak Kok Hin of the Men's Division used his 10-tonne truck to help evacuate members and their neighbours to the SGM Pahang Culture Centre, which became a temporary shelter. "One of the most severely affected houses was filled to the roof with mud," he says. "Some youth also participated in the cleanup, and I was impressed by their attitude. They were not put off by how dirty and smelly it was. Instead, they took the initiative to clean up the house and worked without any complaints of tiredness."

Women's Division member Chong Guat Huan describes the experience of working together: "When we arrived at the scene, the volunteers had a tacit understanding of what needed to be done and there was no need to wait for anyone to explain or assign work, we all automatically put ourselves into the work, cooperating with each other and doing whatever was needed."
"During the cleanup, I felt how small human beings are in the face of natural disasters," says Hew Jian Yung, a Young Men's Division member who helped with the cleanup in a village in the state of Negeri Sembilan. "There is a concept in Buddhism of the oneness of life and its environment. From this activity, I deeply understand that human survival is inseparable from a good ecological environment."

As Koo Wei Xin, a Young Women's Division member says, "Human beings depend on nature, and when a disaster like this strikes, one realizes that we can't take everyday life for granted."