The Human Revolution Orchestra: A Collaboration for Humanity
by Sean Corby, UK
The Human Revolution Orchestra first came together in 2013 to inaugurate "Ode to the Human Spirit," an event celebrating International Jazz Day in the UK. The orchestra's cofounder, SGI-UK member and trumpeter Sean Corby, describes its subsequent dynamic development into an international collaboration harnessing the power of music to heal, transform and reconcile.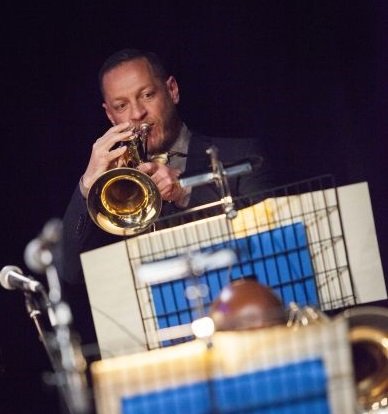 Sean Corby plays at "Ode to the Human Spirit" 2016
[Debbie Ripley]
From humble beginnings at a local SGI-UK center, "Ode to the Human Spirit" has grown to be the main UK event marking International Jazz Day (April 30).

It was shortly after joining SGI-UK that I learned legendary US jazz musician Herbie Hancock had initiated this UNESCO-led global jazz event, which aims, through this international art form, to promote peace, intercultural dialogue, freedom of expression and respect for human dignity, among other things. Aware that Herbie was a Soka Gakkai member, I felt that something should be done to celebrate the day of which there was no real acknowledgment among the UK jazz fraternity.

The first event, held at the SGI-UK South London National Centre in Brixton on April 30, 2013, was profoundly moving. The energy in the concert space was beautiful, vibrant and sincere. Many of the musicians, used to performing for quite reserved jazz audiences, were inspired by the reception they received and by the wonderful connectivity between the audience and performers. It was how it should be! A number of those who participated told me afterwards that they thought I should keep the big band together and develop it further.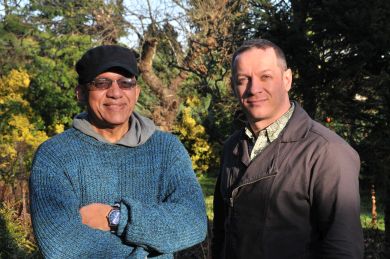 Neville Murray and Sean Corby, cofounders of the Human Revolution Orchestra
[Simon Addinsell]
Subsequent concerts included special guests from the US such as multireedist Bennie Maupin, pianist Marc Cary and trombonist Robin Eubanks. These concerts inspired the emergence of the Human Revolution Orchestra, now a large ensemble featuring some of the UK's finest emerging and established jazz musicians from various musical, cultural, ethnic and religious backgrounds. On April 30, 2016, "Ode to the Human Spirit" featured the Human Revolution Orchestra and was the fourth time SGI-UK had presented an event in celebration of International Jazz Day.
As cofounders of the events and the orchestra, fellow SGI-UK member Neville Murray and I are delighted to have been able to bring together musicians from many different backgrounds and levels of experience that would probably not have performed together otherwise. Herbie Hancock, who has personally shown great support for this project, has said, "The Human Revolution Orchestra is making great strides in music toward bringing the peoples of the world together."
Reconciliation and Transformation
The musicians who have participated and shared their time, energy and musical gifts also share a desire to use music as a means of promoting social change, interfaith respect, cultural understanding and the upholding of humanitarian and pluralist values.

Drummer Rod Youngs spoke of his experience as a participant musician:

"Music for me has always been a vehicle for self-expression. It's a very special way of communicating the human experience and is a means of collaborating with people from different backgrounds, but more importantly, it's a way of connecting to people in a much deeper and profound way. Indeed, music affirms our humanity, and the Human Revolution Orchestra is the perfect vehicle for this task."

In August 2015, the orchestra was awarded £15,000 to pilot a program that included performances with special guest Robin Eubanks at the legendary Ronnie Scott's jazz club in London and at the Royal Northern College of Music in Manchester.

In addition to these concerts, orchestra members conducted jazz and personal transformation workshops for prisoners at Grendon Prison, a therapeutic community prison in Buckinghamshire, which culminated in a concert there in May 2016.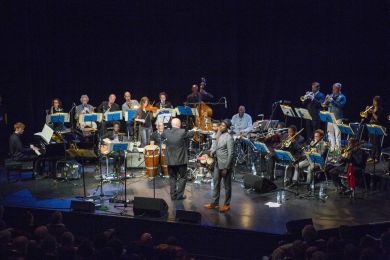 The Human Revolution Orchestra play
[Debbie Ripley]
Looking to the future, I am keen to develop partnerships with various faith-based, cultural and academic organizations in the UK and internationally to deliver work that is artistically excellent and socially valuable, dynamically engaging communities and individuals who could benefit from certain kinds of artistic intervention.

An example of such work is currently being discussed with partners in Liverpool, a city with a rich cultural and artistic history that has faced great economic hardship and witnessed sectarian conflict and racial tensions over many years.
I have also met with local artist and poet Curtis Watt, filmmaker Derek Murray, the artistic director of the choral organization Sense of Sound, Jennifer John, and representatives of Liverpool Metropolitan Cathedral to develop ideas around working with communities on a program using music to explore themes of faith, spirituality and reconciliation.

Through developing both the annual "Ode to the Human Spirit" event and the Human Revolution Orchestra, I have grown in confidence and found a real sense of purpose in directing this project. The Soka Gakkai talks about unleashing one's potential through faith, and I really feel I have been able to see evidence of this.

Of course, my own negativity, doubt, egotism, fear and anger have shown themselves, but gradually over time and thanks to my Buddhist practice, I have been able to recognize these tendencies in myself and attempt to transform them. Even those things that have proven frustrating and demoralizing whilst building this project have been dealt with through reflection, prayer and a deep-rooted desire to resolve such conflict with love. It's easier said than done, but it's possible.

There is so much potential for the Human Revolution Orchestra and our annual event "Ode to the Human Spirit" to make a very significant impact musically and socially. Without the support of SGI-UK and the tremendous amount of good will from the musicians and several others from the music world, this would never have come to fruition. I am deeply grateful.

Over the next few years, I am determined to see the orchestra awarded funding for compositions and record an album based on the Buddhist concept of the Ten Worlds for us to deepen connections with like-minded artists in the US and Europe, develop work with the Min-On Concert Association in Japan and make a real contribution to the field of arts and conflict resolution.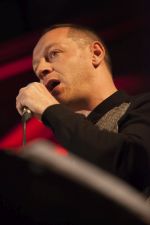 SGI-UK member Sean Corby is a trumpeter who has performed with many internationally renowned jazz, reggae and pop artists including Jazz Warriors, Mica Paris and Gregory Isaacs. He is also cofounder of Jazz in the Round with Jez Nelson, a Jazz FM radio program in the UK. He has been practicing Nichiren Buddhism since 2012. [Debbie Ripley]
[May 2016]