Toward a World Free from Misery
by Olivier Urbain
Olivier Urbain, director of the Toda Institute for Global Peace and Policy Research, describes the founding ideals of the institute and how these are being built upon.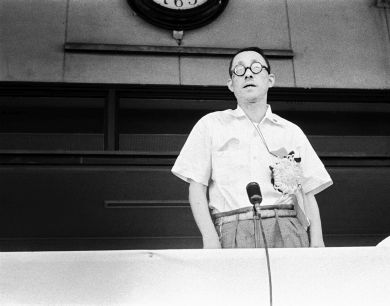 Josei Toda
calling for the abolition of nuclear weapons on September 8, 1957, at a meeting of 50,000 members of the Soka Gakkai's youth division at Mitsuzawa Stadium, Yokohama
[© Seikyo Shimbun]
The Toda Institute for Global Peace and Policy Research was established on February 11, 1996, by Daisaku Ikeda. The motto of the institute, "Dialogue of Civilizations for Global Citizenship," encapsulates the vision of Ikeda's mentor Josei Toda (1900–58), the second president of the Soka Gakkai.

Toda's ardent wish was to "eliminate misery from the Earth." In 1952, he stated his belief in the concept of "global nationalism," which corresponds to what we call today "global citizenship." In 1957, he clarified that to achieve peace, in addition to abolishing nuclear weapons themselves, humanity will have to remove the "claws hidden" in the depths of such weapons—namely, the willingness to jeopardize humanity's inviolable right to live and the desire to dominate other people and nations.

Ikeda established the Toda Institute to implement Toda's vision of a world free of nuclear weapons where global citizens interact with each other based on trust and friendship. He has also expanded this vision in order to create a new civilizational platform characterized by respect for life, interconnectedness, understanding and cooperation.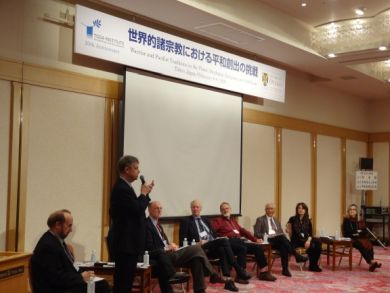 Olivier speaks at the 20th anniversary event
[© Toda Institute]
Based on Ikeda's vision, the Toda Institute provides an open space where experts and scholars can gather and discuss freely. Throughout the past 20 years, the institute has organized more than 50 international conferences and workshops and published over 40 collective works, in addition to the publication of 20 volumes of its journal Peace & Policy. Through these endeavors it has provided opportunities for new insights and fresh approaches to global issues such as nuclear abolition, United Nations reform, climate change and dialogue of civilizations and religions.
Under the leadership of the institute's first director, Majid Tehranian (1937–2012), from 1996 to 2008 the institute initiated research projects on global issues in collaboration with researchers and peace research centers throughout the world. Reflecting Tehranian's passion for international communications and his deep understanding of the mission of the institute, the four major research projects undertaken were:
Human Security and Global Governance (HUGG), 1996–2002;


Globalization, Regionalization and Democratization (GRAD), 2001–2004;

Peace, Education, Art, Culture and Environment (P.E.A.C.E), 2005; and

Human Security and Global Governance 2 (HUGG2), 2005–2007.
Since becoming the institute's second director in 2008, I have introduced two additional research strands. Daisaku Ikeda's Philosophy of Peace was launched to clarify the ideas of the founder and his philosophy of peace and to make them available in secular humanist and social science terms. It has resulted in numerous articles and three volumes—Daisaku Ikeda's Philosophy of Peace (2010), Daisaku Ikeda and Dialogue for Peace (2013) and A Forum for Peace: Daisaku Ikeda's Proposals to the UN (2014).

The other pioneering endeavor, research programs into the application of music (and "musicking") in peacebuilding activities, has already resulted in the completion of three collective publications on the topic—Music and Conflict Transformation (2008/2015), Music and Solidarity (2011) and Music, Power and Liberty (2016). Further research is currently underway in collaboration with several departments at Queen's University Belfast, Northern Ireland, and with the Min-On Music Research Institute.

In addition, we started a new collaborative research program in 2010 under the leadership of the Toda Institute's secretary-general, Kevin Clements, director of the National Centre for Peace and Conflict Studies at the University of Otago, New Zealand. The team of senior research fellows—including Sverre Lodgaard, Chaiwat Satha-Anand, Eileen Babbitt and newly appointed fellow Lisa Schirch—launched globally linked regional projects under the heading of Regional Efforts to Achieve Peace (REAP).

The project's research topics span various academic fields: nuclear abolition; the integration of the European Union; Northeast Asian relations; conflict transformation, resolution, prevention and reconciliation; the Arab Spring; Islam and nonviolence; and protecting sacred spaces. Bringing experts together across various disciplines, regional workshops and conferences have been conducted in Norway, Japan, Thailand, Korea, Austria and the US. The latest meeting, commemorating the 20th anniversary of the institute (2016), was conducted in Tokyo, Japan, and titled "Warrior and Pacifist Traditions in the Three Abrahamic Religions and Buddhism."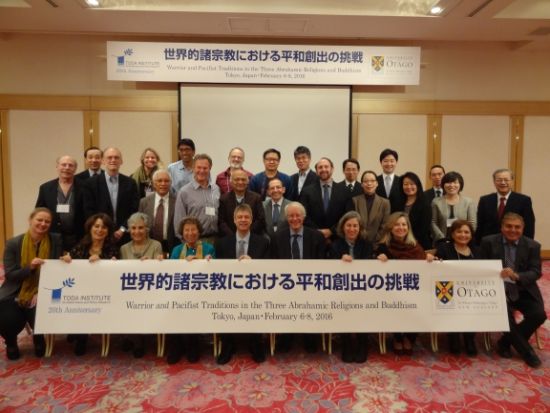 Participants at the 20th anniversary event entitled "Warrior and Pacifist Traditions in the Three Abrahamic Religions and Buddhism"
[© Toda Institute]
At this commemorative conference, Joseph Camilleri, emeritus professor at La Trobe University, Melbourne, Australia, a longtime collaborator of the institute, stated his conviction that humanity is going through a monumental shift of the same magnitude as the transition to agriculture 10,000 years ago. The majority of participants agreed that this current shift is characterized by increasingly powerful and accelerating flows across boundaries, such as information, ideas, goods, people, identities, philosophies, climate-related phenomena and many others; everything is flowing at an unprecedented and accelerating rate. Thus, humanity will have to quickly acquire new skills, philosophies, narratives and technologies in order to survive in this new era.

In a message for the 20th anniversary commemorative conference, Daisaku Ikeda noted that the 2030 Agenda for Sustainable Development, adopted by the UN in September 2015, pledges that "no one will be left behind" and voices the determination to "foster peaceful, just and inclusive societies which are free from fear and violence." These aims mirror the guiding objectives of the Toda Institute and provide a renewed focus for our ongoing efforts.

The Toda Institute is looking toward the next 20 years with the goal of continuing to uphold the vision of Josei Toda of "eradicating misery from the Earth" by contributing to the "Dialogue of Civilizations for Global Citizenship" to enable the flourishing and thriving of humanity and of all living beings in this era of global change and ever accelerating flow.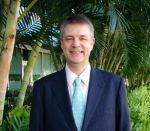 Olivier Urbain is director of the Toda Institute for Global Peace and Policy Research headquartered in Tokyo, Japan. He is based at the institute's Honolulu center in Hawaii and is also a senior research fellow at the Min-On Music Research Institute and holds doctorates in both French literature (University of Southern California) and Peace Studies (University of Bradford). [© Toda Institute]

Visit www.toda.org for more information about the Toda Institute for Global Peace and Policy Research.

[April 2016]