Cambodia: Light of Learning
by Socheth Sok, Cambodia
SGI-Cambodia youth are helping improve literacy and giving schoolchildren in rural areas access to the joys of reading.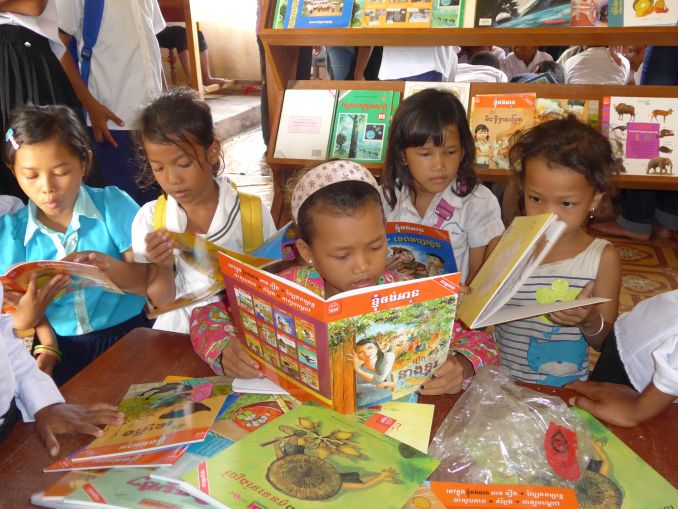 In rural areas of Cambodia, not many public schools have libraries, and students often don't have access to reading materials other than textbooks. Students are hungry for books, which are considered a luxury.

So when we, SGI-Cambodia youth, got together to discuss how to contribute to our local communities, we decided to donate books to public schools and named the initiative "Light of Learning." The name was inspired by the philosophy of Tsunesaburo Makiguchi, an educator and the first president of the Soka Gakkai, who saw learning as the light that illuminates society.

We began collecting books for donation with the hope that we could inspire students to read more and expand their imagination beyond their immediate environment. We also hoped that parents and teachers would be inspired to read more too.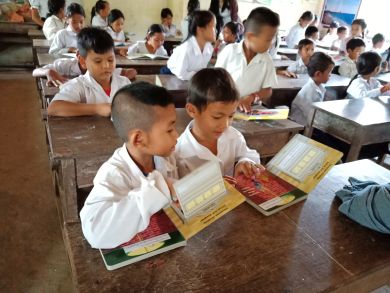 Light of Learning officially started in 2014 when we donated children's books in Khmer, the official language of Cambodia, to two public elementary schools from which our youth members had graduated. I will never forget how joyful and excited students were when they saw the pile of donated books! They all ran to pick up a book and started reading by themselves or with friends.

Students at the schools we have donated to say things such as: "I am so happy to see so many books!" "I really want to read during my break," and "I love reading short stories." One student said: "Through reading books, I can learn the history of ancient Angkor. When I read regularly, I can improve my reading skills and learn new words."
We have also received a lot of positive feedback from the parents. One commented: "I am very happy that our school finally has a library with so many good books because I cannot afford to buy as many books for my children as they want. With this library, my children can explore and expand their knowledge and outlook."

Since 2014, we have continued the book donation to two schools each year. We hold a presentation ceremony at each school in which we explain the importance of reading and read to students. We also work together with students to put dust jackets on the books, so they can enjoy the books for a long time.
Recognition of the importance of reading is growing in Cambodia. In 2015, the Cambodian government announced that March 11 would be National Reading Day, with the aim of encouraging people to cultivate the habit of reading. However, there is a lot to be done to foster a reading culture. Khmer is considered one of the most complex languages in the world. It is difficult to teach and to learn, so it is a great challenge for both students and teachers to improve reading. Due to the lack of school libraries and limited reading resources, children in rural areas often spend early childhood without the opportunity to see the Khmer script. The government provides textbooks to public schools, but students can only borrow them during class and cannot take them home to study.
Many of the teachers we have encountered through Light of Learning have shared their determination to provide better learning opportunities for students. One commented: "Teachers also need to improve their reading skills. These new books will not only support our students but also help us enhance our teaching ability. In rural areas, school libraries are very rare, and we have seen that where there is a library student enrollment increases."

Since 2014, we have provided around 3,000 books to nine public schools. We hope to continue supporting two schools per year until we have covered all rural schools in the 25 provinces of Cambodia.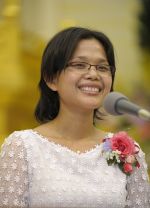 Socheth Sok is the national youth leader of SGI-Cambodia. She encountered Nichiren Buddhism when she was studying in the United States and joined the Soka Gakkai in 2001. After graduating from Soka University of America in 2006, she returned to Cambodia and contributed to translating Daisaku Ikeda's writings into Khmer. She currently serves as the chief editor of the SGI-Cambodia bimonthly magazine the Dawn of Cambodia.  [© Seikyo Shimbun]
[September 2018]