Faith in the Future: Youth Reflect on COP27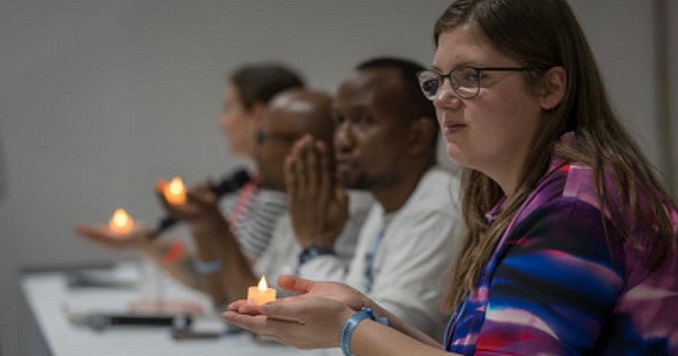 Young people of faith light candles and offer prayers and well-wishes for the success of COP27 as part of the youth side event
[© Seikyo Shimbun]
In November 2022, world leaders and negotiators came together from around the world to gather for COP27 (the 27th UN Climate Change Conference of the Parties to the United Nations Framework Convention on Climate Change) held in Sharm El Sheikh, Egypt. It was highly anticipated as a vital opportunity to address the increasingly urgent problem of climate change and its impacts. Emi Hashimoto of the Soka Gakkai Office of Public Information in Tokyo and Lucy Plummer, SGI-UK Vice Young Women's National Student Division Leader, were among the civil society representatives who attended, and they share their reflections below.
The Importance of Being at the Table
Emi Hashimoto, Soka Gakkai International Office of Public Information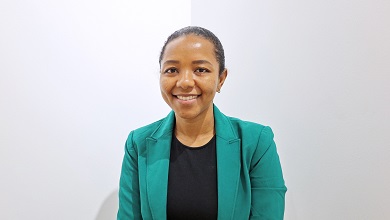 Emi Hashimoto
[©Seikyo Shimbun]
The atmosphere at COP27 was electric and you could feel people's passion and determination to ensure the implementation of decisions made at COP26 in Glasgow the previous year. Expectations were high, especially on the issue of Loss and Damage—a mechanism for the compensation of vulnerable countries for the damage caused by climate change. It was inspiring to see negotiations continuing late into the night.
Many of the people with whom I was fortunate to speak with spoke of the importance of dialoguing with people of different ethnicities, nationalities and gender, as well as intergenerationally. This was evident in the very first-ever Children and Youth Pavilion, where events were organized and led by the youth. It was one of the busiest pavilions at the conference, with many notable speakers coming to share their wisdom and encouragement with the young climate activists.

What Drives Youth to Take Part in COP?

The youth who spoke at the various events were equally inspiring. I was in awe of their courage and determination to make a change in the world. Many of the young people I spoke to and whose presentations I listened to did not start out wanting to be climate activists but were pushed to engage because of what they saw happening around them in their communities. One youth shared their experience of losing everything due to floods, another spoke of seeing the environment that they grew up in change due to the impact of climate change, while others were shocked into activism when they learned of how environmental activists in their countries were disappearing and being imprisoned for speaking out.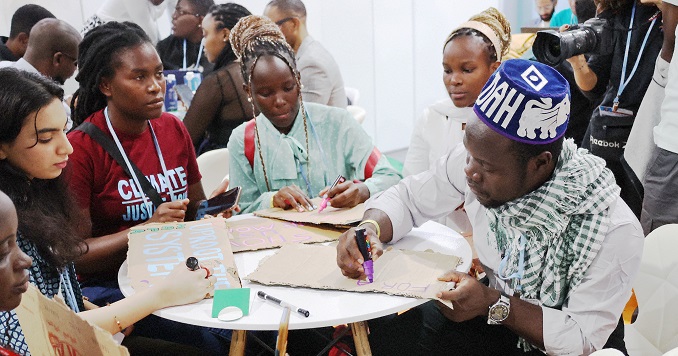 Making signs promoting climate action at the Children and Youth Pavilion
[© Seikyo Shimbun]
One youth activist spoke about the unfairness of youth being expected to save the world—many spoke of feeling the mental strain and burnout of this huge responsibility. She went on to say that rather than thinking of the world as big, she thought of it as being her loved ones and her community. She made the point that if we each take care of the place we are in the world, then, collectively, we can save the world.

President Daisaku Ikeda has often talked about the importance of nurturing youth and encouraging them to take the lead. At COP27, I saw this in action and felt hopeful.

Many environmental defenders are indigenous people whose land and way of life are threatened by economic interests propelled by greed and a lack of foresight. Hearing indigenous people speak of the loss of their culture, the loss of their ancestral land was painful. By ignoring the voice of one group, it is easy to ignore others, and that is why dialogue is key.

We are one with the environment. We do not own it but borrow from it, and that is why each and every one of us is responsible and should act.
In Buddhism, we speak of respecting the dignity of life. Working to prevent the destruction of the world as we know it is how we show that we value not only our lives but those of others. We are one with the environment. We do not own it but borrow from it, and that is why each and every one of us is responsible and should act.

Speaking out alone is not enough. As a saying goes, "If you are not at the table, you are part of the menu." That is why it is important that we make sure that all voices are not only heard but are included in the discussions. Collaborative action is necessary, and the choices we make not only affect us but those around and beyond us.

This collaborative and supportive spirit was reflected at the People's Plenary where people from all walks of life, ethnicities, beliefs and creeds came together in solidarity for the People's Declaration for Climate Justice.

There is still much that needs to be done but, with many more people speaking out and taking action, there is still hope that we can and will bring about change.
Youth of Faith Have an Important Role
Lucy Plummer, SGI-UK Vice Young Women's National Student Division Leader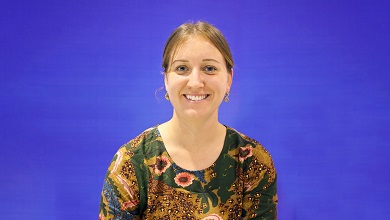 Lucy Plummer
[© Seikyo Shimbun]
I majored in sustainable development in graduate school because I wanted to contribute to society. I studied the cooperation between youth and the United Nations on the theme of climate change, an issue which President Ikeda has discussed numerous times in his annual peace proposals.
In his 2022 proposal, President Ikeda points out the importance of youth involvement in climate change discussions and decision-making processes, and this is exactly the area I have been exploring. During my studies, I interviewed young climate change activists from nine countries who had been involved in UN efforts, and based on the interviews, I made recommendations to the UN, to ministers and policymakers on how to work effectively with youth.

Around the same time that I received my master's degree, SGI-UK participated in COP26, which took place in Glasgow in 2021. I was able to attend and made a presentation on meaningful youth engagement on behalf of the Soka Gakkai during an international press conference.

Since COP26, the contribution of youth of faith in the field of climate change had not received much attention, and at COP27, I planned to address this by focusing on religion and youth climate action. SGI-UK was able to collaborate with the Catholic Youth Network for Environmental Sustainability in Africa to hold a side event which highlighted this topic titled "Global Interfaith Youth Action on Climate Change: Gather, Discuss, Empower and Act." The event featured the voices of over 10 youth from faith-based organizations around the world.

What Is the Role of Faith?

The engagement of young people of faith is important because faith can be a powerful source of inspiration and motivation to take action based on moral and humanistic principles, such as compassion for others who are suffering, awareness of a common humanity and human harmony. In contrast, modern society is inclined towards decision-making which prioritizes economic, material and political gains, oftentimes at the cost of the welfare of people and the environment. Empowering young people of faith, I believe, means empowering moral and humanistic principles to become the driving forces of humanity; it is important for transforming the fundamental trends of society from competition to collaboration, from self-centeredness to solidarity.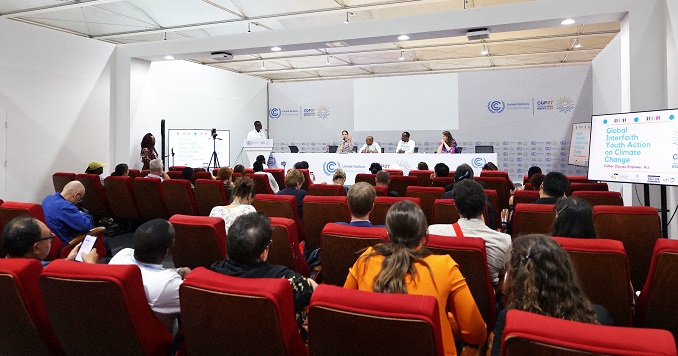 The "Global Interfaith Youth Action on Climate Change" side event at COP27
[© Seikyo Shimbun]
During COP27, I was also invited by the Interfaith Liaison Committee, which coordinates the activities of faith-based organizations under the UNFCCC (United Nations Framework Convention on Climate Change), to meet with Ovais Sarmad, deputy executive secretary of the UNFCCC.

I reported on the comments and suggestions made by the youth at the COP27 interfaith Talanoa Dialogue. I also introduced the idea of a UN Youth Council that would deliver proposals from the youth perspective to the UN heads of state and government, as President Ikeda had proposed, and received a sympathetic response.

I believe that faith is very important for nurturing the human spirit—for building a human spirit that is resilient.
To be able to continue to make positive contributions in society requires a resilient spirit. It is not uncommon for young activists to experience a sense of burn-out, owing to the enormity of the global crisis. I believe that faith is very important for nurturing the human spirit—for building a human spirit that is resilient. Resilience will become even more necessary to live happily in a world that is experiencing increasing complexities and challenges, such as a changing climate and all the resulting impacts this will have.

Most importantly, resilience is important for generating hope. Those who are resilient have hope, and with hope one finds the strength and courage to keep going. An inexhaustible wellspring of hope, rooted in faith in the goodness of humanity, is the hallmark of all major religions, and this is what I believe to be the unique contribution of young people of faith.

Shortly after COP26, I was invited to become a member of the inaugural UK Youth Faith Council under the UNEP (United Nations Environment Programme) Faith for Earth initiative. As we continue to take action together for a sustainable future, young people of faith across the world will continue expanding our friendship and solidarity with one another, and we will strive to pave the way for many more youth to be active agents of change on the global stage.

Adapted from an article in the December 23, 2022, issue of Seikyo Shimbun, Soka Gakkai, Japan.