Cultivating a Humanism of Hope: A Conversation with Prof. Jim Garrison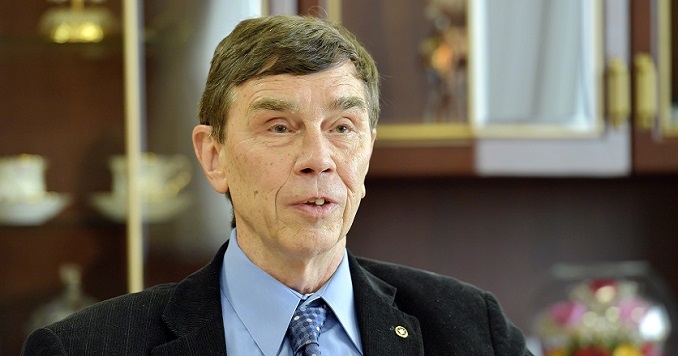 Jim Garrison is a professor of philosophy of education at Virginia Tech in Blacksburg, Virginia, USA, whose work focuses on philosophical pragmatism, mainly that of American pragmatist John Dewey. In the following interview in the November 14, 2020, issue of the Seikyo Shimbun, the Soka Gakkai's daily newspaper, Professor Garrison talks about the importance of education in shaping society and raising global citizens. In doing so, he touches on Japanese educator and founding president of the Soka Gakkai Tsunesaburo Makiguchi's theory of Soka (value-creating) education.

In 2014, Jim Garrison and Larry Hickman published a dialogue with President Daisaku Ikeda titled Living as Learning: John Dewey in the 21st Century, in which they discussed the future of humanistic education and the value of Dewey's contributions to the field, as well as how his ideas resonate with Buddhism and those of Makiguchi.

November 18, 2020, marked the 90th anniversary of Soka Gakkai's founding. Tsunesaburo Makiguchi, our founding president, had great respect for John Dewey.

The year 1930 and today are similar in many ways. The two time periods provide a distant mirror; that is, looking into events 90 years ago allows us to a better reflect on our times.

The biggest commonality is the seriousness of crisis. As you know, the year 1930 was between the end of World War I and the beginning of World War II, and the Great Depression was starting to ravage society. Back then, extreme nationalism was at the root of wars. I'm truly worried that nationalism is rising again in many parts of the world. And the pandemic of COVID-19 has been creating even more confusion.

Both John Dewey, one of American pragmatism's early founders, and Tsunesaburo Makiguchi, founding president of the Soka Gakkai, recognized that education is a key to changing a tumultuous society. In times when education was predominantly authoritarian, they advocated that the most important objective of education was children's happiness. Of course, this does not mean that children can do whatever they want. Dewey and Makiguchi shared the idea that bringing into flower each and every individual's potential and cultivating their creative capacities provides the basis for a happy life.

And I think a reason they believed in this idea was because they themselves were always so close to children, understanding deeply what they think, what they are interested in and what they need. I believe such thought and practices of Dewey and Makiguchi became the sprouting of educational humanism.

Can you say more about their educational humanism?
Good education simply becomes part of your life, and therefore, one is often unaware of it.
First, let me point out that "humanism" has different meanings in the West and the East. All forms of humanism emphasize the intrinsic dignity, worth and creative agency of human beings. However, Western humanism has most often emphasized the absolute autonomy of isolated individuals detached from other people and the natural world. This is based on the idea that human beings are "masters" who stand in the position of dominating the natural world rather than cooperating with it.
However, this idea is alien to Eastern humanism. Eastern humanism, as represented by Buddhism, values the equality of all living beings. This philosophy of respecting the dignity of life can be a basis for education that brings into flower children's potentials and opens paths for their happiness. I would say that not only Makiguchi but also Dewey had an Eastern humanism.

Value creation was a key concept for both Makiguchi and Dewey.

For them, education was a process to deepen the purpose of life by cultivating the creative capacities that children possess. And they both believed that, in doing so, connecting to others is crucial.

As someone who emphasized the importance of world geography, Makiguchi understood and disclosed the interconnectedness of human beings. This is demonstrated by his famous teaching that by looking at our hometowns, we can extend our thoughts and feelings to those who live in different parts of the world. Dewey also placed much importance in studying geography, and we know that he wrote a chapter on geography in his book that also emphasized interconnectedness.

With the ability to discern interconnectedness in life while striving to live contributive lives, in a sense, you are a value creator and already a global citizen. Dewey and Makiguchi aimed at nurturing good global citizens.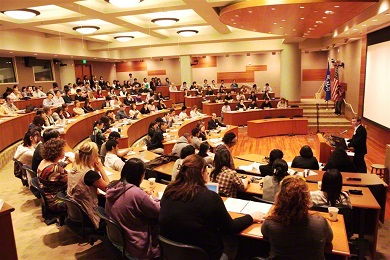 Jim Garrison speaking at a symposium at Soka University of America in February 2010
[© Seikyo Shimbun]
Today, their ideals live in Soka Education. Good education simply becomes part of your life, and therefore, one is often unaware of it, but if you interact with students who received such education, the impact that their education had on their growth is so clear. This is how I honestly feel by interacting with students of Soka University in Japan and Soka University of America. They are very aware of the high quality of education they are receiving.
Creating value is also a focus of the daily Buddhist practice of Soka Gakkai members.

Soka Gakkai's global development demonstrates how educational humanism exerts unchanged value in the realms of religion. And I'd like to say that not only Soka schools but the Soka Gakkai itself is like an "institution" that has nurtured global citizens. Through a variety of inspirational activities, members broaden their horizons. And while they think globally, they never forget their neighborhoods. This is what global citizens should look like. This way the local contributes to the global while appreciating the contribution of other localities.

When I think of Soka Gakkai's culture and tradition of nurturing global citizens, it's no wonder it started as an educational organization. It was as both an educator and a Buddhist that Makiguchi challenged nationalism that disregards the sanctity of life and led Japan and the rest of the world into the disaster of war. Makiguchi exerted moral courage and opposed Japan's militarism. It moves me tremendously that he was willing to die for his convictions.

Dewey recognized that education is one of the most powerful tools to overcome the forces of extreme nationalism and bigotry. I believe Makiguchi did the same. I believe that the crisis back then was a result of failure in education for global citizenship.

Today, in many countries, nationalism is again rampant. Fear, anger, and discrimination are all over the US, and this all comes from lack of global citizenship. Standardized education full of exams does not nurture creative capacities, and the continuation of this failure has generated today's crisis, what we could call a crisis in education.

What is required today is to nurture children's personalities. We see the essence of this in what President Daisaku Ikeda described as "Toda University"—the education he received from his mentor, Josei Toda, second Soka Gakkai president. Though Ikeda was deprived of opportunities to receive formal higher education in the aftermath of World War II, he not only learned all kinds of subjects but acquired the philosophies and practices of human revolution through Toda's personal lessons. This human revolution enables individuals to create value by awakening to the very fact that they are protagonists of changing society. One does not need to go to university to acquire a "higher" education.

How would you evaluate the Soka Gakkai in its 90th year?

Today, we live in spiritually impoverished times. In 1934, Dewey published A Common Faith. At a time soon after Soka Gakkai's founding and when the Great Depression was creating havoc in society, he found religious meanings. Dewey was critical of established religion and its doctrines, but nonetheless emphasized the importance of the religious—which he called a common faith.

He believed that each and every individual can make contributions to the welfare and happiness of society as a whole. And that would come with two aspects—developing oneself while cooperating with others. Collective human struggle to create value in society was the core of Dewey's religious humanism. For him, religious humanism must be comfortable with all kinds of religious beliefs. It is a humanism that can motivate people to come together, and that can change the violent world into the world of cooperation and understanding. I believe Dewey's religious humanism can be found at work in the lives and commitments of Soka Gakkai members.

The most outstanding example is the numerous dialogues President Ikeda has had with leaders and intellectuals from all over the world. He has engaged in dialogue with leaders in different cultural or societal backgrounds, such as Mikhail Gorbachev of Russia just to name one. By doing so, President Ikeda demonstrated the power of connecting one person to another, which itself is the essence of religion.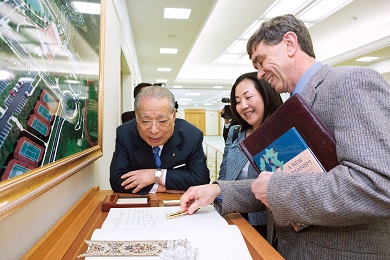 Jim Garrison meeting with Daisaku Ikeda in Japan in August 2008
[© Seikyo Shimbun]
I first "met" him by reading a collection of his university addresses. In reading these lectures, I was impressed by how he was able to adapt the teachings of Nichiren Buddhism to any cultural context. He has a wonderful ability to offer hospitality to the absolute best any nation or a region of the world has to offer. I am sure this is because he advocates a humanism of the greater enduring self that is the cosmic life of the universe, which binds us all and that allows us to recognize the best in each other regardless of superficial differences. Indeed, differences only add to the delight of meeting and learning from each other.
Members of the Soka Gakkai, who are followers of President Ikeda's footsteps, consist of diverse groups of people, and they cooperate with one another to contribute to society. This is truly wonderful. By believing in the infinite potentials of others and being committed to their happiness, the Soka Gakkai has spread a humanism of hope to every part of the world and to every aspect of people's lives. And I believe this has always been at the core of the Soka Gakkai's activities in its 90 years of history.