Winning for the Sake of Women, Health and Happiness
Maria Celeste Esposto, Italy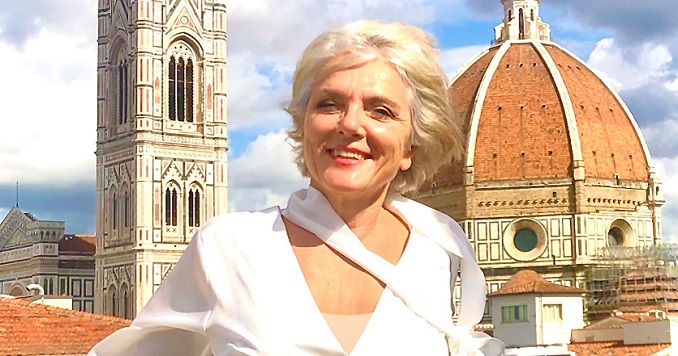 [Photo courtesy of Maria Celeste Esposto]
A devastating setback in Maria Celeste Esposto's professional life became the seed of success and a deeply fulfilled life.

As a gynecologist, I have been involved in the study and treatment of endometriosis for over 30 years in Florence, Italy. Endometriosis is a disease in which endometrial tissue, which is normally found only inside the uterus, grows in other places, such as the ovaries and peritoneum. It causes severe pain during menstruation and is thought to affect about one in ten women today, though it is still not widely recognized.
My Dream: To Protect Women's Health
I first became aware of the need to protect women's health when I was eight years old. My grandmother was diagnosed with vulvar cancer and passed away at the young age of sixty.

At that time, I was struck by what I heard the adults saying amongst themselves: "If she had gone for a gynecological checkup earlier, she might have survived." This stayed with me.
I was determined that I would somehow turn everything that had happened to me into something positive.
I was born and raised on a farm in Puglia region of southern Italy, which is the "heel" of the boot of Italy. I believe my grandmother had been hesitant and embarrassed to see a gynecologist because it was not part of the culture in the region. This is still the case in many parts of southern Italy today.

Though my father, a farmer, wanted me to become a schoolteacher, I was determined to become a doctor. I enrolled in medical school in Florence, and in 1989, I fulfilled my dream of becoming a gynecologist.
More than ten years later, in 2002, I was introduced to Nichiren Buddhism by my younger sister. By then, I was married and living an affluent life with my husband, also a gynecologist. However, I felt that something was missing and was searching for a deeper sense of purpose.

I still remember that serenity I felt when I first began to chant Nam-myoho-renge-kyo, it was as though a fog had lifted. A determination seemed to well up from within my life—I would make some kind of concrete contribution to assist women who suffer—along with the conviction that there was a unique contribution that I could make.

Soon after that, however, I became embroiled in some internal politics at the university hospital where I had worked for many years, and I resigned under the cloud of unjust accusations. Though I was later vindicated, it had a devastating impact on my career. Also, in the same period, I got divorced from my husband. Thus, before my 50th birthday, I was forced to make a fresh start in both my professional and private life.
Realizing a Vision of Care
Throughout that difficult time, I continued my Buddhist practice with the prayer that I would devote my life to protecting women's health, using my knowledge and ability to the fullest. I was determined that I would somehow turn everything that had happened to me into something positive.

It was the warm support and encouragement of my friends in the Soka Gakkai that kept me going. The women's leader, particularly, strongly encouraged me. Through such encouragement, in 2020, I founded an interdisciplinary research and treatment institute. This is a pioneering initiative in Europe, where a team of different specialists including nutritionists, psychologists, acupuncturists and osteopaths work together to diagnose and treat women suffering from endometriosis.

At the launch of the institute, the medical director of my former workplace came to offer me enthusiastic congratulations. Thinking back on the deep frustration and anguish I'd suffered when I left my former workplace, I never dreamed that I could arrive at such a sense of fulfilment and victory in life.

Through this experience, I have come to deeply understand the Buddhist principle of changing poison into medicine.
The message I want to convey to all women is that they should not suffer alone.
Today, while continuing to work as a freelance gynecologist, I am expanding the institute's program throughout Italy, as well as in France and Spain. I am also holding events to spread awareness about endometriosis.

Through practicing Buddhism, I have come to deepen my compassion for others. This is my greatest benefit. With all my heart, I always try to offer the best care to each patient, embracing their suffering and concern. The message I want to convey to all women is that they should not suffer alone.

I will continue to use the strength and wisdom I have developed through my faith to shine a light of hope into the hearts of my patients.

Adapted from an article in the December 10, 2021, issue of the Seikyo Shimbun, Soka Gakkai, Japan.