Overcoming Grief to Live Out My Purpose
Lucie Gbakayoro, Côte d'Ivoire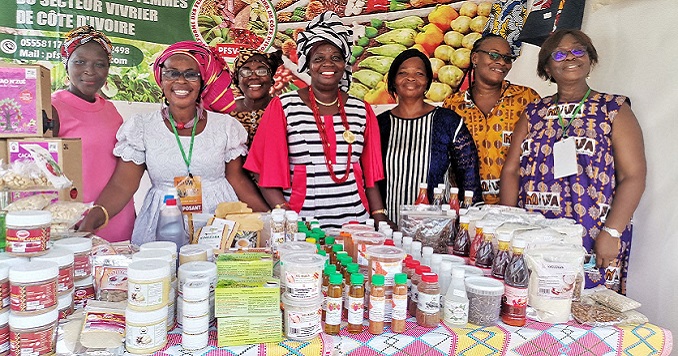 Lucie (center) with fellow women entrepreneurs
[© Seikyo Shimbun]
Lucie Gbakayoro overcomes unimaginable grief to live a life of contribution.

In Abidjan, the largest city in Côte d'Ivoire, I run a factory that processes domestic cassava flour, which is the raw material for acheke—a popular national dish—and other products. I also serve as the president of an agricultural cooperative.

The cooperative is comprised of around 100 women engaged in agriculture. My mission is to ensure that they have a place to sell their produce. A friend and I started a cooperative in 2003 to tackle the problem of produce going bad before the sellers could find a market for it.
Having gone through that pain, I have gained the courage and confidence to face any harsh difficulty without wanting to run away from it.
We established a sales network connecting supermarkets and retailers with our members for the supply of fresh produce. We also established a factory to process excess produce into products such as cassava flour and succeeded in reducing the surplus.

I'm inspired in my efforts to create value in my community by my Buddhist practice and the guidance of President Daisaku Ikeda.
I was born into a family that farmed coffee, cacao and rice, and from a young age, I often helped my parents with the farm work. I have fond memories of chasing away the birds that came to eat the rice. When I was 17 years old, I met my husband, and we later married and had four children.

It was in 1984 that I first heard about Nichiren Buddhism from a friend who told me that this was a religion that could revolutionize humanity.

At the time, I did not follow any religion, and I had no particular problems or concerns. However, when I heard about the concept of "human revolution"— the idea that a positive change within the life of an individual ripples out to create a positive change in the community and the world—I knew in my heart that this was a practice for me. My husband was likewise attracted to the philosophy, and we both joined the Soka Gakkai.

Practicing Buddhism led to improvements in our lives, such as my husband being appointed as a branch manager of the bank where he worked and us being able to purchase a house, and I devoted myself to Soka Gakkai activities.

In 2010, while in Japan, I had the unexpected opportunity to meet President Ikeda. He embraced me like a father, and I was moved by his compassion. I made a firm commitment in my heart that I would never give up my practice, no matter what.
Soon after I returned from Japan, my life unexpectedly fell apart.

My brother fell into an unexplained coma and passed away a few days later. The following year, my eldest daughter passed away at the age of thirty-four, leaving behind two children, eight and eleven years old. Then, in 2013, my sister, who was also my best friend and confidant, passed away due to illness.

Losing three family members in such a short period of time was like walking through a long, dark tunnel with no light.

All I could do was chant Nam-myoho-renge-kyo, and day after day, I chanted, remembering Nichiren's words, "Suffer what there is to suffer, enjoy what there is to enjoy. Regard both suffering and joy as facts of life, and continue chanting Nam-myoho-renge-kyo, no matter what happens."

The suffering did not suddenly disappear, but strangely, little by little, I began to feel better.

Eventually, I was able to accept the reality of my situation and could tell myself, "They have passed away before me, but this is my life." And, finally, I was able to find peace. I realized that they are with me in my heart, and I take joy in seeing my grandchildren growing up well having graduated from university without any problems.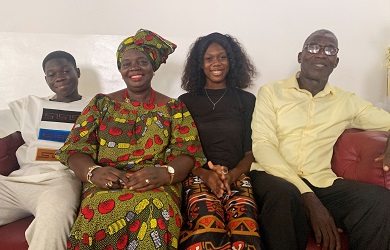 Lucie with her grandchildren and husband
[© Seikyo Shimbun]
Having gone through that pain, I have gained the courage and confidence to face any harsh difficulty without wanting to run away from it. With gratitude in my heart, I am now moving forward together with the members of Soka Gakkai Côte d'Ivoire as the national women's leader.

In January of 2021, I was nominated to the position of president of a platform for women in the food sector in Côte d'Ivoire, a coalition of 50 associations and 5,000 members throughout the country.

This organization was established to promote the local distribution of domestic crops and to create a more profitable environment for women engaged in agriculture. It also pursues projects to further empower women economically.

Having overcome the worst, my determination is to continue to contribute to the flourishing of Côte d'Ivoire by constructing a supportive environment for women and amplifying their voices.

Adapted from an article in the December 24, 2021, issue of the Seikyo Shimbun, Soka Gakkai, Japan.