A Better Version of Myself
by Tahira Kashyap, India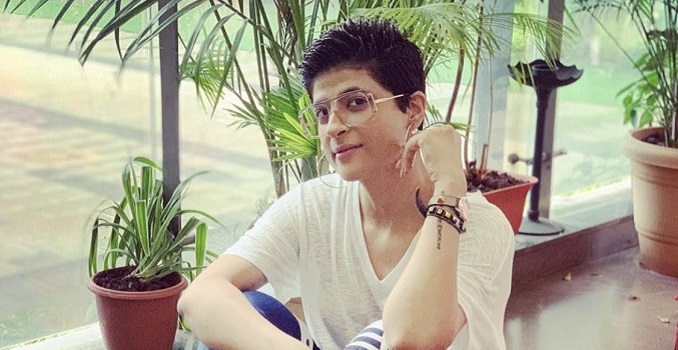 Tahira Kashyap had an enviable life as a writer, teacher of journalism and spouse of well-known Bollywood actor Ayushmann Khurrana, yet, it took courage for her to pursue her dream. Today, she uses her public platform to inspire, empower and motivate people to live their best lives and be their best selves.

You have worked in a variety of fields related to communication, suggesting that communication is a passion for you. What do you want to convey?

The one thing I want to say is never stop dreaming. Never stop having hope.

I didn't recognize my calling for the longest time. I dabbled in many jobs trying to keep myself motivated. But it was my go-to hobbies of writing and theater that gave me immense happiness.

Once I figured out my true calling, I convinced myself that it wasn't meant for me. I wanted to write and direct films, but I thought I had lost too much time. How could I start a new career at the age of 33? The journalism and mass media graduate students I used to teach might judge my work. The world might laugh at me. And since my husband is famous in this field, I didn't want to tarnish his reputation.

Basically, I thought of every negative implication. I bottled up all these self-imposed limitations until I was about to lose my mind. That's when Buddhism came into my life, and everything started making sense.

How did you encounter Nichiren Buddhism, and why did you decide to take it up?

A friend of mine first introduced me to Nichiren Buddhism more than 10 years ago. At that time, I told her I didn't need it. I was pretty happy and sorted.
When problems come up, it's not just that I feel hopeful, but I can start to see them as opportunities for me to change something about myself, to expand.
A decade later, I was in an extremely depressed state. Even though I had everything going for me in terms of health, relationships and finances, there was a big void because I didn't have the guts to acknowledge my dreams. In my professional life, I did various jobs and did exceedingly well only to leave after a year or two. This made me angry with myself. Why was I so fickle? What was my true calling? I was becoming hopeless.
I hadn't admitted my ambition to myself openly, let alone the world. Because of this, I started begrudging everyone and everything. I led a dual life. At night I would cry for hours, and in the morning, I was this pretentious, happy person, because I couldn't afford to let my five-year-old son and three-year-old daughter see me in such a depressed state. I was just trying to hang in there. That's when, in November 2017 I met up again with that same friend.

What appealed to me most was the message that I found in the philosophy of Nichiren Buddhism—that we determine our own destiny, we can change our karma and that we are born to be happy. It's so basic, but I really had forgotten to be happy.

I started practicing Buddhism and gradually began to emerge from my hellish state. The practice gave me hope, and my local Soka Gakkai leaders encouraged me. They said it was not wrong to have dreams, in fact, we must have dreams and work toward them. That is the aim of our practice but not the sole aim, as we not only work for our own happiness but the happiness of others too.

In 2017, I wrote and directed my first short film titled Toffee, which received a lot of appreciation at various film festivals. I have also now written a feature film, Sharma ji ki beti.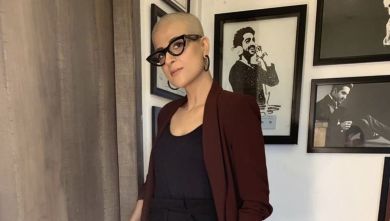 What is the greatest change you have experienced in yourself since starting your Buddhist practice?

The greatest indication of change is that those who are extremely close to me, like my husband and parents, tell me I have completely changed. I have become a better version of myself.

Chanting Nam-myoho-renge-kyo gave me so much courage, wis
dom and compassion that the DNA of my unhappy self completely transformed. The change was gradual and organic and didn't cost me the extra burden of thinking, "I have to change."
I slowly stopped begrudging my relationships. My companionship with my husband became even better as well as my relationship with my mother. So much so that on a recent trip she said to me, "I have got my daughter back." Because of the change she has seen in me, she has also started chanting.

The biggest change I see in myself is that when I face an adverse situation, I can do so in a calm state of mind and am able to respond. Previously, I just used to react. When I am practicing strongly, I feel I can't be defeated. When problems come up, it's not just that I feel hopeful, but I can start to see them as opportunities for me to change something about myself, to expand.

How you responded to being diagnosed with and treated for breast cancer inspired many, and you are now widely known as a breast cancer warrior. Please tell us how this experience has transformed you.

In 2018, I was diagnosed with stage 1 breast cancer. I was a 35-year-old healthy mother of two and practicing strongly. The Soka Gakkai's theme for the year was the Year of Brilliant Achievement. I remember a conversation with a Soka Gakkai leader in my local area. They said, "Do you know that this is the Year of Brilliant Achievement? These aren't small achievements, these are brilliant, which means facing even more brilliant challenges!"

A few months later, I was invited to deliver a talk in my hometown, which I was very excited about. It went really well. Then, a production house showed interest in my feature film and was keen on having me direct it. I was in a happy zone, my heart was full of gratitude and I wondered, "Brilliant achievements are happening, but where is the brilliant obstacle?" And BAM!

I wouldn't call my cancer an obstacle or a problem but an opportunity to change my karma. As someone who chants Nam-myoho-renge-kyo, my perspective was that if this had happened to me it was for a reason. What bigger reason could there be a than turning it into my mission! Once that feeling overtook me, people close to me who had been witnessing my journey said it looked as though I was celebrating something.

I went through all my medical tests joyfully. There was a time when I knew what was coming, yet there was only joy in my heart. I saw this illness as a manifestation of the negative causes I had created in the past, and I was happy it had emerged. Now, all I needed to do was get it out of the way. I chanted throughout and was supported by my comrades in faith from across the country.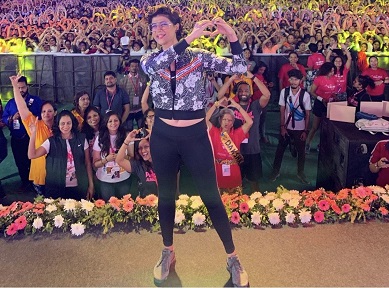 Tahira at the 2019 Pinkathon, India's biggest women's run, created to raise awareness about women's health, where she spoke about breast cancer
Even dealing with the surgery and chemotherapy became a joyful experience for me. Nichiren writes about turning poison into medicine. Difficulty is perceived to be an opportunity for developing, strengthening and expanding ourselves. Also, it's a chance to work toward creating a better version of ourselves.

There is a passage from President Daisaku Ikeda's writings that is etched in my heart. He says: "We all have our own karma or destiny. But when we look it square in the face and grasp its true significance, then any hardship can help us lead richer and more profound lives. And our actions in battling our destiny set an example for and inspire countless others. In other words, when we change our karma into mission, we transform our destiny from playing a negative role to a positive one."
From the time the news about my cancer was broken to me until my surgery and even after chemotherapy sessions, my happiness quotient didn't dip. I took this as an opportunity to spread awareness about early breast cancer detection. I was posting pictures on my social media accounts left, right and center! Whether it was of me with my draining tubes attached to my back and chest post-surgery or with a cap supporting my hair extensions or with a bald head and cool glasses, I was just celebrating life. Nichiren Buddhism infused life into me, and I wanted to rejoice at each moment. This experience has been truly transformational for me in every sense of the word.

What are the keys to living a happy life and fulfilling your dreams?

The key to fulfilling our dreams and being happy is to be hopeful always and to never be defeated. But it's difficult to maintain this life state. What helped me and many others is this amazing practice. Courage, wisdom and compassion surface from deep within your life in the most natural, organic way.

I am forever indebted to this practice, to the teachings of Nichiren and to the words and example of my mentor President Ikeda, as well as to my family and friends and all the people who supported and prayed for me and stood by me like a rock.
[March 2020]