Putting Children's Happiness First
Huang Lihong, Taiwan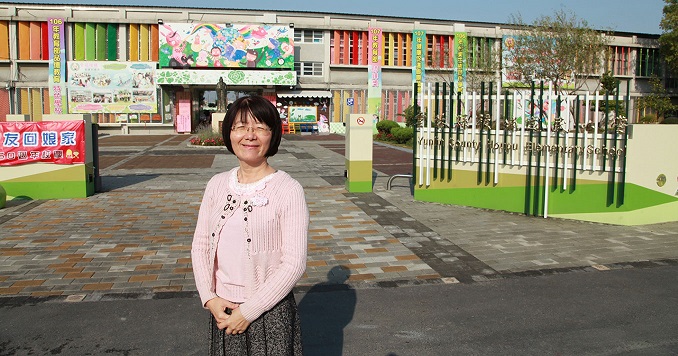 Huang Lihong standing at the school gate where she greets the schoolchildren, teachers and parents [© Soka Press]
Inspired by the humanistic, student-centered ideals of Soka education, primary school principal Huang Lihong of Taiwan Soka Association talks about how putting the well-being of students, staff and faculty first helped revolutionize every aspect of the school, eventually leading it to gain national recognition.

I started practicing Buddhism after becoming seriously ill in 2008. In November of that year, I was admitted to the hospital after fainting from a severe stomachache and experiencing nonstop vomiting. This was the beginning of many hospital visits. Neither Western nor traditional Chinese medicine seemed to help. On top of battling my physical condition, my husband and I fought constantly owing to us both being stubborn individuals. My children had to take leave from school to take care of me. Both my work and my studies as a PhD student were affected to the point that I felt like giving up.
Just as I felt I had come to a dead end, I recalled what a friend told me about chanting Nam-myoho-renge-kyo.
Just as I felt I had come to a dead end, I recalled what a friend told me about chanting Nam-myoho-renge-kyo. Soon after that, I began practicing Nichiren Buddhism and joined the Soka Gakkai. I feel very fortunate to have been surrounded by wonderful fellow members who often chanted with me, took care of me and encouraged me. They inspired me to grow and encouraged me, saying that by overcoming my challenges I would be able to help those struggling with similar issues become happy. I also remember a senior in faith telling me that a sincere smile is the cause for happiness, not only the result of it. From then on, I met every challenge with a cheerful smile.

After practicing Nichiren Buddhism for six months, I recovered my health completely. Seeing the changes in me, my husband began to practice Buddhism as well.
In July 2012, I received a doctorate degree in education from the National Chiayi University in Taiwan. I took the exam to become a school principal and scored third highest among all participants.

Tsunesaburo Makiguchi, first president of the Soka Gakkai and father of Soka (value-creating) education, defined the purpose of education as children's happiness. After becoming principal of a primary school in Yunlin County in Taiwan, I determined to run the school on the humanistic ideals of Soka education and create positive change.

I begin each day by chanting Nam-myoho-renge-kyo with a prayer for unity among all the members of the school community and for the happiness of all the students. Every morning, I stand at the gate of the school to greet each student, teacher and parent. I also do my best to reach out to teachers to offer support and build trust.

When I first became principal of the school, faced with a meager budget and few resources, all I could do was chant that I would be able to motivate all the teachers and staff to be fully engaged in teaching and making our school a better place.

There was one teacher who had no interaction with his colleagues and received negative reviews from the parents. I encouraged him that he could definitely create value and be a great help to the students. I set up a lunchtime math workshop, which I asked him to run. Through this, he was able to bring his talent into play, assist students and regain the parents' trust. He later proactively took on the role of chairperson of student affairs. Owing to his engagement with the students, our school was recognized by Taiwan's Ministry of Education as a model of character-building education.
Other inspirations I had from the principles of Soka education were to establish a volunteer group to assist students in learning. From only one member initially, it has grown to twenty-six. To provide care for underprivileged students from remote areas, I initiated free daily after-school elective classes. These relieved the economic pressure on parents and helped students develop confidence. The classes also garnered support from the local community. To my surprise, after hearing about the initiative, alumni and anonymous donors voluntarily offered financial sponsorship.

The school went from an untidy and dull campus to a beautiful and fun 'picture book' filled with students' creative artworks.
Inspired by the Soka Gakkai's promotion of environmental sustainability, over the past six years I have advocated ecological and energy conservation education, built an ecological pond and designed lessons on green power. In 2014, we were certified as a first-class eco-friendly campus. The following year, we got "excellent" in a school evaluation, top ratings in teachers' professionalism and pedagogy as well as students' performances. Also, our curriculum design was lauded by the county authorities. In addition, we turned worn-out, unused facilities into reading corners for students and gallery spaces where they could display their artwork. The school went from an untidy and dull campus to a beautiful and fun "picture book" filled with students' creative artworks.
Owing to the success of our efforts, in 2018, I received several awards from the Ministry of Education and the county, including the National Excellent Teacher Award and the Teaching Excellence Gold Award, both of which were a massive surprise.

President Daisaku Ikeda encourages us to unleash our inherent potential and become first-rate people in our respective fields, saying that by doing so we are able to contribute to building peace in the world.

My Buddhist practice has been the driving force for my achievements as an educator, and I am determined to continue to lead a contributive life in order to help others become happy.


Adapted from the May 10, 2019, issue of Soka Press Taiwan Soka Association.