Creating a Carbon-Neutral University
Philip Arvind Franck, Germany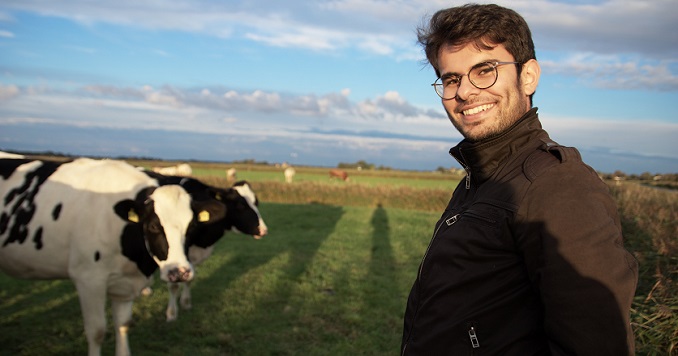 Each of us, in our own field of interest or endeavor, has the power to create or catalyze positive change. As Philip Arvind Franck discovered, this is not merely a theoretical idea.

In 2017, I moved from my hometown Hamburg, Germany, to study environmental engineering at TU Braunschweig (University of Braunschweig—Institute of Technology) with a vision of collaborating with others to help bring about positive change in the world and maybe even solve one of the biggest issues of our age: human-induced climate change.

I immersed myself in my studies, met lots of like-minded friends and spoke often with others about my aspirations. However, I hadn't yet begun to take any practical action toward that vision. How would I even be able to do that? After all, I was still only a student, I thought. Later on, I would be able to really implement all my knowledge and experience.

In 2019, encouraged by the pioneering actions of Greta Thunberg and millions of students around the globe, a small group of fellow students in our university came together with the wish to take action beyond simply studying and seek out concrete, local solutions to the issues of global warming and environmental pollution. The question of "How" was still not clear, but just the fact that there were students coming together from beyond our environmental engineering bubble, people united by the same goal, was very exciting. It became a magnet for students throughout the university.

President Daisaku Ikeda writes: "Because climate change is an issue that will leave no one untouched, it has the potential to catalyze heretofore unseen global solidarity and action. Our success or failure in actualizing this potential is in fact the defining issue of our time."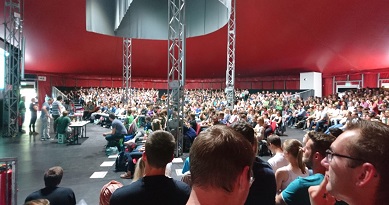 The university plenary meeting, which exceeded all expectations for participation
[© Students for Future Braunschweig]
It became clear to me: we can and we must do something. It was not so much about the "how"; it was more about taking the first step. With that resolve, I threw myself into this initiative. Within a short time, Students for Future Braunschweig was established. However, we were immediately confronted with a major challenge. In order for the university to hear our concerns, we needed to convene at least 1,000 students in a plenary assembly. This had not happened at the university in the past 12 years. And we had two weeks to pull it off!
During this time, I chanted a lot and took as much action as I could. We crashed lectures, posted messages in all kinds of WhatsApp groups and distributed flyers as if there was no tomorrow. I also very naturally got into conversations about Buddhism with several fellow students (two of whom have since begun practicing Buddhism). While chanting, it became more and more clear to me how everything was connected with my faith; how breakthroughs and positive changes in my own life could create ripples of inspiration resulting in sustainable change.

Eventually, 1,700 students came to a climate plenary assembly to discuss our local climate issues with our university presidium. I even had the opportunity to give a speech on this occasion. Pulling all this off was an extraordinary challenge, but I also felt very grateful for being able to make such a big contribution toward our mutual goal.
A year has now passed, at the time of writing. The path to this point has been one of trials and tribulations but also a total success, because we have never given up. Our university now holds a regular public climate lecture series with prestigious professors, our cafeteria has shifted to serving sustainable food and the presidium has initiated a sustainability council comprised of professors with the direct mission of leading our university to carbon neutrality. Most wonderfully, I was asked to join the council as a student representative. At first, I hesitated, in light of the huge responsibility. However, encouraged by a member of SGI-Germany, I resolutely said yes!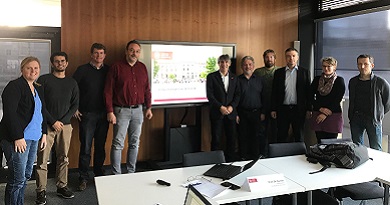 The university's sustainability council; Philip second from left
[Photo by Jule Bobzin; © TU Braunschweig]
At the beginning of my studies, I had had an idea in my head. Then I started to talk about it. But I never imagined that I would be able to take so much action on that idea. Another surprise was realizing the connection between my faith and my actions. During my studies, I have learned that we can approach many problems on a technical level, for example, by constructing more wind turbines or solar panels. However, there are environmental problems that are not going to be solved on a technical level in the long run but merely on the human level—through our awareness, actions, interactions and creativity.

Through this experience I have learned not to deprecate my ability to take action toward my vision or sense of mission: we should never underestimate what each of us—and especially each of us together—can achieve with a resolute spirit. I have also come to see that, as individuals pursuing our human revolution—striving to "be the change we wish to see"—we are already making an important contribution to resolving global problems such as climate change. This is what I would like to share with others.

I'm determined that, as students of TU Braunschweig, we will together lead our university to carbon neutrality by 2030.

Adapted from issue 352 of Express, September 2020, SGI-Germany.