The Tenacity of Hope
Victoria Smith, USA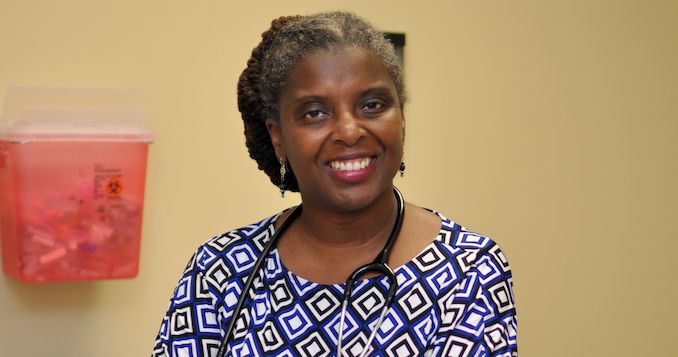 [Photo by Martha Manzanares]
By broadening her capacity to care for others, Victoria Smith has overcome the crippling effects of depression and expanded her life beyond her expectations.

In my senior year of high school, I began suffering with depression. For days, I would just cry until I couldn't cry anymore. Mental illness has been part of my family history, and there weren't any specific triggers for my depression. I had great parents, I got into Yale University, I didn't struggle financially, and I traveled the world. But those great circumstances didn't address the darkness within me. I struggled to value my own life and contemplated suicide as a way to cope with the pain.
I was a senior in college when a friend invited me to my first Soka Gakkai discussion meeting. I was immediately drawn to chanting, the experiences of members and the genuine joy I saw in such a diverse group of people. I felt I had found my home.

Through Buddhist practice, I began to feel a sense of hope. This was a major change in my life and major proof that the practice was working. I saw other positive changes too—a new relationship, a new car and guidance from a senior in faith that helped me see things for what they were. More importantly, without knowing it then, I was getting on the right path for my life.
This brought out my old friends of depression and low self-esteem, and I spent many days crying out of frustration and feeling like a failure.
I began thinking about becoming a humanistic physician who could provide better care to my mother and others who struggled with mental and physical illness. While I contemplated pursuing medical school (which would be another 10 years of schooling), I taught elementary school for two years with the Teach For America program, a nonprofit organization that recruits college graduates to teach in low-income schools.
I had always been successful academically, but learning to manage a class and motivate students was difficult. This brought out my old friends of depression and low self-esteem, and I spent many days crying out of frustration and feeling like a failure. I chanted and chanted, thinking that I should give up after my first year. When I shared this with a senior in faith, she responded, "Didn't you sign up for a two-year commitment?" and encouraged me to stand and win where I was.
I desperately sought out President Daisaku Ikeda's encouragement on education and read SGI-USA publications every day. I felt Mr. Ikeda, my mentor, was saying to me that, as a young woman, I deserved to be happy and that I should never give up on my dreams. He writes: "When we possess the treasure of hope, it gives rise to other treasures, too. Hope draws forth our inner potential and strength. Hope is a magic weapon that enables us to make our dreams come true."

Inspired by his encouragement, I chanted for each student's growth and happiness, visited each of them at their homes and strove to do my best in Soka Gakkai activities as a young women's leader. Through this shift in my determination, I developed a genuine understanding of each student's circumstances and gained their trust. This experience taught me the value of never giving up.

During my second year of teaching, I began to take premed classes at night, having decided that I wanted to pursue a career in medicine. After completing my two-year teaching commitment with Teach For America, I continued taking premed courses and worked at a community college as an independent study coordinator before going on to enroll at Harvard Medical School.
Never Giving Up on Anyone
My Buddhist practice has taught me how to win over my own hopelessness and to respect the dignity of each person's life. Because I have hope and believe in the potential of each patient, I never give up on any of them. My patients are not at the whims of their disease, they're on "Team Smith"—a team that wins over illnesses by understanding what's going on with them so they can be empowered to take charge. And as a physician, I always ask myself what I can do to help my patients, always reminding them that they can triumph. I try to better understand them and their habits as individuals and treasure each relationship. In this way, I communicate the heart of Buddhism through my behavior.
My determination is that, as long as I am there, the culture of warmth is going to be so pervasive in the hospital that there will be no place for negativity.
Soka Gakkai activities have taught me how to pray deeply for each person's happiness while taking any action necessary to make that prayer a reality. This has directly translated to how I strive to serve my patients and staff at work. My determination is that, as long as I am there, the culture of warmth is going to be so pervasive in the hospital that there will be no place for negativity.
Soka Gakkai activities have also given me the courage to continuously expand my life. I have taken on various roles as a physician leader and governing board member in a large health system in Louisiana, and I even owned a solo private practice. Each step of the way, as the familiar depression returned, I chanted and reminded myself of my determination to shine as President Ikeda's disciple. As a result, in 2018, I was named a New Orleans CityBusiness "Woman of the Year" for my professional and community achievements.
Shining the Light on Others
I want to develop myself to become someone who can raise others. I spent so much of my youth not believing in my own potential, but so many amazing women supported me steadily. Doing the same for the next generation, this is the next step in my life.

During the COVID-19 pandemic, I have had the opportunity to use my Buddhist practice to support my colleagues and patients. In my capacity as an associate medical director of a large group practice, I see patients and supervise and support physicians of multiple specialties. With my patients, I am responding to their needs and educating them on the realities of COVID-19 and how to stay safe. As a physician leader, I have had to tamp down hysteria and care for the caregivers. Because of my experience as a women's leader in my local Soka Gakkai organization, I know the vital importance of serving people, and I am doing everything I can to help elevate the life state of the doctors, staff and all those I work with. Through chanting and Buddhist study, I have been able to maintain a life state of hope during these times of uncertainty and crisis and inspire others to have hope.

At a team meeting, I asked my colleagues, "What are some positive things that you have seen come out of the pandemic?" Everyone had something positive to share. Local restaurants were donating food to our medical staff; doctors, staff and others are showing up to support in any way they can, regardless of whether it's their job function or not. It has been beautiful to see the awakening and strengthening of the bodhisattva life condition in many people—the will to compassionately support and care for others.

Further, in my effort to respond to President Ikeda's prayer for the quick end to the pandemic, I have volunteered as a participant in a COVID vaccine trial. As a result of my participation in this trial, I have been featured on national news programs and in national periodicals such as the Wall Street Journal, Reader's Digest and the New Yorker. I want to share with the world what it means to stand up as a protagonist to transform poison into medicine.

Adapted from the January 2019 issue of Living Buddhism, SGI-USA.