Shining like the Sun
by Pooja Menon, Australia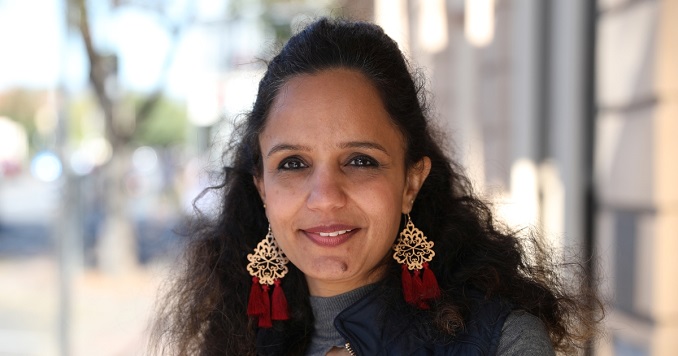 I moved to a new city a few years ago, and my employers were happy for me to continue working with them after the move. This brought with it a perfect opportunity to work from home. My bosses were very supportive and considerate of my role as a mother of two daughters and two dogs. I had a fixed daily routine of getting up very early each morning to make breakfast and lunch for everyone, working from six in the morning to three in the afternoon and then picking up my kids from school.

I was very content with my well-planned and organized life. Thanks to my flexible working hours, I could take my kids to various activity classes and help them study in the afternoon. I was also able to attend all my local Soka Gakkai meetings.

However, one morning, I received a phone call from my manager informing me that there were going to be a few changes in our company and that I had been made redundant. I just couldn't believe it. Were the six years of hard work and dedication not enough? All sorts of negative thoughts started coming to mind. The fact that I had no job from that moment on was very hard to absorb.

I went to pick up my kids from school, just as I did every day. I was laughing and didn't show them that I had just lost my job, but deep inside I was still thinking about it and how we would manage our finances without the significant income my job brought. I couldn't sleep well that night. Suddenly, I couldn't see the purpose of getting up early in the morning, and I felt especially useless after my husband and girls had left for work and school and I was all by myself at home.

PresidentDaisaku Ikeda encourages us to be like the sun within our families. I must admit that I found myself feeling daunted by this call. How can I shine like the sun all the time? I am human too, and I do feel down sometimes.
I called a friend, who is also a Soka Gakkai member, and told her that I had lost my job and been made redundant, and to my surprise she said, "Congratulations, something bigger and better is coming your way." I was stunned but then realized that she could be right. President Ikeda writes about the importance of being tenacious and not giving up when faced with trying circumstances and how an optimistic and hopeful attitude is crucial in ensuring that we can overcome difficulties.

Thanks to this encouragement, I started chanting with great determination to get a job within 30 days. I also decided to make these 30 days the most valuable and significant of my life. Everything around me changed the moment I decided to take this as an opportunity for growth.

I chanted for a job I would enjoy, that would earn me a good salary and allow me to make a positive contribution. I submitted several applications and was successful in getting interview calls almost immediately. My friends were also very supportive, telling me about job openings in their offices or sending me links to other job opportunities. I am blessed to have been surrounded by such lovely human beings, who constantly remind me that I am not alone.

I had approximately 15 phone interviews and about 6 face-to-face interviews in a short span of 15 days, and all the interviews I went for had positive outcomes. I never had a day without some action and was actually enjoying going out and meeting people either for an interview or for a cup of coffee.

It wasn't long before I had an interview at a company that was going through tremendous growth. I cleared all three rounds of the interview in one day, and the next day, they called me in to work with their manager so I could experience the job and working environment before accepting the offer. After spending half a day in the office, I was positive that this was the perfect place for me.

I had landed the job within 29 days. I am also happy to say that the salary package this company offered me is significantly more than what I was getting at my previous job. I am so thankful to my friend whose words allowed me to grasp the positive aspect of my situation and for all the support I have received through this process. Although I never imagined I would say this, in retrospect, I feel that the redundancy came at the right time in my life.

With me working daily from nine to five thirty, both my kids have stepped up and become more responsible. They do more chores in the house than they ever did, and everyone tries to help each other.

My faith allowed me to have absolute confidence in my ability to overcome this adversity. I've learned that benefit in terms of my Buddhist practice does not mean an absence of problems but an ability to successfully deal with problems as they arise.

I now understand that to shine like the sun doesn't mean that I have to be perfect or bright. Instead, it means that I strive to become the sun that encourages hope, growth and happiness. I know that as long as I have my practice, the guidance of President Ikeda and my burning desire to be a better human being, there will be no cloud that could hide the sun inside me.

Adapted from an article in the September 2018 issue of Indigo, SGI-Australia.