The Environment and Me
Nicolas Boutin, France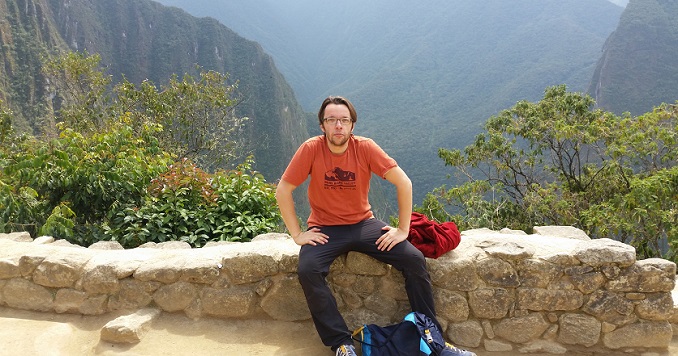 Drawing inspiration from his Buddhist practice, Nicolas Boutin from France proves that changing the environment starts with just one person.

In 2014, I became more serious about my Buddhist practice, participating regularly in discussion meetings and deepening my study of Buddhism. Around this time, I started feeling a deep sense of frustration about what I considered to be an environmental plague: the amount of littering. What frustrated me wasn't so much the litter itself as my own inability to do anything about it.

Eventually, I decided that if I wanted to see a change, I would have to make a change. I began picking up litter outside my workplace several times a week. Once I began to take action and was no longer just being passively critical, my frustration gave way to a feeling of joy.

That's when an idea came to me. What if there were several people doing this; what if we all had a good time picking up trash!

I didn't know where to start, but one thing led to another, and I ended up joining a volunteer group.
I decided that if I wanted to see a change, I would have to make a change.
Having learned to take the initiative through Buddhist activities, I began talking about my idea at town hall meetings and to my friends. This led to the organization of a cleanup day in September 2015, with eight volunteers. I was ecstatic and even received praise from the deputy mayor of the city.
Buddhism encourages us to step out of our comfort zone and act for the good of all. I decided I would meet with other groups in the city and get in touch with city authorities to organize a joint cleanup event.

Despite being very busy, I was able to do this with a lot of enthusiasm. After months of planning, at the beginning of October 2016, we gathered 95 volunteers for cleanups at six locations in the city. As a result of this success, we decided to repeat this the following year. The 2017 event was another great success, with almost 400 people participating in the cleanup and more than five tonnes of litter collected.

What motivated me throughout was my wish to reflect the values of my Buddhist practice in my life and strive to be the very best version of myself.
Following the conclusion of the cleanup event, I had the idea of planting trees in my city and creating an urban forest. At the back of my mind, I didn't really think it was possible. Nevertheless, I held on to the goal and told myself I'd do it!

I continued to be active in my local Soka Gakkai activities and, at the end of 2019, I was offered a new responsibility in the Youth Division that required a lot of time and energy. It was at this time, though, that I reignited my determination to carry out the tree-planting project with a sense of excitement about being able to make a contribution, both in my local Buddhist group and in society.

Finally, in September 2020, I and four others formed a local branch of an association that organizes mini-forest plantings in urban areas based on the Miyawaki planting method. After much effort and many meetings, we organized our first planting at the beginning of March 2021 in a park in the city, planting more than 600 trees in an area of about 200 square meters. Over 100 volunteers participated. We were overjoyed and immediately began planning the next planting project.

Through taking action in this way, I feel I have come to understand the heart of Buddhism better. These experiences have shown me that all of us—ordinary people who may not have any particular skills or know-how—can, through an inner change rooted in a life philosophy, become the protagonists of a new era. This makes me deeply optimistic for the future, despite the dire situation in which our planet finds itself. The future really is up to each of us.

Adapted from the June 2020 issue of Valeurs Humaines, mouvement bouddhiste Soka.