From Insult to Honor: Becoming a Force for Transformation
Arunima Sharma, India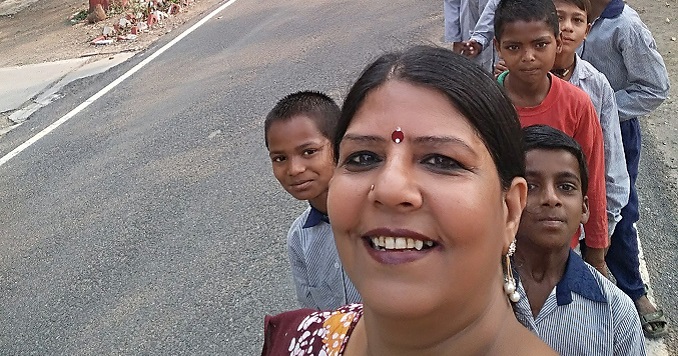 [Photo courtesy of Arunima Sharma]
Beginning her teaching career as a depressed and struggling single mother, Arunima Sharma became a force for educational transformation in her home state of Uttarakhand.

I got married at an early age and was blessed with a son and a daughter. But it was an unhappy marriage. We lived with my parents-in-law, and I was almost always in tears. I was an introvert, had difficulties with human relationships and battled depression.
This has been my journey of transformation from insult to honor and from suffering to happiness.
A few years later, I left my in-laws' house, completed my studies and got a job as a teacher. Soon after, my husband left me and our children. After 12 years of marriage, I was raising my son and daughter as a single parent. I got a job in a government school. It was located 100 kilometers from my home, and my children had to stay home alone while I was at work. I cried alone many nights, having no family nearby to depend upon.
In 2006, while visiting a friend's place, I happened to pick up a magazine that was on the table. It was the periodical of Bharat Soka Gakkai (BSG), the Soka Gakkai organization in India, and my heart was moved by what I read. I asked my friend about it and started to try out this Buddhist practice.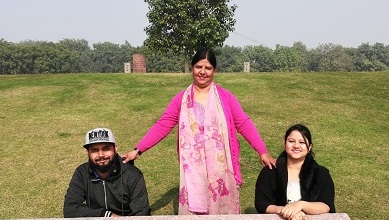 Arunima with her children
[Photo courtesy of Arunima Sharma]
At that time, there were just two Soka Gakkai members in the region.

Very soon, people began to say to me—who had previously been so stern and gloomy—"You're always so cheerful," and each time, I light-heartedly told them about Buddhism, saying, "I'll share the secret of my happiness with you!" Today, there are around 80 people practicing in our area.

In 2012, my divorce came through, and I was able to purchase my own house, something I had been longing for so badly. Also, I was transferred to a public elementary school five minutes on foot from my home.
My new school was in terrible shape. It had no boundary wall, no drinking water, no proper toilets, no timetable and no one was punctual. President Daisaku Ikeda writes, "As long as we pray earnestly and sincerely . . . if we have strong and genuine faith, even though results may not be immediately visible, they will definitely manifest without fail in the generations of our children." Reading President Ikeda's guidance, I determined I would make this school one of the best schools in Uttarakhand State, and I chanted for the wisdom to be able to take the most appropriate action.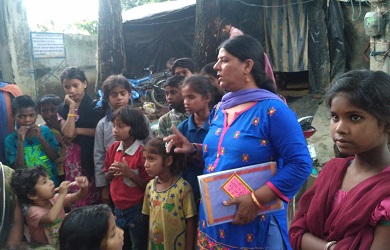 Arunima investigates the conditions of children who have not been able to attend school
[Photo courtesy of Arunima Sharma]
One day, while I was teaching, an unknown little girl peeked through the classroom window. This prompted me to investigate the surrounding area, and to my dismay, I found more than 100 children living in dismal conditions. Some were engaged in begging, others in picking up garbage and several were addicted to drugs. They had neither shoes nor clothes and were woefully lacking in personal hygiene.

I met with their parents and persuaded them to send their children to school. I opened my house for the children to bathe, against the protests of my family, and I asked friends for old clothes and shoes.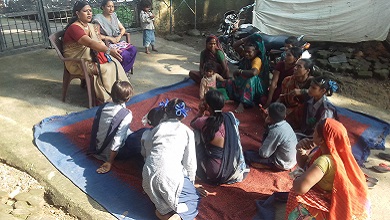 Teaching the children on the school grounds before they were permitted to attend the school
[Photo courtesy of Arunima Sharma]
However, the school principal refused to give them admission. Undaunted, I taught the children on the school grounds for two months.

I chanted that the school would accept them, and during the school holidays, I visited the children regularly. Through my chanting came wisdom, and I reached out to the public through social media to garner support for their education. People donated school uniforms, clothes and books.

Unexpectedly, some government officials visited the school. All 103 children were granted admission, and they started attending classes regularly. Organizations came forward to develop the school's infrastructure—drinking water, toilets, flooring, desks and chairs, a boundary wall and a gate were all provided, and in addition, a library was established in the school.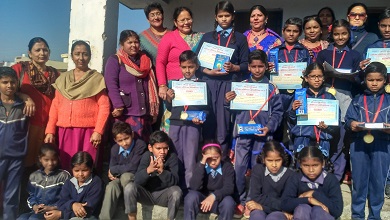 Students with their achievement awards
[Courtesy of Arunima Sharma]
Taking heart from all these positive developments, I began chanting to transform the conditions of all elementary schools in the state. I wrote to the state government and worked hard to establish libraries in all government schools. In 2018, I was named "best teacher" by the Uttarakhand Child Protection and Rights Commission. Then, just as I had determined, my school was elected as the best school in the state, and a prestigious private educational institution adopted our school.

There is nothing more joyful than seeing a child who had been left behind unfolding his or her potential through education.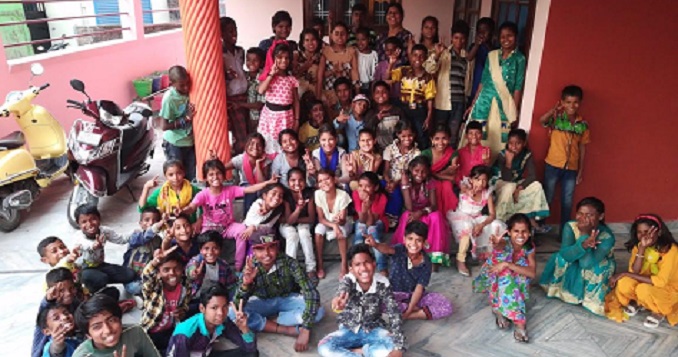 [Photo courtesy of Arunima Sharma]
In my family, my daughter and son followed me in practicing Nichiren Buddhism and now work in reputed companies. Before, I had no friends, and I was an angry, unhappy person who people disliked and ignored. But through this Buddhist practice, I have transformed myself. In the Soka Gakkai, I have found a loving family and have become a loving person in return. I was able to recognize the potential inside me that I could not see before. The poison in my life has changed to medicine. Now, I spread love and receive love from everyone in my environment. This has been my journey of transformation from insult to honor and from suffering to happiness.

My dream now is to bring about a positive change in government schools throughout the country.

Adapted from the May 21, 2021, issue of the Seikyo Shimbun, Soka Gakkai, Japan.
To watch a short video presentation of Arunima's experience, click here.