Soka Gakkai Leaders Meeting Marks 90th Anniversary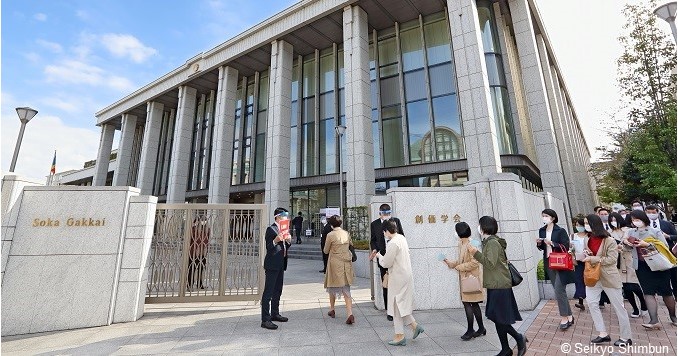 On November 1, the Soka Gakkai Headquarters Leaders Meeting was held at the Hall of the Great Vow for Kosen-rufu in Tokyo, commemorating the 90th anniversary of the founding of the Soka Gakkai. The organization's theme for 2021—the Year of Hope and Victory—was announced, along with the organization's commitment to continue to promote the culture of peace, nuclear disarmament and the UN Sustainable Development Goals (SDGs). Key areas of focus in this regard fall on the climate crisis, human rights education, gender equality, humanitarian relief and cultural and educational initiatives.
Daisaku Ikeda, SGI president, sent a congratulatory message marking the Soka Gakkai's anniversary. Participants in the meeting observed social distancing in light of the ongoing Covid-19 pandemic. The Hall remains closed to visitors.