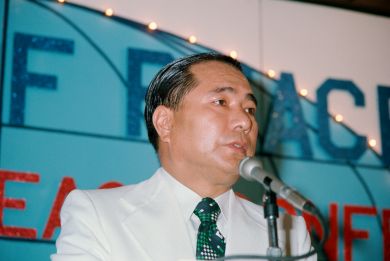 Daisaku Ikeda at the founding of the SGI in Guam
© Seikyo Shimbun
It was on January 26, 1975, that the Soka Gakkai International (SGI) was inaugurated at the First World Peace Conference on the island of Guam—the site of fierce fighting between American and Japanese military forces and of countless deaths of innocent civilians during World War II.

The SGI was founded as a global association of the Soka Gakkai, supporting the faith and Buddhist practice of an increasing international membership. It was then Soka Gakkai President Daisaku Ikeda's vision to make Guam the symbolic starting point for this movement—a network of individuals committed to promoting understanding between cultures and actualizing peace.

Some 158 representatives from 51 countries and territories attended the meeting, which is now celebrated as SGI Day, and at their request, Ikeda took up the position of president of the newly-formed SGI.

In his speech on that occasion, Ikeda stressed that Buddhism is grounded in the philosophy of respect for the dignity of life and made a powerful declaration stating that he would dedicate his life to the endeavor of promoting a lasting peace. He also encouraged the members to live altruistically, dedicating their lives to sowing the seeds of peace throughout the world and contributing to the happiness of others and the good of society.

In 1983, the SGI was accredited as a nongovernmental organization (NGO) in consultative status with the United Nations Economic and Social Council (ECOSOC). The SGI continues to undertake peace activities in support of the UN agenda.

Beginning in 1983, in commemoration of SGI Day, Ikeda authored 40 annual peace proposals that explore the interrelation between core Buddhist concepts and the diverse challenges global society faces in the quest to realize peace and human security. He continues to issue statements on global challenges such as nuclear disarmament and building the culture of peace.

March 2023