An exhibition jointly created by the SGI (Soka Gakkai International) and the Asian Disaster Reduction and Response Network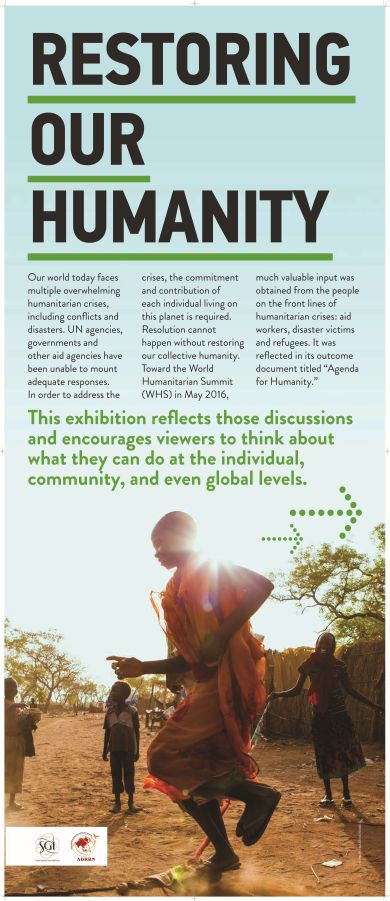 To view the panels download PDF
here
Grounded in the belief that each individual's actions and awareness can make a difference, the exhibition "Restoring Our Humanity" was created to encourage viewers to think about what they can do at individual, community and even global levels to address the collective humanitarian challenges the world faces. It calls on viewers to reaffirm their global commitment to humanity and work together toward humanistic solutions to the challenges of today, starting in the place where they find themselves now.

The exhibition was produced in response to the first ever World Humanitarian Summit (WHS), held in Istanbul, Turkey, in May 2016, which was organized to collectively address some of the greatest humanitarian crises facing our time that result mainly from conflicts and disasters.

The 20-panel exhibition highlights individual and community level initiatives, and recommends what can be done at such levels, reflecting input from people on the front lines of humanitarian crises—aid workers, disaster-affected communities and refugees—that was gathered at preparatory consultations leading up to the WHS.

For further information about the availability of this exhibition for educational use, please send an email to contact[at]peacesgi.org. The exhibition is currently available in English and Spanish.
[May 2016]