Promoting the Nuclear Ban Treaty (TPNW)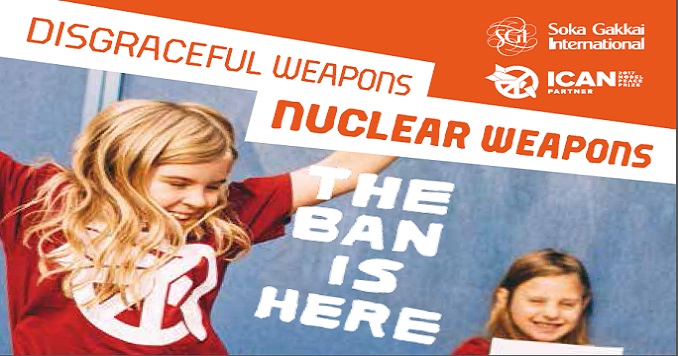 The UN Treaty on the Prohibition of Nuclear Weapons (TPNW) is the first international treaty to comprehensively ban all activities related to nuclear weapons. Its entry into force on January 22, 2021, is a historic milestone in the global campaign for the abolition of nuclear weapons. The crucial next steps in the effort toward disarmament are to ensure the broadest possible adherence to the treaty's prohibitions.

To help spread awareness and understanding of the treaty, the SGI (Soka Gakkai International) has created two digital tools—a visual storytelling tool and a handbook.
Thank you for your interest in these tools. Can you help us by answering a few simple questions about their effectiveness? This will assist us in creating other useful resources for promoting peace. The survey will take less than a minute. Please click here. Thank you!

Both the visual storytelling tool and the handbook are available in Japanese. For further information, please send an email to contact[at]peacesgi.org.
May 2022