Press Release: SGI President Congratulates ICAN on 2017 Nobel Peace Prize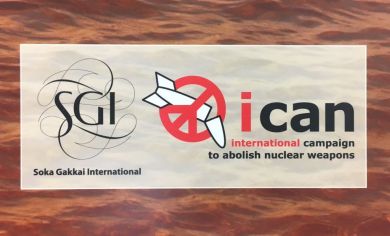 Tokyo, Oct 6, 2017: Daisaku Ikeda, president of the Soka Gakkai International (SGI) Buddhist association, has today congratulated ICAN, (the International Campaign to Abolish Nuclear Weapons) on being awarded the 2017 Nobel Peace Prize. He states: "This recognition is a source of profound encouragement to all who have been working for the elimination of nuclear weapons, in particular the hibakusha and the members of global civil society who share bonds of solidarity with them . . . The conferral of the Nobel Peace Prize on ICAN is a cause for unmatched joy."

Since the launch of ICAN in 2007, the SGI has been proud to work as one of the movement's international partners toward the realization of a world free from nuclear weapons.
In particular, the SGI has collaborated with ICAN to produce educational materials including "Testimonies of Hiroshima and Nagasaki: Women Speak Out for Peace" (2009), a DVD set of short interviews with women hibakusha, the awareness-raising exhibition "Everything You Treasure—For a World Free From Nuclear Weapons" (2012), which has been shown in 79 cities in 19 countries around the world, and in September this year, a short anime film highlighting the importance of the Treaty to Prohibit Nuclear Weapons.

The SGI is committed to continuing the long struggle towards abolition of these most inhumane of weapons. Mr. Ikeda continues: "The adoption of the Treaty on the Prohibition of Nuclear Weapons and today's award mark the opening of a new phase in the effort to abolish nuclear weapons, a rising tide of energy and commitment."

ICAN Executive Director Beatrice Fihn commented in an interview at the time of the adoption of the treaty: "SGI has been one of our greatest partners in this fight. Faith-based perspectives are extremely important, because there is a moral reason to why we are doing this."

The Soka Gakkai International (SGI) is a community-based Buddhist network with 12 million members around the world. The SGI has been working toward the abolition of nuclear weapons for 60 years, since the Declaration Calling for the Abolition of Nuclear Weapons issued by second Soka Gakkai President Josei Toda on September 8, 1957.

Read the full text of Mr. Ikeda's congratulatory message to ICAN here.

Contact:
Joan Anderson
Office of Public Information
Soka Gakkai International
Tel: +81-80-5957-4711
Fax: +81-3-5360-9885
Email: anderson[at]soka.jp