SGI Welcomes Nuclear Weapons Ban Treaty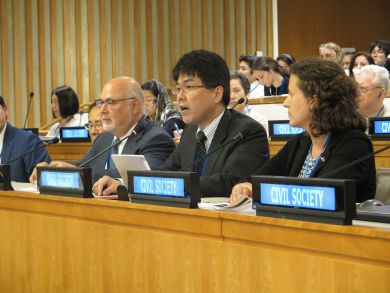 Kimiaki Kawai speaking at the final session of UN negotiations
[© Seikyo Shimbun]
Tokyo, Jul 8, 2017: The adoption of the Treaty on the Prohibition of Nuclear Weapons at UN Headquarters in New York on July 7 is being lauded as a historic step for humankind by the Soka Gakkai International (SGI) Buddhist association.

The treaty, which lays out detailed provisions stipulating a comprehensive ban on the development, production, possession, stockpiling, testing, use or threat of use of nuclear weapons, is the result of intensive negotiations at the UN involving over 120 governments and many civil society representatives.

Kimiaki Kawai, SGI Director of Peace and Human Rights, was in New York to take part in the final session of negotiations, where he stated that the continued existence of nuclear weapons threatens human dignity. He comments, "The adoption of this treaty feels like a momentous step forward. Even if the nuclear-weapon states and most nuclear-weapon dependent states have not participated, the moral norm has been declared very clearly, with the united will of the world's people behind it. Nuclear weapons in any hands are wrong."
The SGI has issued an official statement in the name of Hirotsugu Terasaki, Director General of Peace and Global Issues, welcoming the adoption of the treaty. It reads: "The existence of nuclear weapons is the greatest threat to the right to life of both the individual and humankind as a whole. For this reason, their total elimination is a desire shared by all people."

Other civil society organizations active for many years in pursuit of a world free from nuclear weapons have also praised this long-awaited development. The International Campaign to Abolish Nuclear Weapons (ICAN), with whom the SGI has cooperated for many years, and Faith Communities Concerned about Nuclear Weapons (organizations and individuals from diverse faith traditions including the SGI, PAX, and WCC) have also released statements of support. See the Faith Communities statement.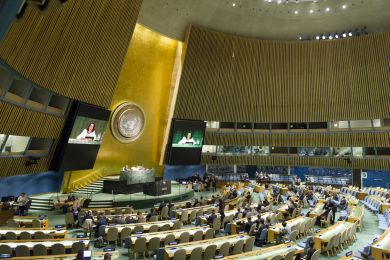 Elayne Whyte Gómez, Permanent Representative of Costa Rica to the UN Office at Geneva (UNOG) and President of the UN conference on a treaty to prohibit nuclear weapons, addressing the opening meeting
[© UN Photo]
The SGI is committed to continuing its efforts in disarmament education, including awareness-raising exhibitions to demonstrate the negative humanitarian, environmental and human rights impact of nuclear weapons, and publication of firsthand testimonies from victims of the atomic bombings of Hiroshima and Nagasaki (hibakusha).

This year marks 60 years since the start of the Soka Gakkai's activities to promote the abolition of nuclear weapons, when Josei Toda, the organization's second president, issued a Declaration Calling for the Abolition of Nuclear Weapons in September 1957.

In line with Toda's description of nuclear weapons as a manifestation of the darkest aspects of the human heart, the SGI's education efforts focus not only on the mechanics of disarmament but also, as Buddhists promoting respect for the dignity of human life, on the need to fundamentally change our ways of thinking.
As SGI President Daisaku Ikeda wrote in 2009: "If we are to put the era of nuclear terror behind us, we must struggle against the real 'enemy.' That enemy is not nuclear weapons per se, nor is it the states that possess or develop them. The real enemy that we must confront is the ways of thinking that justify nuclear weapons; the readiness to annihilate others when they are seen as a threat or as a hindrance to the realization of our objectives."

The Soka Gakkai International (SGI) is a community-based Buddhist association with 12 million members around the world. Its activities to promote peace, culture and education are part of the long-standing tradition of Buddhist humanism.

Contact:
Joan Anderson
Office of Public Information
Soka Gakkai International
Tel: +81-80-5957-4711
Fax: +81-3-5360-9885
Email: anderson[at]soka.jp