SGI President Issues 2017 Peace Proposal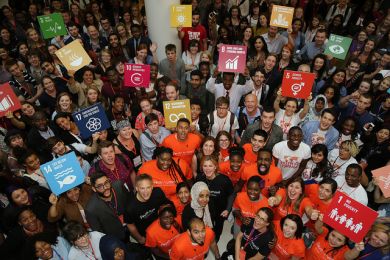 Tokyo, Jan 26, 2017: Daisaku Ikeda, president of the Soka Gakkai International (SGI) Buddhist association, issued his 35th annual peace proposal titled "The Global Solidarity of Youth: Ushering In a New Era of Hope."

While acknowledging numerous global challenges from armed conflict to the refugee crisis, Ikeda rejects pessimism, citing his faith in young people who embody hope and can catalyze chain reactions of positive change in their communities. He states: "Young people and their energetic engagement represent the solution to the global challenges we face."

He also sees youth as the key to achieving the Sustainable Development Goals (SDGs) adopted by the United Nations toward 2030. He emphasizes that globally shared action, as seen in recent efforts to fight climate change, is essential in promoting these goals.
Ikeda expresses concern about divisive rhetoric and the growth of hate speech, commenting that xenophobic thinking is propelled by a stark division of the world into good and evil. He echoes former German President Richard von Weizsacker, who described the Berlin Wall as "the politics that deny humanity made into stone," and stresses that we must never allow this kind of division to occur again.

Ikeda discusses the bodhisattva spirit stressed in Mahayana Buddhism as one means of developing a spiritual foundation for building solidarity, describing the bodhisattva as someone motivated by the spirit of empathy to respond to grave social crises, wherever they are and whether or not they are directly impacted.

He discusses the importance of education for global citizenship and calls for fostering a culture of peace through expanding friendship that transcends ethnic and religious differences. He is confident that bonds of friendship among youth can be powerful enough to turn back the "sullied currents of divisiveness" and give birth to a culture of peace rooted in respect for diversity.

Addressing the problem of nuclear weapons, Ikeda urges that the leaders of the United States and Russia, which together possess more than 90 percent of the world's nuclear arsenal, hold a summit meeting at the earliest opportunity to establish a global trend toward nuclear disarmament.

He stresses the significance of a call for the abolition of nuclear weapons issued by his mentor, second Soka Gakkai president Josei Toda, 60 years ago in 1957. Toda sought to reveal the illusory nature of nuclear deterrence and forcefully stated that the use of nuclear weapons can never be justified.

Ikeda welcomes the adoption of a UN General Assembly resolution last year mandating the start of negotiations for a treaty that will prohibit nuclear weapons. Recognizing the difficulty of convincing nuclear-weapon states to participate in these negotiations, slated for March and June 2017, he stresses that Japan, as the only country to have experienced nuclear bombings in war, has a moral responsibility to work to gain the participation of as many states as possible.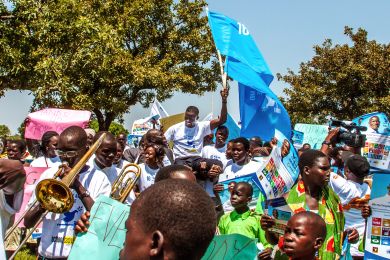 Nobel Peace Prize nominee Victor Ochen raising a flag representing Goal 16: Peace, Justice and Strong Institutions, in Uganda
[Photo by Semine Lykke Brorson & AYINET]
He urges that the establishment of such a legal instrument be a global enterprise with the goal of preventing the horrors of nuclear war from ever being visited upon any country, and emphasizes that this initiative is fully congruent with the Nuclear Non-Proliferation Treaty (NPT) and its Article VI that requires each state party to pursue good faith negotiations toward complete nuclear disarmament.

Ikeda emphasizes that the actions of civil society during the negotiation process will help build momentum toward the treaty being a form of "people-driven international law."

Regarding the needs of refugees and the countries, mainly in the developing world, that host them, he suggests that the UN take the initiative in developing a new aid architecture that creates better coordination between emergency assistance and development work: a partnership for solving humanitarian challenges and protecting human dignity. This could include vocational training to enable forcibly displaced persons to work in fields that contribute to enhancing resilience and promote the achievement of the SDGs in the host communities.
Ikeda concludes his annual proposal by calling for increased efforts to build a culture of human rights. He suggests activities promoting human rights education to mark the 70th anniversary of the Universal Declaration of Human Rights in 2018, and expresses high expectations for a new human rights exhibition to be launched during the convening of the Human Rights Council in February and March, which the SGI is creating together with other groups.

He stresses the need to promote gender equality to end all forms of discrimination, stating that gender equality is vital to opening the path for all people to bring forth the light of their inner dignity and humanity in a way true to their own unique self.

Finally, Ikeda reconfirms the commitment of the members of the SGI, centered on youth, to work toward creating a global society where no one is left behind.

Daisaku Ikeda has issued proposals to the international community addressing global issues every year since 1983. Philosopher, author and peacebuilder, he has been president of the Soka Gakkai International Buddhist association since 1975. His annual peace proposals are issued on January 26 to commemorate the founding of the SGI.

Read full text of proposal here.

Contact:
Joan Anderson
Office of Public Information
Soka Gakkai International
Tel: +81-80-5957-4711
Fax: +81-3-5360-9885
Email: anderson[at]soka.jp