Only One Yes
by Clayton Surratt, USA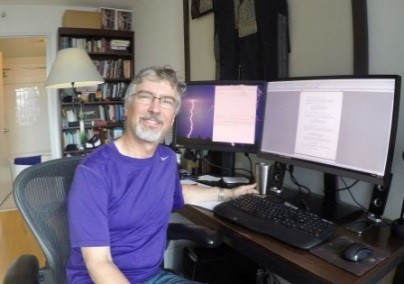 After graduating from the Theatre School at DePaul University in Chicago, my college sweetheart and I moved to New York City. She was in lighting design, and I had dreams of working as a professional actor in the theater. I had been practicing Nichiren Buddhism for around five years and quickly made contact with the local Soka Gakkai members. Within four months of arriving, I was on tour with a professional company.

After that tour, I started a small theater company with some fellow actors, writers and directors. But the fledgling theater did not pay the bills. My fiancée suffered a relapse of leukemia, and I became her caregiver and worked a survival job as a waiter.

At this time, an amazing Soka Gakkai member who was battling cancer herself visited and encouraged me to never give up, and we chanted together to battle this dark period. My fiancée, however, eventually passed away from her disease.

The years after her passing were filled with deep sorrow, but I always had my Soka Gakkai family and President Daisaku Ikeda's words of encouragement to comfort me.

In one of his writings, President Ikeda says: "I can deeply appreciate how much pain and sadness you must feel. However, this Buddhism has the power to transform your suffering into happiness, to change the tears you have shed into glittering jewels of good fortune. Those who have wept the most bitterly have the right to become the happiest people of all."
I continued to write plays for both myself and my fellow actors to perform in, but I reached a point where I knew the next story I wanted to write would be best as a movie and not a stage play. I determined to reinvent myself and so, somewhat naively and without the slightest idea how I would sell a screenplay or get it made, I plunged in and moved forward.

I knew I would have to root myself in faith if I was to succeed. I abundantly chanted Nam-myoho-renge-kyo to somehow achieve screenplay success and exerted myself in my role as the men's leader in my local SGI-USA area.

I studied how to structure a script and wrote draft after draft to learn my craft. I began to see signs that I was on the right path, but I also knew that I was going to need a big, big break. I was going to need a Hollywood agent. I was going to need tremendous good fortune.

The next thing I did was one of the scariest things I had ever done—I announced to my fellow members that I would sell a screenplay and therefore become a professional screenwriter. Now that I had told everyone, I had to succeed!
It was a battle that would go on for nearly two years! During this time, I would reflect on one of my favorite Nichiren quotes on the importance of persistence: "The journey from Kamakura to Kyoto takes twelve days. If you travel for eleven but stop with only one day remaining, how can you admire the moon over the capital?"

When I finally had a screenplay that was as good as it could possibly be, I started to send out query letters to producers I found in the Hollywood directories of producers and agents, asking them to read my script. I sent hundreds of letters and got hundreds of rejections. Most producers refused to even look at my material because they had never heard of me. But I did not let that stop me or discourage me.
As I fought to recognize my own value, I had to make an internal change and refuse to be a victim of my circumstances.
Many times when I was chanting, discouraging thoughts would pop into my mind telling me that my dream was impossible. Ideas like: "I'm too old," "I'm not talented enough" and "I don't have any connections." This was the real battle. As I fought to recognize my own value, I had to make an internal change and refuse to be a victim of my circumstances.
Even though I was getting hundreds of noes and rejection after rejection, I knew I only needed one yes to move forward. I continued chanting and persevering and finally was able to impress a literary manager who went on to land me an agent who sold my screenplay!

Instantly, I was an insider, and people wanted to meet with me. I was suddenly flying out to Los Angeles, going to pitch meetings with high-level producers and mixing with decision makers in the industry.

One meeting with a well-known producer was particularly notable, he looked at me and said that what I had done was impossible. He told me that selling a screenplay like mine from outside the system just never happens.

Today, several years after my big break into Hollywood, I am happily married to my amazing wife, and we enjoy tremendous financial fortune. I no longer work a survival job and can devote my time fully to my creative writing projects and Soka Gakkai activities, especially to encouraging the young people in my local area. Some have fought homelessness, drug abuse and violence and were able to completely transform their situations and encourage others. Nothing compares to the joy I feel watching young people battle their circumstances and win, rewriting the scripts of their own lives.
[October 2017]