My Tailor-Made Disease
by Anne O'Sullivan, Ireland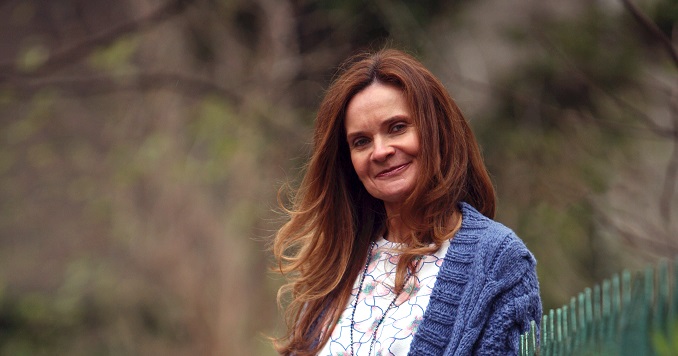 Illness is an opportunity to develop a more robust, vibrant state of life. Anne O'Sullivan, a Soka Gakkai member from Ireland, did just that, emerging from her struggle with illness feeling differently about herself and with a new appreciation for what it is to be alive.

I have been practicing Nichiren Buddhism since I was 18. Despite this, at times I would experience the most intense suffering within the depths of my life, feeling helpless in changing how I felt about myself.

In February 2000 I was diagnosed with ulcerative colitis, an inflammatory bowel disease (IBD), but was told it was very mild and not to worry, so I didn't! My symptoms disappeared, and I got on with my life.

Two years later, I started to get sick. I suffered from crippling stomach pains and frequent trips to the toilet, where I lost copious amounts of blood. I couldn't eat and lost weight rapidly. I was admitted to the hospital and was told that it was due to the ulcerative colitis.

Doctors discovered that most of my colon was inflamed and ulcerated. I left the hospital completely shell-shocked. It had always been crucial for me to look good and to have people tell me how good I looked. This is where my happiness derived from. This illness challenged what I thought was my very identity, as I defined myself by my outward appearance and the symptoms had a direct effect on the way I looked.

So of all the diseases to get, I got one which was tailor-made for me!

I chanted Nam-myoho-renge-kyo for the courage to face this challenge and my prayers to be powerful enough for me to believe I could indeed meet this disease with a robust response.

Over the next couple of years, I was constantly in and out of the hospital. The medication wasn't working, and my condition worsened. Remission was unattainable. Most days I was in pain, and there were days I couldn't leave the house as I needed the toilet so much.

Once again, I was admitted to the hospital, given huge amounts of steroids and put on drips, but my symptoms just got worse. I continued to chant to just keep going and get the best possible medical care.


After more tests, I was told that my colon would not regain function and the only option was to surgically remove it and attach the end of my small intestine to a bag through an opening in my abdominal wall.

My first thought was one of fear and "Why me?" My next thought was a line from Nichiren's writings: "A coward cannot have any of his prayers answered." Even though I was practicing Buddhism, I did not really believe I could transform this situation. At that moment, I realized I had been taking my life for granted for years. I determined that, no matter what, I would not be defeated.

The night before my surgery, I experienced the worst stomach pains ever and collapsed. There were nurses and doctors everywhere, needles stuck into me, oxygen on, people yelling at me to keep my eyes open. I could feel my life slipping away. I remember asking the doctor, "Am I going to die?" His response was, "Not if I can help it."

At that, a sense of calmness descended on me. That night, I received over two liters of blood and was told that if I had been at home I would have died. I felt such gratitude that I had been in the right place at the right time.

When I did actually go down for surgery, I had let go of the fear and was totally ready.

The Day I'd Been Waiting For
Despite the surgery being a complete success, I was miserable. I hated my ileostomy bag, which carried the waste away from my body. Every morning, I would have to change the bag and look at an organ that should have been inside me protruding from my abdomen. I was frightened to touch it and hated looking at it. Feeling that I had no control, my confidence sunk to an all-time low.

The day finally arrived for me to have my reversal—to have my small intestine attached to my rectum. I was over the moon to be getting rid of my ileostomy. I was finally going to be normal and could get on with the rest of my life. The operation went as planned, and I went home with my modified body up and running.

However, quite soon after the surgery, I was unwell again. I was then diagnosed with Crohn's disease, which is like ulcerative colitis, except it affects the whole digestive tract. I was told there was no cure and I would be on strong medication, including steroids, for the rest of my life.

The way I saw it was that I could either give up or get on with it. I decided to get on with it as there was no way I was giving up. I chanted for the strength to carry on and see the results of my prayers.

Life after surgery was full of highs and lows. The disease was constantly active, and I was given many different drugs to try and get the inflammation under control. For over a year, I went into the hospital every four weeks to lie on a bed for six hours to have an artificial antibody infused into me!

I found it hard to derive joy from anything; I felt nothing was changing, in fact, it was just getting worse. However, I learned to cherish the days I was well. Second president of the Soka Gakkai, Josei Toda, often said that a person who has an illness really knows how to deeply savor life. I chanted with sincere gratitude for these precious days. The times that I could attend Soka Gakkai meetings were big achievements for me and spurred me on in my struggle.

As no medication was working to control my Crohn's disease, removing my rectum and giving me an ileostomy for life was the only option left. Devastated, I went home, cried, screamed and threw things, and then finally dragged myself to the Gohonzon to chant. I had to summon up all my courage to keep fighting and believing that I had the power and inner resources to get through this.

I threw myself into my Buddhist practice—I chanted more and studied the writings of Nichiren and President Daisaku Ikeda. They were my constant companions and helped me keep my darkness at bay. Day by day, I began to feel stronger in myself. My body was broken, but my fighting spirit was fierce. I began to feel a sense of wellness inside myself that helped me press forward.

My Buddhist practice was my weapon to banish any doubts and summon the wisdom to take the best possible care of my body.

The day finally came for me to have my surgery, and I chanted that it would be the last one. I was nervous and fearful of what was to come after and how I would cope with having an ileostomy for life. Nevertheless, I determined that, no matter what, I would not let it become a source of unhappiness for me.

My surgery took over eight hours and was a complete success. I have absolutely no problems with my ileostomy. It's what keeps me alive.

This illness has been my biggest benefit. From a certain perspective, I was "unwell" before I became sick. My attitude toward myself was unhealthy as I constantly looked outside myself for happiness, which always led to more feelings of dissatisfaction.

It took my illness to make me realize that the source of true happiness is within myself. I now have complete conviction in the power of my prayers. I still have Crohn's disease, but the symptoms are nothing in comparison to what I suffered before.

It's now been over five years since my ileostomy was fashioned, and life is so different for me. This experience has enabled me to encourage others who are struggling to not be defeated and believe in their vast potential. President Ikeda once said, "Without hardships, there is no joy." I'm so grateful to be alive, and I make the most of every day. I know now that no obstacle is too big to overcome.

Adapted from an article in the April 2017 issue of the Art of Living, SGI-UK.