Make Me Sound Amazing: Lessons in Life and Leadership
James Greening, Australia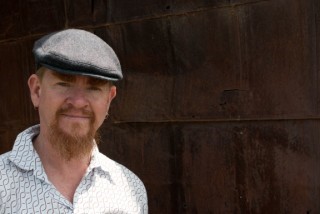 What are the qualities and attributes of a good leader? Is the ability to support and inspire others one of those attributes? In this article adapted from the May 2014 issue of Indigo, SGI-Australia, trombonist James Greening delves into his experience as a jazz musician and a Buddhist to answer these questions.

One of the most powerful lessons I have learned came from the late Australian jazz trumpeter Keith Stirling. One day, before going on stage, I asked him what I needed to do. His response: "Just make me sound amazing." This determination to support someone is also the key to leadership, in my experience. It is simple, and I still apply this lesson to this day in music and every part of my life.

It is our focus on the person in front of us that liberates us from our sufferings.
As a working musician, I have been fortunate to be a sideman in many groups over the last 35 years. With this valuable training, I started my own quartet, and three years ago I formed a new seven-piece group that performs both original compositions of mine and those of the other members of the band.
What is significant is that I display the same attributes as a sideman as I do when I am leading these groups. That is, my role as a sideman is to support the bandleader in taking the music in the direction they wish and to listen intently to the other musicians so that I can support everyone to sound amazing. When leading the band, I support the other musicians with the same intent. In both cases, there needs to be a clear direction, a clarity about our contribution to society and a common desire for us all to succeed individually and collectively. As a leader, it is perhaps more obvious that I need to be clear and take responsibility for the direction when I lead the band. I also need to remind people of their significance, confidently expressing my belief in them, even if I am criticized at times. This is what I have learned about leadership from Soka Gakkai discussion meetings and activities.

Smiling confidently is one of the most powerful ways that I can support the leader and the band members. As a leader or as a sideman, I believe I have the responsibility to do everything to make the gig work—whether it's negotiating with the sound technicians, taping up some leads so people don't trip or encouraging someone who may have lost confidence.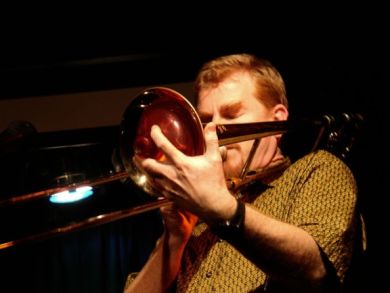 James in concert
A wonderfully strict concept you learn as a musician is that the audience doesn't care how you are feeling. They simply want you to sound amazing. Whether you are exhausted, frustrated, suffering from a great loss or just don't believe your playing is good enough, the audience has come to be inspired, revitalized and to experience something extraordinary.

Great musicians like Herbie Hancock, Wayne Shorter, Buster Williams and Bennie Maupin know that their responsibility is to inspire and transport people with the clarity of their musical dialogue. This sense of common purpose and conviction to inspire people through their music and their lives is a great liberator for musicians to overcome their own doubt and suffering. My understanding is that this is the case for all of us; it is our focus on the person in front of us that liberates us from and helps us appreciate our own struggles and sufferings.
The Soka Gakkai discussion meeting is a place where we all get the opportunity to put leadership skills into practice by supporting members of the group. Having the capacity to listen to each member speak and to believe with total confidence in the common desire of the group to create value out of the dialogue is the great training of the discussion meeting.

Similar to the training of musical performance, there are also times when we don't want to open the door because of our negativity, suffering or struggles, but we do open the door and there are people who have made an effort to come and be inspired and revitalized. This quote from Daisaku Ikeda makes it clear that we all have a mission to be artistic leaders in life: "To strive even higher, to do even better—the creative process is a desperate struggle to go beyond what we were yesterday. It is a battle against resting on our laurels, against the fear of losing what we have. It is an adventure into unknown territory."

James Greening has been playing trombone since he was 7 years old. Moving to Sydney in the early 1980s, he became a professional musician playing in jazz, Latin and television show bands. Performing at international and local nightclubs and jazz festivals with his quartet, The World According to James, and septet, Greening from Ear to Ear, James also contributes to a music education program, is part of a number of seminal Australian jazz ensembles and is a sideman for many well-known Australian vocalists. He is a member of SGI-Australia and has been practicing Buddhism since 1983.