Discovering My True Worth
by Adriana Alonso Calderón, Puerto Rico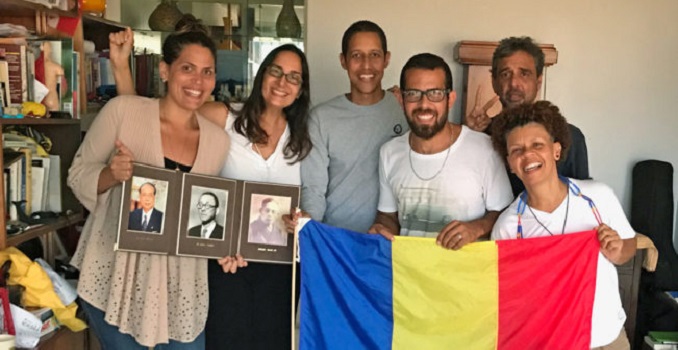 Adriana, left, with fellow Soka Gakkai members
I grew up in a loving family but struggled with self-confidence as I was often bullied for being chubby. Though my mother always told me I was beautiful and intelligent, I sought the approval of other people, especially boys.

The first time a guy noticed me I was 18. He was older than me. We quickly got engaged, I soon became pregnant and my parents forced us to get married. Unfortunately, the pregnancy failed. I decided to keep trying to improve the relationship, but nothing worked. He was unfaithful to me, lied to me constantly and often called me fat.

At 19, I felt hopeless about my life. This is when my best friend introduced me to the Soka Gakkai and the practice of Nichiren Buddhism. The first time I chanted Nam-myoho-renge-kyo, I was awakened to the belief that I could change my situation. I had the courage to end the toxic relationship and began a journey of self-transformation (or "human revolution").

When I was 21, I had the wonderful benefit of moving to Spain for my graduate studies. Soon after I arrived, however, I spiraled into a pattern of self-destructive behavior. I distanced myself from the Soka Gakkai, fell into a state of depression and closed myself off from the world. I had lost myself. I reached rock bottom and decided to go back to Puerto Rico.
Once I returned to Puerto Rico, I began to engage in Soka Gakkai activities again. I took on responsibility as a young women's leader in my area and strengthened my daily Buddhist practice.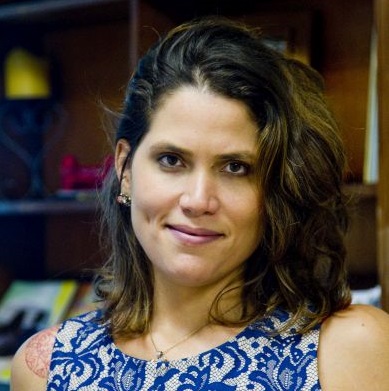 In addition, I joined activist groups that defend women's rights and took an active leading role alongside many other powerful women in Puerto Rico. In the Soka Gakkai, I was appointed young women's leader for Puerto Rico. This has been an amazing opportunity to support many young women to become happy and awaken to a sense of purpose, and has allowed me to develop as a person.
In the process, I transformed all insecurities about myself and, almost without thinking about it, decided to study law and become a lawyer. In 2016, I was one of the few people in Puerto Rico who passed the bar exam. I had also determined that I was going to change my karmic pattern of toxic relationships and above all treasure my life by taking care of my health. In 2017, I got married. In all my life, I had never been with someone as loving and respectful as my husband.

Puerto Rico has recently experienced one of the worst economic crises in its history. In 2016, the US Congress appointed an unelected fiscal control board to oversee the island's budget and fiscal plan. We are currently undergoing harsh austerity measures, including extreme cutbacks in jobs, education and human rights. Almost half a million people have emigrated because of this and the lack of employment.

At the time the congress law was passed, I shared my determination to fight against injustice in my country at a youth meeting. A few weeks after I made my determination, I was invited as a feminist lawyer to be part of a dialogue with a US congressman and an important economist. I chanted to transmit the values of peace and justice that had been inspired in me by Nichiren Buddhism and President Daisaku Ikeda. During the dialogue, I was able to share these humanistic values in front of hundreds of academics, politicians and members of the community.
In 2017, a Category 5 hurricane destroyed the island of Puerto Rico. Most of the island was without electricity, water, fuel and food for months. Thousands of people lost their homes and lives. Soka Gakkai members in Puerto Rico held long chanting sessions for people's safety and the peace of our land. President Ikeda sent us encouragement saying, "This is the moment to turn poison into medicine." This helped me to be strong, not to be afraid and not to lose hope.

Fortunately, my family didn't suffer any significant damage. But uncertainty and hopelessness were everywhere. My husband and I, along with the wonderful Soka Gakkai leaders in Puerto Rico, inspired by the encouragement to turn poison into medicine, began to gather for Buddhist meetings in our homes, without light or running water, but determined to win together and to visit and encourage each person. Soka Gakkai leaders and members around the US sent us encouraging messages every day, and we received items such as solar chargers, water filters, candles and even generators to help us survive this emergency.

Today, I can say that I am absolutely happy. I feel a deep sense of gratitude for having been able to encounter Nichiren Buddhism here in Puerto Rico and a strong determination to help create peace and happiness in the world, beginning on our beautiful island.
[October 2018]