Creating Happiness through Games
by Che-Yu Lin, Taiwan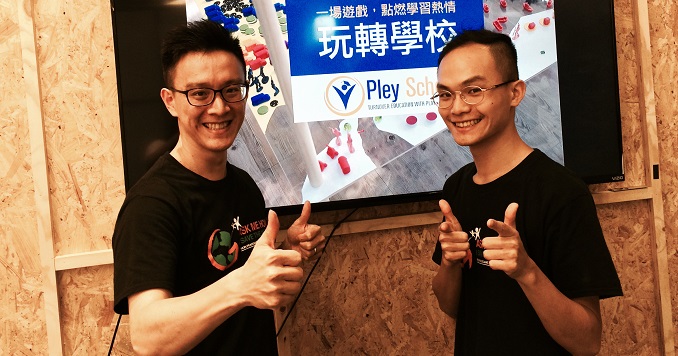 Che-Yu Lin (right) posing with a friend during the World Peace Game Master Class at Oregon State University, 2015
Che-Yu Lin's passion for education was sparked by a teacher who recognized his potential as a child with ADHD. A member of Taiwan Soka Association, here he talks about accomplishing his dream of becoming a social worker and pioneering the introduction of a peace education tool for children.

When I was a child, I was diagnosed with ADHD. As a result, I had difficulty concentrating, struggled at school and was labeled a "troublemaker" by classmates and teachers. One teacher, however, acknowledged my "uniqueness" and let me have three desks so that whenever I tired of one subject I could switch desks to study other subjects on my own. Thanks to this, I developed a passion for learning, and my grades improved dramatically. Eventually, I managed to get into the top university in Taiwan.

My original plan was to study law, but in the end I decided to major in social work instead, to the surprise of many around me. During my sophomore year, I had the opportunity to gain some social work experience. My tasks included assisting children with homework and playing board games with them, and through this I discovered how people build connections through play.

It was also during this time that I became passionate about my Buddhist practice—which I had embraced more or less automatically since I was a child. I began to put a lot of time and energy into supporting other young men in my local Soka Gakkai organization. These efforts opened up my life, and I experienced how through helping others our own life also grows and develops.

Before graduating from university, I received a letter from one of the children that I had been working with, saying, "I don't have a dad, but you are like a father in the way you care for me." This deeply touched me, and I made up my mind to become a licensed social worker. I took the exam but failed by one point.

After that, I began my compulsory military service. I continued to support the young men in my local organization as best I could by sending them postcards with encouraging messages. I ended up sending 200 postcards within my first two months of military training.

After initial training, I was posted to the remote islands of Penghu. Things were difficult there, as one of my superiors was especially harsh on me. What kept me strong was reading the Taiwan Soka Association newspaper that my mother sent me regularly. One issue reported Daisaku Ikeda's encouragement that through undergoing all kinds of challenges we can lead a truly great life, and this made me determine to "change poison into medicine" and somehow create something positive out of the situation.

Before I completed military service, I was given another chance to take the social work exam, and this time I passed in the top 15th percentile. I also received recognition from my superior with whom I had struggled.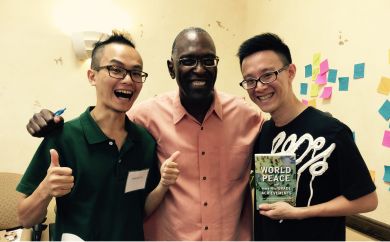 Che-Yu Lin (far left) with John Hunter (middle) at Oregon State University during his training to become a World Peace Game facilitator, 2015
In 1978, John Hunter, an elementary school teacher from Virginia, invented a board game called the "World Peace Game." It's a hands-on political simulation that enables young players to explore the interconnectedness of the global community while developing critical thinking and collaborative skills by responding to economic, social and environmental crises and the threat of war.

After watching a documentary about this, I started to think about the possibility of creating positive social change through games that help young people develop vital skills and positive values.
In 2015, I flew to the US with my partner to meet John Hunter and train as a facilitator for the game, which is usually played by around 30 children over several days while teachers observe and draw ideas for later learning experiences. In November that year, we introduced the game in Taiwan. Within six months, we had facilitated several game sessions and presented it at scores of teachers' conferences. As a result, over 600 teachers and students have now been introduced to the game.

As Mr. Ikeda says: "In order to raise a tree or to foster people, we need the patience to believe that they can be made to flourish . . . To the same degree that we care for and have faith in children, they will freely extend the roots that will give them the strength to survive and make their way successfully through life."

Adapted from the June 2016 issue of Fortune, Taiwan Soka Association.