Practicing Traditional Chinese Medicine for the Sake of the Community
by Chan Siu Lun, Hong Kong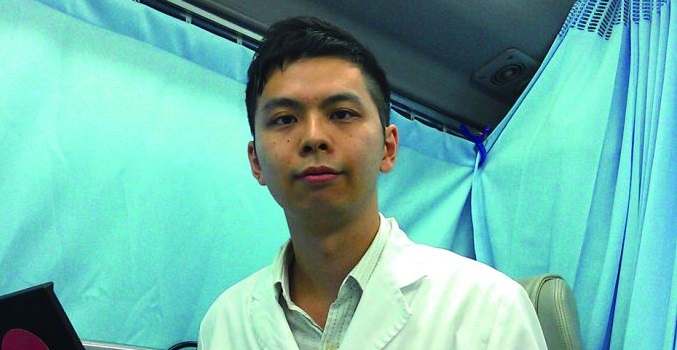 I remember when I was little, I often got sick due to a weak constitution. My mother would take me to see doctors who practiced traditional Chinese medicine, enabling me to gradually return to health. At that time, I was amazed how effective a bowl of bitter herbal medicine could be, and that triggered my interest in Chinese medicine. In high school, I found out that you could study Chinese medicine at university and decided to enroll in such a school in the future.

In 2003, the outbreak of SARS sparked a revival of people's interest in Chinese medicine. I graduated from high school that year and entered the School of Chinese Medicine at the Chinese University of Hong Kong with the determination to inherit and promote Chinese medicine.

In 2008, after five years of study, I started working for a well-known clinic run by a charitable organization. I assumed that I would be able to utilize my ability to the fullest, but my lack of patience and inability to keep calm resulted in frequent mistakes during my first year. I was often scolded and was almost fired. Being new to the profession, I lost confidence and felt miserable. I even feared going to work and doubted my ability as a Chinese medical doctor.

After working for almost a year, something happened that changed the course of my professional life—the clinic refused to renew my contract because my performance was poor. As one of the few people whose contracts would not be renewed, I was despondent. It was then that I recalled words of President Daisaku Ikeda that we should become irreplaceable people at work. I deeply reflected on myself and decided to do my utmost to fulfill my responsibility as a doctor. During my last two months at the clinic, I determined to do my very best regardless of whether I was allocated a heavy workload or not given any assignments at all.

When I was packing up to leave the clinic, they surprisingly gave me a final chance in the form of an interview. The next day, my supervisor, who had always been dissatisfied with my work, surprisingly praised my performance during the interview and asked me to continue working hard. I was overjoyed to hear that. In the end, my contract was renewed.

After this experience, I continued praying every day to do well at work. I chanted to stay focused and minimize my mistakes. Whenever I was nervous while working, I would chant Nam-myoho-renge-kyo in my heart to remain calm. My performance greatly improved. I also realized that my seniors scolded me as their way of telling me to be careful, because a seemingly small mistake by a doctor could cause grievous harm to a patient. My seniors' strict guidance was an impetus for my growth. The following year, I did much better at work and found it more enjoyable, and I was getting along well with my colleagues.

Two years later, I started to look for a new job opportunity. I chanted about and pondered the direction of my career. I found a charitable organization that was recruiting doctors to operate their mobile clinics. I went for an interview and, even though my performance was only average, I was hired, much to my surprise.

My job as a Chinese medical doctor with the mobile clinic entails traveling to villages, visiting different neighborhoods and attending to the needs of local communities. I had to adjust to my new work environment. My medical knowledge and technical know-how were constantly put to the test, and my ability to adapt was stretched to the limit daily. At the beginning, I had to travel all over Hong Kong to cover for colleagues who were on leave. Compared to my previous position where I was stationed in one location, this new job was physically and mentally draining. But, I recalled President Ikeda's words about how lacking courage to challenge ourselves when we are young is a waste of our youth, and I realized something—wasn't this the training that I had chanted for?

After a month of hard work and chanting, I was assigned to the mobile clinic responsible for the areas around a town called Shau Kei Wan. This was exactly what I had been praying for! It enables me to fulfill my mission as a doctor as well as have plenty of time to attend Soka Gakkai activities. Furthermore, my home is nearby, allowing me to save on travel expenses. Compared to my previous job, there was also a significant increase in salary—an unexpected benefit. Above all, through this experience, I overcame my karma of being timid and not having the courage to challenge myself.

There is a Chinese proverb that says: "A compassionate heart is the edict that guides the hands of a doctor." Chinese medical doctors are there to help others. From a Buddhist point of view, this job exemplifies the action of a bodhisattva. I see many patients every day. Other than making the right diagnosis and prescription to treat their physical ailments, it is also important to attend to their spiritual needs. When patients share their struggles with me, I show them my compassion and try to encourage them, guided by the philosophy of the Soka Gakkai and President Ikeda's words of encouragement. What I offer may be simple words, but I firmly believe that such words can impart hope to people's lives. By putting President Ikeda's words into practice, I am able to experience the truth that "Buddhism equals daily life."

I am determined to do my best as a doctor and take good care of every single patient. I will continue to deepen my understanding of traditional Chinese medicine and improve my skills. Based on the philosophy I have learned in the Soka Gakkai, I will strive to become a doctor that my patients can trust and rely on!

Adapted from an article in the November 2011 issue of New Century Monthly, Soka Gakkai International of Hong Kong (HKSGI); photo courtesy of HKSGI.