Adding Color to the World
by Ronaldo Robles, Brazil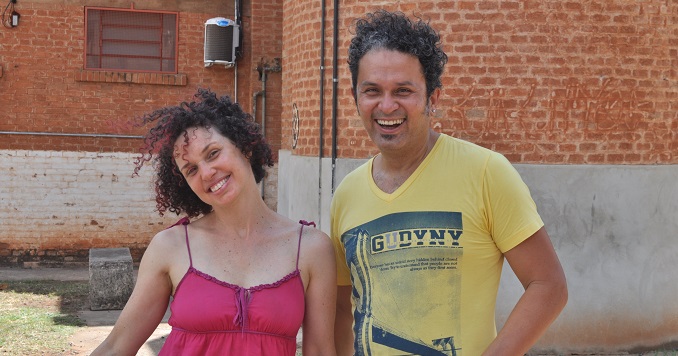 Ronaldo and his wife Silvia Godoy
[© Rafael Soares]
Ronaldo Robles wants to add color and hope to the lives of others. His belief in the transformative power of art has taken him from the slums of São Paulo in Brazil to refugee camps in Greece.

What was life like for you as a child?

Throughout my childhood, my mother had mental health problems. When I was five years old, she was admitted to a psychiatric hospital for nine months. She was in and out of the hospital; it was very confusing for me and my brother. Because my parents had split up, my father wasn't around. When my mama was in the hospital, I couldn't see her because, in those days, children weren't allowed to visit.

I remember Mother's Day was very difficult because all my friends at school did drawings and made gifts for their mothers. As I made the gifts and did the drawings, I thought about my family situation. I had many questions about why my mother wasn't around and why I had been born into this family. When I arrived home, my mama wasn't there, but I had these gifts to give. I gave them to my grandmother because she was taking care of my brother and me.

My grandmother was the one who introduced us to Buddhism. She was so kind. We were very poor, so she had to work extremely hard. And I remember, late at night after she had put us to bed, I would hear her chanting Nam-myoho-renge-kyo. That is a good memory from my childhood.

What did you learn from Buddhism as a child? How has it impacted the way you live today?

The Buddhist meetings in our local area were like a peace garden for me. Seeing people singing, people chanting, people talking about their lives, it was very warm and comfortable. Hearing their stories made me feel like I was not the only one who had problems.

People talk about many things, but rarely about life. At these meetings, people really talked about life, and just by being around these kinds of conversations, I started to understand you cannot have a life without problems. Hearing how people faced their problems made me stronger and gave me hope that one day it was going to be OK, that one day my mother would be better.

I also played the trumpet in the Brazil SGI youth brass band. It was great to have that opportunity. Because we were poor, we had no chance to go to the good schools where they taught music and other arts.

Because of the band, I started to feel like I could express myself through art. I could play my trumpet to make people happy, and it was the beginning of me thinking I wanted to do something to touch people's lives and bring them happiness. Even though I didn't know how I could do this, I chanted to be able to create value and hope, and perhaps this is what brought art into my life.

How did you become an artist?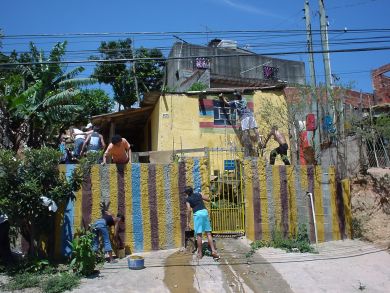 Ronaldo with youth painting one of the houses in the favelas
[© Carla Venuso]
My mother and my uncle had a clothes factory. I started sketching designs, and when I was 18, I began to create clothes from offcuts, which became quite popular. I started my own small business, but it died during the economic crises of the 90s.

When that happened, I decided to move to London and found work as a landscape gardener. In the UK, landscape gardening is a kind of art. People there take pride in their beautiful gardens. I liked this job because I wanted to do something of value for English society, not just earn money.
I decided I was going to stay in the UK, but then my grandmother had a stroke, so I returned to Brazil to be with her. I wanted to do something useful while I was back, and I thought, in the same way landscape gardening in the UK could change the environment, I could paint the houses in the favelas—the slum areas—to improve the environment there. First, I was doing it by myself, but there were a lot of young people in that environment, so I invited them to join me.

The community started to change. The colors and the images we painted on the houses created a happier environment, and violence decreased. Several newspapers and the TV featured me as an artist doing good things; then other artists began contacting me. This is how I became involved in the Brazilian art world.

Around this time, I met my wife, Silvia. Her experience is in circus, theater, dance and lighting design. In 2002, we started our shadow theater company, Cia Quase Cinema. One of our focuses is taking art to poorer communities.

It all goes back to my childhood. This is the reason I decided to go to the refugee camps, to the children there. They are worse off than I was. They are hungry, they have no houses to live in, no schools to go to, and their parents have been taken by war.

When SGI President Daisaku Ikeda talked about doing something for refugees in his 2016 peace proposal, it was like he was saying to me "Ronaldo, do something for the children, because you know how it is." It is because I have this experience very deep in my life that I had to act.

How did you decide to go to the refugee camps of Greece?

Three years ago, my wife and I went to the international shadow theater festival in Germany. An artist friend there was going to Syria the following week to run workshops for displaced children. We were very inspired by him—putting his life at risk, going into a war zone to give hope to the children there.

A few months later, the peace proposal came out. That was the turning point; we decided we had to go. We did some research and found UNIMA (the Union Internationale de la Marionnette), an international puppetry organization. They introduced us to Greek artists who organized access to the camps, provided translators and helped us run the activities.

You arrived in Greece in July 2016. What were the camps like?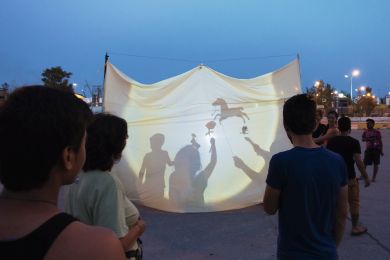 The magic of shadow theater, Piraeus refugee camp, Greece
[© Cyrus Moussavi]
You could feel and see the impact of what it is like to be in a war. We could not have imagined this before. The holding camp in Port Piraeus, a major entry point for refugees, was the worst camp we went to. It was a very tense place.

At this camp, there were around 3,000 people living in tents and only four container bathrooms. Some tents accommodated two or three families. Some of the children had no parents; I cannot imagine what it must be like to be a four- or five-year-old child by yourself there, without parents.

How did the children react to you?

When we put on the shows, the children got so excited that they couldn't just sit and watch. They came behind the screen where we were performing and picked up the puppets and joined in! They played and laughed—it was chaos, but a lot of fun. And at the end they put the puppets back where they had found them. They were full of respect for us. It was incredible.

We also did drawing and painting workshops with them. We gave them paper, cardboard and scissors so they could make their own puppets. Then they used torches to do their own shadow theater.

We gave the children puppets made for them by the students of the Soka School of Brazil. We didn't have enough to give to each child, so we decided to give them to the youngest children only. There was this one girl, she was about 11, and she started to cry because she hadn't received one—she so wanted to have a Brazilian friend. I really felt badly for her, so I took one flower made by the Soka students and gave it to her. She was so happy to have this piece of paper, she was just so pleased with it. Refugee children don't even have paper and pens, they really have nothing. That really made me understand that we have to do more; we can't allow this kind of situation caused by war to continue.

Do you plan to continue this work?

We are now thinking about going to Africa or Haiti where there are more stable refugee populations. We still want to take art to the people and bring them a little hope and beauty. We have gained more from the refugees than we have given them. It was our privilege to meet them and also to represent all people who would like to do this kind of thing but can't.

[April 2018]