A Recipe for Happiness
by Hsieh Yi Chiang, Taiwan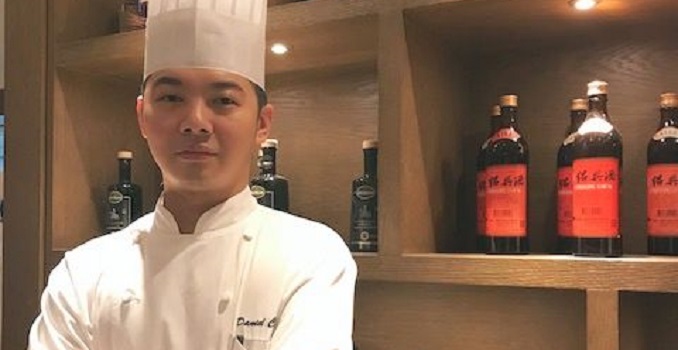 Taiwan Soka Association member Hsieh Yi Chiang, a head chef at the Grand Hyatt Taipei, looks back on a rocky path to a successful career.

I grew up practicing Buddhism with my mother, but when I started high school I became rebellious, causing my family to worry about me. My mother patiently encouraged me to continue my Buddhist practice, but I ignored her.

In 2001, I began working as a cook at the Grand Hyatt Taipei. After three years, I left to work at another restaurant. Although my new salary was higher, the business was not stable. In addition, I had a passion for high-end speakers and buying and customizing cars, so by the age of 22, I was in debt to the extent of 1.5 million Taiwanese dollars (approx. US$50,000).

It was at this point that my mother's encouragement found fertile soil, and I picked up my Buddhist practice again. Through my practice, I faced up to the root of my problems and made efforts to change. Five months later, I was able to return to the Grand Hyatt with a salary that was double what it had previously been. Not only was I able to pay off my debts, I was also able to purchase a new home.

In 2009, I had a serious car accident, badly injuring my left leg, which almost had to be amputated. My mother and many Soka Gakkai members chanted Nam-myoho-renge-kyo for me during the surgeries. I was deeply moved by everyone's warm care. I decided I wanted to become someone who could also sincerely care for others and bring them happiness.

Initially, the attending physician said I would have to undergo at least 10 operations and that there was a high likelihood of infection. I was also told that for the rest of my life I would probably have difficulty standing for long periods of time. Fortunately, in the end, I only had 7 surgeries, and the wound did not become infected. Six weeks after the last surgery, I was able to walk and was discharged from hospital.
I returned to work full of enthusiasm. However, a new challenge awaited me. Based on my qualifications, I was expecting to take up the role of head of the third stove in the banquet hall kitchen. However, the job had been given to another chef, and I was left to do menial tasks. My leg was constantly in pain because of having to stand in the kitchen for long periods of time. I felt ashamed and wanted to quit and walk away from the job.

Again, my mother encouraged me, telling me to do my best no matter how humble the work might be. Her words caused me to reexamine my attitude. I swallowed my pride and determined I would gladly take on the tasks other people didn't want to do and become a strong support for my colleagues.

For two years, I did the most basic tasks in the kitchen, such as washing dishes and cutting vegetables, with the attitude of learning everything anew. I determined I would put into practice the spirit I learned in the Soka Gakkai of taking responsibility, contributing wholeheartedly and working hard behind the scenes. I later realized that these efforts are what enabled me to develop significantly and stand out as a chef. I came to understand that every procedure in the kitchen plays an important part in the eventual taste of the food.
In 2012, the senior chef who was responsible for the second stove left, so I summoned up the courage to ask the head chef if I could take his place. At first, the head chef was reluctant to give me the responsibility, but having seen my enthusiastic attitude toward work, he agreed. After a year of training, on the basis of my performance, I was promoted to assistant head chef.

After taking over the position, I began to attempt new challenges. The first was the customization of the banquet hall menu, which is usually fixed and cannot be adjusted to guests' requests. I was determined, however, to open up communication with the guests. My attitude has been that while our industry has its strong and enduring traditions, we should continue to learn and develop as society progresses.

Based on dialogue with the guests and carefully listening to their feedback, we experimented with combining cooking methods of different countries, changing ingredients and enhancing presentation. Through these joint efforts, the banquet hall received better and better feedback. We even broke the hotel's record for the highest-ever turnover.
As a work environment, the kitchen is hot and challenging, so it's easy for the chefs to experience conflict with one another. In the past, people worked in isolation and only at the end would they join forces to put things together. I determined to change this way of doing things. I began a practice of getting everyone together before the meal service. I would designate responsibilities to the various departments and stress that everyone had a crucial role to play. When work was complete, we convened again for a reflection session, and I made sure to express my appreciation to everyone for their efforts. Through this type of dialogue, the team's sense of solidarity improved, and slowly but surely, everyone found a sense of mission and accomplishment.

In September 2015, I was promoted to banquet hall head chef, and then in March 2016, I was chosen as the hotel's Manager of the Year. In May that same year, the president of Taiwan selected our banquet hall to host an important diplomatic banquet.

Daisaku Ikeda writes: "Hardships forge and polish our lives, so that eventually they shine with brilliant fortune and benefit. If left in its raw, unpolished form, even the most magnificent gem will not sparkle. The same applies to our lives." I am who I am today thanks to my mother, who never gave up on encouraging me, and thanks to the Soka Gakkai, where I learned the spirit of turning the "poison" of adversity into the "medicine" of success.

Adapted from an article in the June 3, 2016, issue of Soka Press, Taiwan Soka Association; photos courtesy of Hsieh Yi Chiang.