A Happy Family Starts with Me
by Gisselle Rivero, Venezuela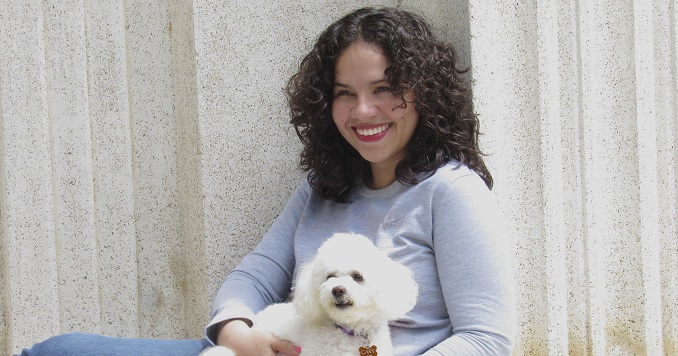 When I was little, my father, who was still young, left to work and study in the capital, Caracas, in order to be able to provide us with a better future. Although he visited me every weekend, I didn't have a good relationship with him. He would scold me a lot, and we fought often. As a result, I was not open with him and avoided talking to him. I didn't like to be with him and felt as though, at any moment, he was going to scold or criticize me.

When my sister was born, my negative feelings toward him intensified. I felt that he treated her differently to me and spoiled her. I was filled with anger toward him and feelings of jealousy toward my sister. By this time, the whole family had moved to Caracas.

Although I loved my sister, I sometimes treated her the same way my father had treated me at her age. The last thing I wanted to do was act like him! When I was introduced to Nichiren Buddhism, I decided to chant Nam-myoho-renge-kyo to transform the anger I felt and have a better relationship with her.

After a while, my attitude began to change, and my relationship with her started to improve. As my sister was growing up, she observed me practicing Buddhism, and when she was 12 years old, she started to chant with me. Slowly but surely, we grew closer.
I then decided to start chanting to improve my relationship with my father. I decided I would try to treat him the way I wanted him to treat me—hug him more, ask him how his work was and help him in the kitchen. Since we were not affectionate with each other, I set a goal of hugging him at least once a week. This required a lot of courage on my part. Slowly, our relationship began to change. Hugs were not planned anymore and became something natural between us. He started telling me about his work and even began greeting me with a kiss on the cheek when he got home.

When I ended a long-term relationship, I started to feel anxious, and there were many days I felt sad. At that time, my father was away on business for about a week. Unlike when I was little, on the day he was due back, I was excited and looked forward to seeing him. We talked, and for the first time, I felt that he had told me he loved me. He consoled me, saying that no one dies from heartbreak. Then he told me that everything he did was for me and my sister, that he would always support me and would give his life for me. It is a moment that will always be engraved in my heart.

By striving to transform my resentment through my Buddhist practice, my life has expanded, allowing me to understand my father better, to value the efforts he made to ensure a good future for my sister and me and to understand that he demonstrated his love for me in his own way.

Being able to feel genuine gratitude toward my parents is one of the great benefits of my Buddhist practice. I am determined to continue to build a harmonious family and develop my best qualities as a person to reveal my true potential.

Adapted from the July–September 2016 issue of Seikyo Criollo, SGI-Venezuela; photos courtesy of Gisselle Rivero.