The Practice of Dignity
by Mitch Bogen, Ikeda Center for Peace, Learning, and Dialogue, USA
Mitch Bogen describes the ethos and activities of the Ikeda Center and explains how the 2015 Ikeda Forum for Intercultural Dialogue offers a window into the center's history.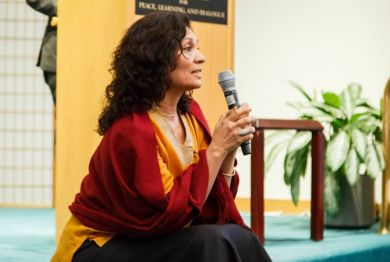 Meenakshi Chhabra at the 2015 Ikeda Forum
[© Ikeda Center for Peace, Learning, and Dialogue]
Like all Ikeda Forums, the 12th annual forum gathered accomplished scholars from diverse disciplines and backgrounds to explore key ideas from Daisaku Ikeda's philosophy of Buddhist humanism—especially those that illuminate issues and challenges in personal, social and global ethics. Called "The Practice of Dignity: What It Means Today," the 2015 forum provides a window into the work and objectives of the Ikeda Center for Peace, Learning, and Dialogue (originally named the Boston Research Center for the 21st Century), which was founded by Daisaku Ikeda in 1993 in Cambridge, Massachusetts.

The three speakers at the 2015 forum are representative of the mix of scholars that constitute the wider Ikeda Center network of friends who contribute to our programs and publications.

First to speak was Meenakshi Chhabra, associate professor of global interdisciplinary studies at Lesley University. She shared how her experiences growing up in India in the aftermath of the 1947 Partition inform her work as a professor and facilitator of dialogue among people from regions of protracted conflict, including India and Pakistan. She told of how Daisaku Ikeda's poem "The Sun of Jiyu," with its call to return to "the primordial 'roots' of humankind," set her on her peace-building path. These roots, she said, are the source of our shared dignity.

Gail Thomas is professor of sociology at Soka University of America. She focused on dignity as experienced at the personal level. For example, she talked about the power of language to affect human dignity, especially in the realm of naming. "How individuals are labeled creates expectations and predictions" about them, she said, which, when framed negatively, can harm self-identity and limit potential. Early in her life, said Dr. Thomas, she was met with demeaning labeling, which she transcended with the help of "role models and mentors," a resonant aspect of Mr. Ikeda's vision.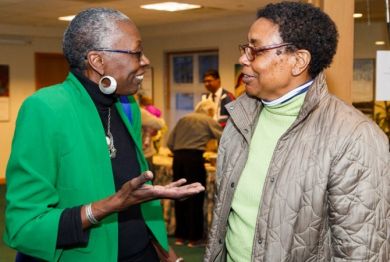 Professor Gail Thomas (left) in dialogue at the 2015 Ikeda Forum
[© Ikeda Center for Peace, Learning, and Dialogue]
Lastly, Peter Stearns, professor of history and provost emeritus at George Mason University, explained that after centuries of colonialism and aggressive assertions of Western superiority, many around the world are rightly suspicious of US claims of concern regarding dignity and human rights within their countries. Therefore, said Stearns, instead of lecturing other countries about such matters, we should engage more in dialogue and accept that we, as Americans, might learn from other countries as they can from us.
Dr. Stearns recently published the survey book Peace in World History. According to Stearns, his interest in peace education has been influenced significantly by his "experience with the Ikeda Center and the writings of Dr. Ikeda—particularly his statement that each of us as a global citizen should figure out what we can do to promote peace."
The Ikeda Forum and Our Core Values
The theme of dignity grounds the Ikeda Center's vision statement, which was created based on Mr. Ikeda's written messages to the center commemorating important milestones. The opening of the statement reads, "The Ikeda Center envisions a world built on two essential attributes: first, a deep respect for the inherent moral equality and inviolable dignity of all persons; and second, an unshakeable conviction in the infinite potential of individuals to transform themselves and the world for the better."

Dignity also appears in the fourth of our seven Core Convictions: "Respect for human dignity and reverence for the sanctity of life provide a baseline ethical standard." This wording was drawn in part from Daisaku Ikeda's 2004 message to the center, written to commemorate the inaugural Ikeda Forum. In it, Mr. Ikeda connected Buddhism with the insights of the American Renaissance, a theme explored in the first three Ikeda Forums.

Every Ikeda Forum addresses some aspect of humanistic education and philosophy. For example, the year 2009 was the 150th anniversary of the birth of John Dewey. Organized to honor this occasion, the 2009 forum created a rare opportunity for top Dewey scholars to explore cross-cultural resonances between Dewey's naturalistic humanism and Ikeda's Buddhist humanism.
The late historian Vincent Harding, confidant of Martin Luther King Jr. and mentor to countless people working for inclusive social change, spoke at three Ikeda Forums (in 2008, 2010 and 2013). Like several of our Ikeda Forum speakers, Dr. Harding is the coauthor of a dialogue with Mr. Ikeda published by the center's Dialogue Path Press (DPP), which was launched in 2009. In America Will Be!: Conversations on Hope, Freedom, and Democracy, which was published in 2013, Ikeda and Harding drew universal lessons from what Dr. Harding called "the movement to expand democracy"—not the more commonly used "civil rights movement." To date, DPP has published seven titles.

Prior to DPP, the center developed and published books in collaboration with publishers such as Orbis Books and Teachers College Press. As of 2015, these multiauthor volumes, along with DPP titles, have been used in more than 900 courses at more than 275 colleges and universities, injecting important humanistic, peace-oriented concerns into the coursework of thousands of young people in the US and around the world.

Books aren't our only mode of communication or content origination. The Ikeda Center website is designed to share engaging materials both old and new. The work of peacebuilding is timeless and deep, so a 1997 interview with nuclear abolition leader Joseph Rotblat sits easily alongside a 2014 interview with dignity theorist Donna Hicks. Our video program is especially popular; the format allows our interviewees to communicate with immediacy not accessible via the printed word. And through our Education Fellows Program we are supporting doctoral students producing new research relating to Soka education.

Peacebuilding—Past and Present
The Ikeda Center was founded by Daisaku Ikeda as the Boston Research Center for the 21st Century in 1993 on September 24, the day of his address at Harvard University, "Mahayana Buddhism and Twenty-first Century Civilization." In 2009, Mr. Ikeda agreed to our request to change our name to the Ikeda Center for Peace, Learning, and Dialogue, which communicates both our appreciation for our founder and our core concerns.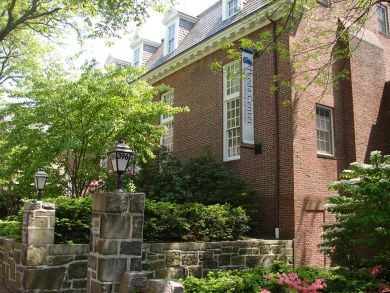 The Ikeda Cente
[© Ikeda Center for Peace, Learning, and Dialogue]
During the years before the advent of the Ikeda Forum, the center conducted conferences and events arranged around core themes, all the while creating relationships with like-minded peacebuilders that persist to today. Notable conferences included the 2001 "Economics for Human Well-Being: Advancing a People's Agenda," which anticipated issues associated with today's Occupy movement, and the 2003 Restorative Justice Seminar series, which examined philosophical values crucial to today's movement to reform our criminal justice system along more humanistic lines.
Among other events and activities too numerous to summarize, one might serve to illustrate the early work: Throughout the late 1990s the center worked with Dr. Steven Rockefeller and various NGOs to draft the Earth Charter, which is both "a universal expression of ethical principles to foster sustainable development" and a global network working today to advance these values. During this process, the center developed its relationship with peace studies pioneer Elise Boulding, a relationship that culminated with the 2010 publication of her dialogue with Daisaku Ikeda, Into Full Flower: Making Peace Cultures Happen—the last publication of her substantial life and career.

Dr. Boulding consistently reminded us that "what exists is possible," meaning that peace is not a pipe dream; it always has been present and real, if not predominant. Therefore it is unambiguously within our power to change the status quo for the better.

As we head toward our 25th anniversary in 2018, we will continue to employ dialogue and education to facilitate the steady ascent and ever-widening presence of peace.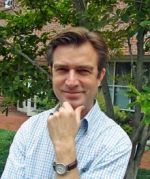 Mitch Bogen is the Ikeda Center's publications associate. In addition to contributing to book editing and managing book production he serves as webmaster and lead writer for the center. Mitch has been a writer and editor for a number of educational nonprofits, taught comparative religion and been a contributing writer for the Harvard Education Letter. He holds dual master's degrees from Harvard University, in theology and education.
[February 2016]