Singapore Soka Association—Promoting Harmonious Coexistence in the Lion City
by Dennis Lee, Singapore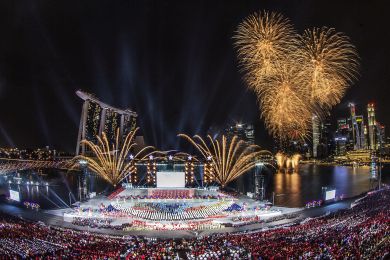 Singapore celebrates the anniversary of its independence every August with a spectacular National Day Parade
[SSA]
Races, languages
religious faith and customs intermingle,
for this truly is a crossroads of
East and West—
A microcosm of the world.
A land made mighty with cultural diversity.
—President Daisaku Ikeda

Singapore is a young nation with a population of just over five million. In 2015, it celebrated the 50th anniversary of its independence. With a demographic that largely comprises Malays—the indigenous peoples—and the descendants of immigrants from other parts of the Malay Peninsula, China and the Indian subcontinent, the people of Singapore speak multiple languages and dialects and are incredibly diverse in their cultures, practices and beliefs.
It is not uncommon to find a mosque located right beside a Buddhist or Hindu temple in Singapore. The Soka Peace Centre, one of the main Singapore Soka Association (SSA) centers, is located on a street that is also home to three other religious organizations. Since its early days of nation-building, Singapore has stressed the importance of tolerance and harmonious coexistence among its populace. Indeed, its success as a fairly young nation-state can be attributed to the promotion and preservation of a unique multiracial, multireligious and multicultural social climate.

The teachings of the Lotus Sutra—with its message of the dignity and equality of all life and the interconnectedness of all phenomena—and the Soka Gakkai, which has inherited this Buddhist tradition, resonate with the Singaporean ethos of treasuring diversity and aspiring for peaceful coexistence.

Since its inception in 1972, SSA has grown to a membership of 35,000, 40 percent of which are young people under the age of 40. As a youthful and energetic organization, drawing upon the encouragement and inspiration of President Ikeda, SSA has made efforts to promote the core spirit of the Lotus Sutra in Singaporean society through organizing various cultural and educational events and actively participating in national events, interfaith programs and community service projects.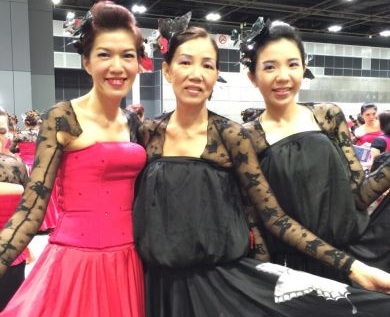 SSA member Yu Ah Lin (center) performed in the 2015 National Day Parade with her two daughters
[SSA]
In the process of participating in such initiatives, SSA members have the opportunity to strengthen their own faith and understanding of Buddhism and engage in their human revolution while also deepening friendship and connections with others. Through such activities, the challenge of harmonious coexistence—learning to respect and collaborate with others, bridging differences in order to meet a common objective—at once becomes both a personal and collective endeavor.

Below are a few examples of the kinds of events SSA has been involved in over the years.
Since the 1980s, SSA has participated in the National Day Parade (NDP), Singapore's largest national event celebrating the anniversary of its independence on August 9, 1965. SSA has taken part in over 30 of the 50 NDPs to date. Featuring spectacular mass performances that include gymnastics, light shows and choreographed dance routines and involve hundreds of SSA members and their friends of all ages—most of whom are not trained dancers—participating in the NDP is no easy achievement. The participants rehearse for months to learn choreography and synchronize their movements and formations with one another.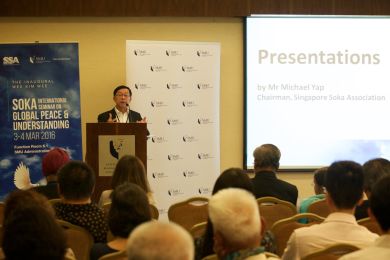 SSA Chairman Michael Yap speaking at the inaugural event of the Wee Kim Wee–Soka International Seminar on Global Peace and Understanding, a lecture series which launched in March 2016
[SSA]
To promote the sharing and exchange of views and ideas that will progress larger global issues, SSA has actively organized various lecture series, inviting distinguished individuals to speak on topics such as poverty, global citizenship, sustainability and human security.

SSA has also organized interfaith dialogues. In 2008, the youth division of SSA organized their first Youth for Peace Interfaith Symposium titled "Humanizing Religions, Creating Peace." The symposium brought together 4,000 young people from the Bahá'í, Buddhist, Catholic, Hindu and Islamic traditions, including representatives from other Soka Gakkai organizations in Asia, to engage in discussion and deepen understanding of the possibilities for interfaith peace and harmony.

More recently, in March 2016, SSA partnered with Singapore Management University to launch the Wee Kim Wee–Soka International Seminar on Global Peace and Understanding, an annual series of five symposiums. The series brings together scholars and thinkers of different ethnicities and religions to discuss perspectives on achieving global peace and understanding.
Youth Expedition Projects to China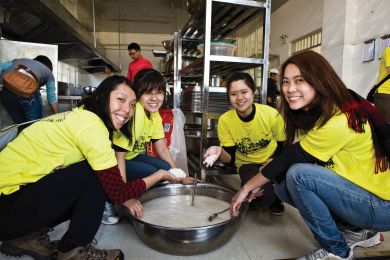 Participants washing rice during one of their youth expeditions
[SSA]
With the aim of enabling youth to foster understanding and friendship across cultures, SSA has been organizing service-learning expeditions to China since 2009. During these "Youth Expedition Projects," participants journey to lesser-known provinces and engage in cultural and educational exchanges with local students. The program is supported by the National Youth Council of Singapore, which provides grants and a platform for program participants to share their experiences upon their return.

Such initiatives to promote peace and coexistence are not unique to SSA. The government of Singapore actively encourages its populace to strive for unity amid diversity. And yet, it could be said, that the interactions and relationships that SSA activities facilitate, bringing people from all walks of life together, enable individual participants to examine their attitudes toward difference and diversity. It is within the realm of such everyday interactions that, one could argue, the underlying challenge of respecting others may be found.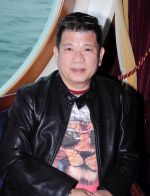 Dennis Lee is director of Program and Community Relations at SSA. Born and raised in Singapore, he started practicing Nichiren Buddhism with his mother in 1969. In his spare time, Dennis enjoys photography and spending time with his wife and two daughters.
[July 2016]