Soka Gakkai Singapore—Promoting Harmonious Coexistence in the Lion City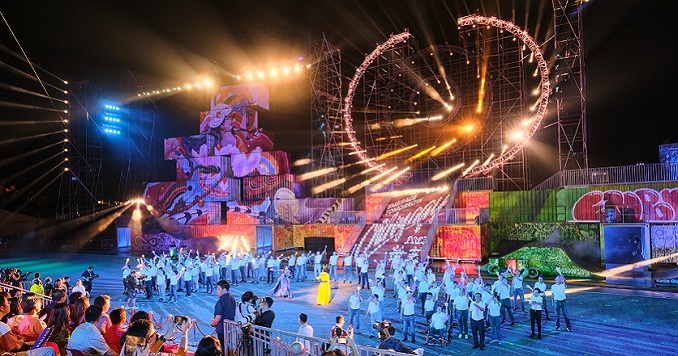 Members of SGS perform during the annual Chingay Parade in celebration of Chinese New Year
[© Soka Gakkai Singapore]
Races, languages
religious faith and customs intermingle,
for this truly is a crossroads of
East and West—
A microcosm of the world.
A land made mighty with cultural diversity.
—President Daisaku Ikeda

Singapore is a young nation with a population of over five million people. In 2020, it celebrated the 55th anniversary of its independence. As a multiethnic society, its residents comprise Chinese, Malay, Indian and other races. The people of Singapore speak multiple languages and a diverse spectrum of dialects, reflecting their cultures, practices and beliefs.

It is not uncommon to find a mosque located right next to a Buddhist or Hindu temple in Singapore. Since its early days of nation-building, the country has stressed the importance of tolerance and harmonious coexistence among its populace. Its success as a fairly young nation-state can be attributed to the promotion and preservation of a unique multiracial, multireligious and multicultural social climate.

The teachings of the Lotus Sutra—with its message of the dignity and equality of all life and the interconnectedness of all phenomena—and the Soka Gakkai, which has inherited this Buddhist tradition, resonate with the Singaporean ethos of treasuring diversity and aspiring for peaceful coexistence.

Since its inception in 1972, Soka Gakkai Singapore (SGS) has grown to a membership of 35,000, of which 35 percent are young people under the age of 40. As a youthful and energetic organization, drawing upon the encouragement and inspiration of President Ikeda, SGS has made efforts to promote the core spirit of the Lotus Sutra in Singaporean society through organizing various peace, cultural and educational events and actively participating in national events, interfaith programs and community service projects.

In the process of participating in such initiatives, SGS members have the opportunity to strengthen their own faith and understanding of Buddhism and engage in their human revolution while also deepening friendships and connections with others. Through such activities, the challenge of harmonious coexistence—learning to respect and collaborate with others, bridging differences toward a common objective—at once becomes both a personal and collective endeavor.

Below are some examples of events SGS has engaged in over the years.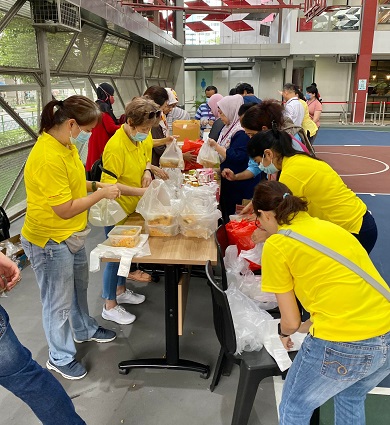 Soka Volunteer Group members support a local food distribution activity
[© Soka Gakkai Singapore]
Under the motto "Compassion, Consideration, Commitment," the Soka Volunteers Group (SVG) aims to build friendships and contribute to the well-being of individuals and society through wide-ranging community service. The group was formed on March 25, 2004, and consists of some 300 volunteers who support community events and participate in activities with various local volunteer groups to befriend and empower vulnerable members of society such as youth, people with physical disabilities and the elderly.
Promoting Education, Interfaith Connections and Peace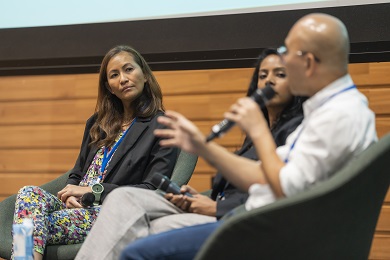 During a panel discussion at the Wee Kim Wee-Soka International Seminar on Global Peace and Understanding
[© Soka Gakkai Singapore]
In order to facilitate the exchange and sharing of perspectives and ideas aimed at addressing larger global issues, SGS has proactively organized a variety of lecture series, inviting distinguished individuals to speak on topics such as poverty, global citizenship, sustainability and human security.

In March 2015, SGS partnered with Singapore Management University (SMU) to launch the annual Wee Kim Wee-Soka International Seminar on Global Peace and Understanding, as well as the Annual Ikeda Peace and Harmony Lecture series. These seminars bring together scholars and thinkers of different ethnicities and religions to discuss perspectives on achieving global peace and understanding. This partnership was renewed in 2019 and will continue until 2024.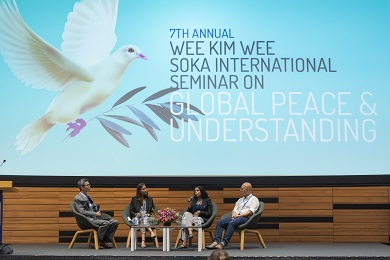 During a panel discussion at the Wee Kim Wee-Soka International Seminar on Global Peace and Understanding
[© Soka Gakkai Singapore]
Beginning in 2008, SGS also entered into an agreement with SMU to establish the SGS-Ikeda Peace Award. This award serves to acknowledge students' efforts to put classroom learning into practice and apply the soft skills required to become effective, creative, adaptable and socially responsible leaders for the 21st century.

Beginning in 2020, SGS further established the Singapore Soka Education Bursary in collaboration with the National University of Singapore (NUS) to recognize financially disadvantaged undergraduates who have contributed to their community and demonstrated leadership qualities.
Since the early 2000s, SGS has maintained a presence in the religious harmony network across various local constituencies in Singapore. This network offers residents within these localities opportunities to engage in mutual learning about each other's faith and religious traditions.

In addition to organizing and participating in interfaith dialogues and symposiums, SGS participates in initiatives led by the Inter-Religious Organisation in Singapore. These endeavors are aimed at nurturing friendship and promoting understanding among different faith organizations.
Youth Engagement and Women's Empowerment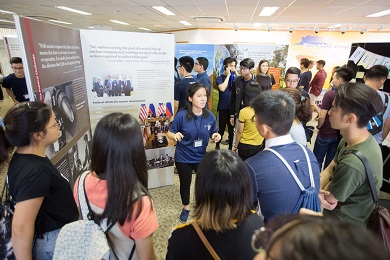 SGS youth members guiding visitors through the exhibition
[© Soka Gakkai Singapore]
Engaged in a diverse array of activities, SGS youth participate in national events, organize exhibitions, symposiums and dialogues, and connect with youth from other communities and religious organizations. They also take part in the overseas Youth Expedition Project, a service-learning program by Youth Corps Singapore aimed at nurturing confident and resilient youths who can contribute to the betterment of society.

As a result of their commitment to community service and youth development, the Youth Division of SGS was recognized by the government and, in 2005, received the Singapore Youth Award (Team), the highest youth accolade in Singapore.

From 2019, the women of SGS initiated the Soka Women Lecture series commemorating International Women Day. These lectures aim to empower women through addressing issues of global concern and offering valuable insights from women. Topics of previous lectures include mental health, family resilience, sustainability and the empowerment of women in the digital age.
Cultural Events—National Day and Chingay Parade
Cultural activities have played an especially important role in the development of SGS. Since the 1980s, SGS has participated in the National Day Parade (NDP), Singapore's largest national event, celebrating the anniversary of its independence on August 9, 1965. SGS has taken part in 38 NDPs to date.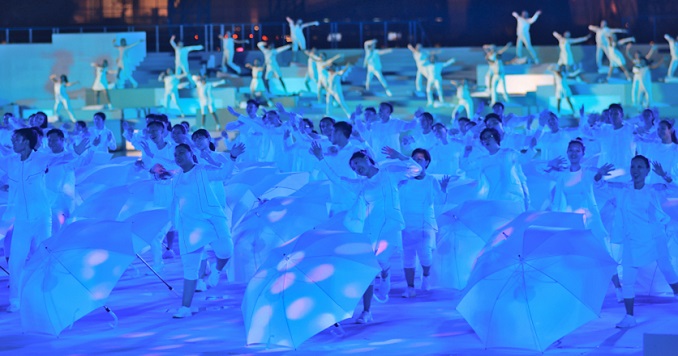 SGS members performing at a National Day Parade
[© Soka Gakkai Singapore]
In addition, as part of the Chinese New Year festivities, SGS participates in the annual Chingay Parade. SGS members often spend months preparing for the parade, which includes highly choreographed mass performances. SGS has taken part in 39 Chingay Parades to date.

SGS's activities and involvement with the community provide opportunities for people from all walks of life to engage with one another, learn about diversity and cultivate respect, while discovering their own unique strengths and talents. As such, SGS is committed to advancing peace, culture and education in the community, based on the humanistic principles of Buddhism.