SGI's Activities for Nuclear Abolition
by Kazuo Ishiwatari and Kimiaki Kawai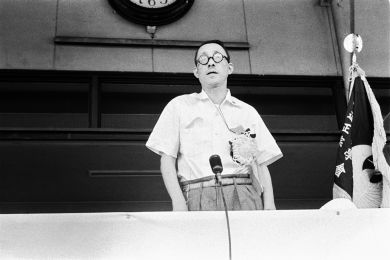 Josei Toda calling for the abolition of nuclear weapons
[© Seikyo Shimbun]
Together with human rights education, sustainable development and humanitarian issues, nuclear weapons abolition is a key focus of activities for the promotion of peace carried out by the SGI (Soka Gakkai International).

In 1957, second Soka Gakkai president Josei Toda made a historic declaration calling for the abolition of nuclear weapons. This is the starting point for the Soka Gakkai's peace movement. In his declaration, Toda stated that he wanted to "expose and rip out the claws that lie hidden in the very depths of such weapons," emphasizing that what we need to challenge is the complete disregard for people's inviolable right to live that lies at the root of nuclear weapons.
Daisaku Ikeda took up his mentor's call, and since 1983 has been issuing annual peace proposals outlining, among other things, concrete roadmaps toward the elimination of nuclear weapons.

The SGI's key nuclear abolition activities over the past decade include a renewed effort to rouse public opinion and create a global grassroots network dedicated to abolishing such weapons of mass destruction through the People's Decade for Nuclear Abolition campaign, launched in September 2007.

As part of this campaign, the SGI began touring the exhibitions "From a Culture of Violence to a Culture of Peace: Toward a World Free From Nuclear Weapons" and "Everything You Treasure—For a World Free from Nuclear Weapons" to venues around the world from 2007 and 2012, respectively.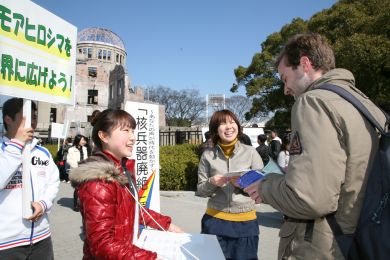 Soka Gakkai youth collecting signatures in Hiroshima
[© Seikyo Shimbun]
The SGI has been working to promote and publicize the testimonies of hibakusha (atomic bomb survivors) and other war survivors, preserving their voices for the future in book and video format and inviting them to speak at events in japan and around the world.

Soka Gakkai youth around the world have been particularly active in a variety of initiatives. Examples include the Senzatomica campaign in Italy, Our New Clear Future in the US and events promoted by the SGI-UK Youth Peace Committee. Additionally, more than five million signatures were collected in support of the Nuclear Zero petition by Soka Gakkai youth in Japan.

In 2015, the International Youth Summit for Nuclear Abolition, co-organized by the SGI, was held in Hiroshima. Out of this summit, Amplify, an international network of youth working for nuclear abolition, was launched.

As well as engaging in grassroots activities, the SGI has been actively participating in and contributing to the international debate over crucial issues.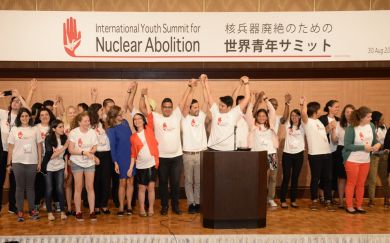 International Youth Summit for Nuclear Abolition in Hiroshima
[© Seikyo Shimbun]
Since 2013, the SGI has been invited by host governments to take part in the Conferences on the Humanitarian Impact of Nuclear Weapons in Oslo, Norway (March 2013); Nayarit, Mexico (February 2014); and Vienna, Austria (December 2014) and has collaborated with other faith groups to issue a series of interfaith statements highlighting the moral and ethical dimensions of nuclear weapons. It also submitted its own working paper to the UN processes in 2016, one of which was registered as a UN document (A/AC.286/NGO/17).
Such initiatives reflect the conviction that the key to abolishing nuclear weapons lies in bringing diverse actors together in this shared global enterprise. Civil society and youth in particular have important roles to play.

In his 2009 proposal Building Global Solidarity Toward Nuclear Abolition," Daisaku Ikeda stated, "If nuclear weapons epitomize the forces that would divide and destroy the world, they can only be overcome by the solidarity of ordinary citizens, which transforms hope into the energy to create a new era."

We are standing at an important juncture in history. Calls have been mounting for a legal prohibition or banning of nuclear weapons as a first step toward a world finally and permanently free from nuclear weapons. On October 27, 2016, the United Nations General Assembly First Committee adopted a historic resolution to launch negotiations in 2017 on a treaty prohibiting nuclear weapons. This step heralds an end to two decades of paralysis in multilateral nuclear disarmament efforts.

Aiming toward the goal of a nuclear-free world, the SGI will continue to strive to expand citizens' solidarity around the world, never giving up hope.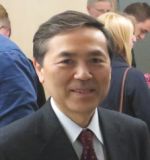 Kazuo Ishiwatari is executive director of Peace and Global Issues for the SGI.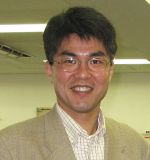 Kimiaki Kawai is director of Peace and Human Rights for the SGI.
View more related resources here.
[December 2016]