From Trauma to Drama
by Gerrit Versteeg, Netherlands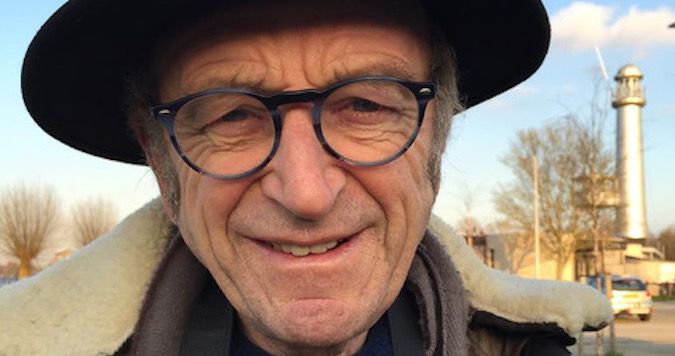 Recognizing that the language barrier often leaves refugees struggling to integrate and rebuild their lives, SGI-Netherlands member Gerrit Versteeg set up a program to equip young refugees with the communication skills and confidence to take their place in Dutch society.

How did you begin working with refugees?

With more refugees entering the Netherlands, especially Delft, the city I am from, there has been an increase in the number of refugee youths who have missed many years of education because of war in their home countries. About a decade ago, Dutch education authorities began providing special classes to help close this gap. However, these classes have not always been sufficient, and students have continued to struggle with confidence and self-expression. Their often terrible experiences in war zones impact their ability to absorb new information—their minds are still full of war.

Some years ago, together with Jeroen van der Zijde, who took the initiative, and a social worker, we started a special class to provide additional language lessons to refugees, coupled with social empowerment lessons.

What kind of challenges do refugees such as the students you teach face in Dutch society and in learning Dutch?

The biggest problem is the lack of oral communication skills owing to a lack of contact with local peers. For example, one student who had already spent several years in the Netherlands mentioned to me that his greatest wish was to have a Dutch friend. He is not an exception. How very sad.

Students themselves often stay within their own ethnic, national or religious circles for security, which compounds their sense of exclusion from mainstream Dutch society. Because of this feeling of exclusion, some have ended up leaving the country to take part in the war in Syria and Iraq. The sad reality is that a sizable proportion of those who leave the Netherlands to do this have come from Delft.

You began incorporating drama into language teaching. What was the idea behind this, and what were the initial results?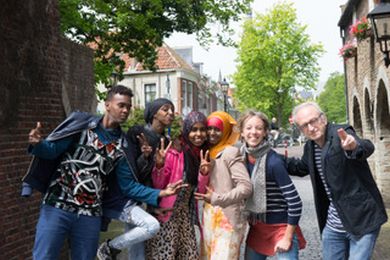 Gerrit and his students
At the end of the first year of our special class, in 2014, the students' vocabulary had significantly improved, but their communication skills were still very poor. We decided in the second year to give more attention to this, and to this end, a drama teacher was appointed. That led to a clear improvement in students' self-confidence and ability to express themselves, but their language fluency remained below the desired level.

In 2016, we decided to focus on enabling the students to tell their own stories. We called this the "Language Theater," with a clear focus on teaching language through drama lessons.
Initially, it was chaotic. The backgrounds, ages and educational levels of the students were too diverse. We had Somali, Eritrean and Syrian boys and girls between the ages of 14 and 18, ranging from nearly illiterate to highly educated. This led to conflict and bullying between groups of students, including physical threats outside the classroom. The effects of war were clearly apparent in their lives.

How did this whole experience challenge you personally, and how did you use your Buddhist practice to confront that challenge?

I became extremely sensitive to any sign of aggression, to the point that it sometimes interfered with my performance as a teacher—I would physically tremble and find it difficult to speak. Through chanting Nam-myoho-renge-kyo, I realized first of all that I had to accept their war zone condition as a fact, gain courage and deal with it. Then I realized that despite our different backgrounds and religions, we could still create real heart-to-heart connections with each other and share our lives.

We encouraged dialogue and mixed the groups so that students from different backgrounds would have to work together. Initially, this was difficult because the groups offered a kind of safety. One student, for example, refused to join a mixed group. We discovered she had fled her country after she had lost both parents. Instead of insisting, we gave her time to make her own choice, and gradually she was able to take part in the mixed group. This incident taught us to pay attention to the personal situation of each student.

What results did the Language Theater yield?

In the Language Theater, attention was given to each student to enable them to tell their own story. Each student's story strengthened solidarity among the students, as each began to look beyond their own group and see themselves as part of the larger community with common needs and interests.
Each student's story strengthened solidarity among the students, as each began to look beyond their own group.
In line with our principle of "put the school in the society and the society in the school," halfway through the year parents, municipal administrators and role models from the ethnic communities—for example, a successful Somali entrepreneur and a young Syrian woman who works for UNHCR—were invited to the school.
During the meeting, the students voiced their own perspectives, and it became clear that parents often have quite rigid expectations of their children or limited views of their possibilities. Typically, they want their children to become doctors, teachers, police officers or soccer players.

We then invited representatives of several professions—doctors, leaders of a childcare center, a police officer and a municipal administrator—to be interviewed and filmed by the students.

At the end of the 2016–17 school year, the students presented a play that they themselves had written and for which they had chosen their own roles. It was attended by their family members, the school management and the councillor for education of the city of Delft. Prior to the play, each student presented a monologue in which they shared their own story or wish for the future.

The result of this process was that the students gained self-confidence in Dutch society and a strong sense of their own unique mission. And, of course, their parents were very proud.

How are things now?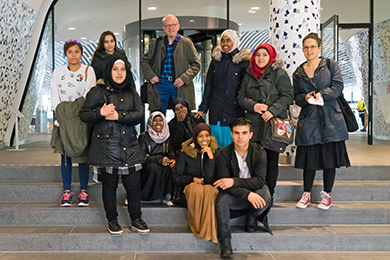 The Language Theater students with Gerrit (center) and their drama teacher (far right)
The project created positive connections and understanding between students and between the different ethnic groups, as well as between the students and teachers, parents and authorities. By the end of the 2016–17 school year, they had significantly more respect for diversity and a lot more confidence that personal or group problems can be solved through dialogue.

It was also clear that it had enhanced the students' autonomy, as seen in the way they turned their own stories into a play and chose their own roles. The project generated a great deal of happiness among the students and led to improvements in their personal lives. Many were able to successfully progress on to higher education.
A local paper ran a front-page story on the Language Theater, with a picture of the mayor of Delft surrounded by the students. Within the municipality of Delft there is now a growing awareness of the importance of these initiatives.
[June 2018]