Acting Out the Dream Life
by Jesper Ole Feit Andersen, Denmark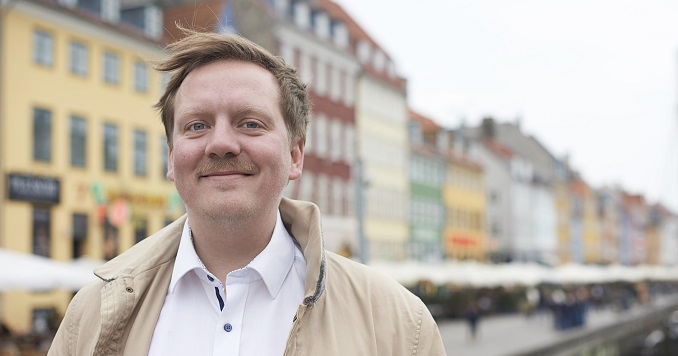 I grew up in a boarding school in the Danish countryside, where my parents were both teachers. My childhood was fun and carefree, everything came easily to me. I came to the conclusion that being social and having fun were all that life was about. In no way did I care about religion and was suspicious of what it had to offer.

In my 20s, I moved to the capital in order to pursue my dream of becoming an actor. I thought acting was fun and if I became really good at it, everybody would love me. I would become famous and thereby happy for the rest of my life. But I soon discovered that the competition to succeed in the entertainment business was hard and fierce. Even getting into one of the acting schools meant putting in a lot of effort and actually working hard!

To me, this was very unnatural. Normally, I could just joke around, and somehow I would get what I wanted. Suddenly, this was no longer the case. It led me to have a lot of self-doubt, and for the first time, I felt uneasy and unsure of myself. The consequence was that I felt shallow, grew arrogant toward my surroundings and was hard on myself. I felt suspicious of others and blamed them for my bad feelings.

I didn't get into acting school, but the following year, I applied to a different kind of acting school, one with a focus on film and TV. I got in, but the course was only for a year. This was 2008, which was also the year I encountered Nichiren Buddhism. As a festive guy who likes to socialize, I learned about Buddhism at a party at four o'clock in the morning from a young woman who told me she was a Buddhist and asked me if I wanted to go to a meeting.

At that meeting, I chanted Nam-myoho-renge-kyo for the first time and had an immediate positive feeling. I concluded that this was something for me and began attending Soka Gakkai meetings. I found these words from President Daisaku Ikeda especially encouraging: "There's no need for us to be held back by the past or how things have been so far. The important thing is what seeds we are sowing now for the future." On the basis of this, I began making efforts to change.

I applied to become a teacher even though it felt like a second choice. Being the son of two teachers, I had sworn that I would never become one myself. However, learning about the educational ideals and dedication of first and second Soka Gakkai presidents Tsunesaburo Makiguchi and Josei Toda inspired me to want to teach, and I was accepted into the Teacher Education course at University College Copenhagen.

In 2014, I was offered a job at a boarding school. But, all of a sudden, I was hit by self-doubt. I wondered if teaching was for me. I still sometimes dreamed of acting. Should I stop everything and go back to my dream of becoming an actor? I chanted a lot for clarity. During this time, I joined other Soka Gakkai youth for a seminar in Japan. I took the opportunity to ask a senior in faith about my dilemma. I was encouraged to give 120 percent to my job, and it was suggested that maybe I could use my acting skills to spice up the classes.

I returned to Denmark to find my new workplace shattered. The vice-principal had quit, leaving the school in huge debt, and 17 of the students had been sent home after being accused of taking drugs. Everything was in chaos, but with President Ikeda's guidance in mind, I found myself with a deep sense of mission and determination to transform all this suffering into happiness and to actualize the fundamental Buddhist principle of changing poison into medicine.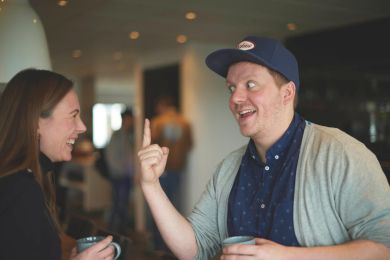 Two years later, the situation at my workplace had changed completely. With a transition in leadership and the support of my colleagues, the future looked bright. At the same time, my contract at the school was about to end. Once again, my dream of acting resurfaced. But this time my ambition was very different. If I was going to act, it would be to create happiness and joy in my surroundings, not to get praise or fame. I determined to be a bodhisattva—someone who exemplifies compassionate behavior and aspires to help all people gain happiness. No matter what kind of work I did, it would be with the aim of creating happiness based on the principles of Buddhism.
Two weeks before my contract ended, I was unexpectedly contacted by a film company that wanted me to audition for a small part in Klassen (The class), a new Danish children's television series. If I got it, I was to play a gymnastics teacher. I thought to myself: "How strange, especially as I'm so out of shape!" But I also thought it was interesting that I had essentially trained for the part through my job as an actual teacher. Now I could live out one of my dreams as an actor by being a teacher on television. I got the part, and since working as an actor, I have been able to perform with some of my favorite comedians from my childhood. Along the way, I even got my old teaching job at the boarding school back, and this job allows me to do acting work on the side.

I feel so happy to be able to teach kids that they are important players in the world and that they should never give in to apathy. At the same time, I can be the joker and the funny man in my acting jobs. One can say this is proof that everything in life is interconnected—nothing is wasted. President Ikeda has written about the importance of treasuring ourselves and our families, becoming respected members of society through being good citizens and gaining the trust of people around us, and contributing toward the prosperity of our local communities. He has emphasized that Buddhism does not exist separately from our daily lives.

Buddhism has shown me that life does not have to be binary. I am an actor and, at the same time, a teacher. I am still convinced that life is about being social and having fun, but I am also ready to face challenges head-on to realize my dreams.
[September 2018]